Last-Minute Gifts for the Home + Garden
Five of our favorites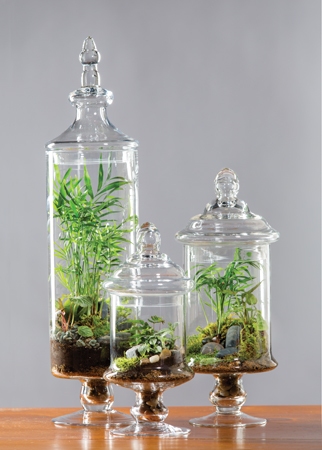 If you're still in search of a few gifts, we have some options. We pulled five of our favorite locally made items from the pages of Charlotte Home + Garden that are all gift worthy.
Exceptional Terrariums. Linda Barnett constructs these miniature gardens at her home in Concord. She fills the glass containers with moisture- and shade-loving plants, such as lichens, ferns, moss, and bromeliads. The terrariums only need to be watered about every six months. Prices range from $15 to $120. Barnett sells the terrariums at Atherton Market in South End and online.
photo by logan cyrus
Powder Studio porcelain. Nathan Tucker and Stephen James create these hand-cast porcelain pieces in their NoDa studio. They build their own molds and make their own glazes. The 'Companion' (left) and 'Chamfer' (right) vases are $95, and the 'Chimenea' tea light is $65 for the medium size and $48 for the small.
photo by logan cyrus
Kool Birds birdhouses. These birdhouses look like showpieces, but they're made to use. Make Ellis, a former furniture-maker, uses scrap wood from a hardwood-flooring manufacturer, waterproof glue, and poyurethane stain. The birdhouses are ideal for wrens, finches, and bluebirds. Ellis has eight designs, and each one is $140.
photo by logan cyrus
Helen's cookies. Helen Burns has baked and sold cookies since 2008, but she gained additional attention when she baked 1,000 chocolate chip cookies for the Democratic National Convention. She's now added chocolate chip peanut butter and chocolate chip toffee to her offerings. Her finishing touch: a hint of sea salt. Gift boxes start at $15.
photo by logan cyrus
Homemade jam. Sometimes the best gifts aren't purchased but made. This recipe for sweet potato jam from The Ritz-Carlton, Charlotte is simple and makes for a pretty presentation. Spend the afternoon or the evening with the kids roasting potatoes and simmering the jam. Then place it in jars and add a custom label.
photo by chris edwards