Late Innings
Who says sports belong to the young? One local softball league, in which a third of the players are over sixty, offers that thing we all want—a chance to keep playing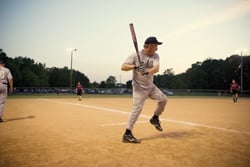 Each Tuesday night this summer at Park Road Park, 232 older guys will strap on knee braces and stop the clock.Left behind are the bills at home and bull at work. Black, white, banker, blue collar, lanky and large—for one hour, all of us become one in that most joyful of escapes.
Senior Softball.
Charlotte Senior Sports offers men forty-five and up the chance to play slow-pitch softball—to be kids again!—thirty-two weeks a year. Yes, that's the game played by thousands in every corner of the Carolinas, where the pitcher throws moonballs and the hitters armed with aluminum bats send them screaming into the night. We are given brightly colored team jerseys and divided into teams with names like Gene's Golden Oldies and Like Fine Wine. There are a few special rules for old guys: two home plates—one for the catcher and the other for the runner—to avoid collisions, and pinch runners for those who can't take another step. For a $40 entry fee, we get to hit, field, get dirt all over ourselves, and then limp home until the next Tuesday.
Charles Curry, sixty-three, who's been playing softball for forty-two years, organizes the league—overseeing a website, dividing players into teams, and operating two seasons a year. The fall season starts in August.
There are still a bunch of forty-seven-year-olds in the league whose knees don't ache yet. But the soul of Tuesday night belongs to the nearly eighty guys age sixty or over, the ones for whom playing softball means more than we could know.
Don Patenaude, a retired college professor who turns seventy in November, is a cancer survivor. "This is the place to come on Tuesday night and get my reprieve."
Vic Brawley, retired from the Air National Guard, has been playing softball since he was sixteen. Now seventy-five, he admits it pretty much hurts everywhere. Still, he says, "It beats watching television."
Four years after breaking both ankles and suffering assorted other injuries in a wreck, Tommy Johnson, sixty-six, is back roaming the outfield for the Golden Nuggets. It's simple. "I like to play."
The first year I discovered this fountain of youth about a mile from my house in south Charlotte, Jorge Cowley, sixty-two, was my coach. I see Jorge on game nights now and he waves as he rushes to the field carrying his scorebook and smiling like he's twelve years old.
Lawyer by day. Softball player by night.
"We're kids again on Tuesday nights," he says.
Click on any photograph below to begin the slideshow.