Latest Charlotte craft beer releases has can craze from NoDa and Sycamore, plus a bottle from Birdsong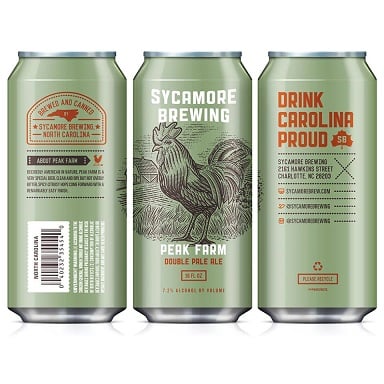 As you plan your week ahead, here's the newest craft beer releases from some of your favorite breweries:
–The wait is over for one of NoDa Brewing's most popular seasonals, as Hop Cakes is back – and once again in cans. Hop Cakes is a double IPA brewed with pounds upon pounds of maple syrup. The result is a tremendous beer that gives off a strong hop profile balanced with a smooth sweetness from the syrup.
NoDa decided to can this beer for the first time last year and it sold like … well, you know the rest (hence the name). Cans are back again and will be released in 4-packs at the taproom today (Monday) beginning at 4 p.m. Also expect a limited amount of cans to hit local craft bottle shops in the coming weeks.
–Sycamore is the next local brewery to enter the can market, joining Birdsong, Triple C, Unknown and the previously mentioned NoDa. Late last week, Sycamore canned Peak Farm, its double pale ale, along with Southern Girl, its blonde ale (Sycamore also makes Southern Girl lager, which won the bronze medal at this past year's Great American Beer Festival – as friend and fellow beer writer Daniel Hartis notes, that will be canned later this spring. Cans of Peak Farm and Southern Girl are now available at the brewery, as well as local bottle shops.
–This week also marks a recurring bottle release from Birdsong's "Take Flight" series. Once again, Birdsong has bottled "Turtles on Pterodactyls," which will be available beginning Thursday at the brewery's taproom. Essentially, Turtles on Pterodactyls is Birdsong's outstanding Mexicali Stout aged in bourbon barrels. This year's version was aged in barrels from Breckenridge Distillery, and the 22-ounce bombers will be sold for $12 each, with a limit of four bottles per person. Birdsong will open Thursday at 4:30 p.m.