Latest Charlotte craft beer releases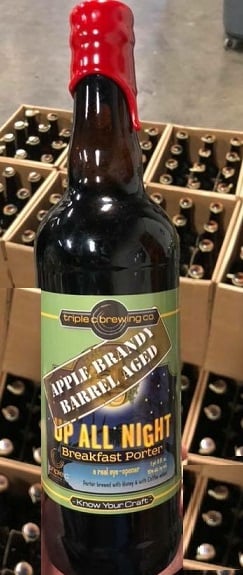 It's a fantastic weekend for local craft bottle and can releases. Seek these out to make sure your refrigerator is well stocked before the snow hits:
Triple C
Saturday is the day many local craft beer fans have been waiting for all year. It's the release of the highly-rated (especially in this space) bourbon barrel-aged Up All Night. The base beer, a breakfast porter brewed with local honey and coffee, was already released a couple weeks ago. But head brewer (and newly married, congrats!) Scott Kimball's barrel-aged variants are top-notch and never disappoint.
This year, the brewery has three different BA UANs to try. The bourbon version this year was aged in Heaven Hills barrels. Bottles will be $14 plus tax with a case (12 bottle) limit. The star this go-round, though, is the newest entry into Up All Night, an apple brandy-aged version. Less than 25 cases were bottled, so this one will go quick. Bottles of the Apple Brandy Up All Night will be $16 plus tax with a limit of four per person. Finally, Triple C put a limited amount of Up All Night into a couple Buffalo Trace barrels and while the brewery did not bottle these, it will be selling crowlers for $25 plus tax with a limit of one per person.
All three variants will be available on draft, with regular (13 ounce) pours $6.50 plus tax and tasters (6.75 ounces) $3.50 plus tax. You can get flights as well. Bottle sales will begin when the taproom opens Saturday at noon.
Birdsong
For their seventh anniversary, Birdsong is releasing three different cans: Good Feeling, a kettle sour ale brewed with cranberries and oranges; Rich Girl, a rum barrel-aged imperial oatmeal porter brewed with raisins; and Vital Signs IPA. I wrote about the brewery's anniversary earlier this week, and you can read about all of the festivities here.
Heist
One of Charlotte's top beers is back in cans, as Heist has readied its latest batch of the ever-popular Citraquench'l. This NE-style IPA is loaded with Citra hops for an unmatched juicy flavor profile. Cans of Citraquench'l are $15.99 plus tax per 4-pack. Heist is also releasing Phoenix Trail, an IPA dry-hopped with Azacca and Lemon Drop hops. These cans will be $14.99 plus tax per 4-pack. Both beers have a limit of 6 4-packs per person and are on sale as of Friday morning.
Resident Culture
Resident Culture has had some dynamic can offerings the last couple of months, and this weekend is no different with two NE-style IPAs and a kettle sour. First up is Future Sight, which was brewed with Citra, Galaxy, Simcoe and Strata hops. On its Facebook page, RC says this might be the "most citrus and fruit-forward beer we've made thus far," and if you've had past juicy IPAs from the brewery, you know that's saying something. Four-pack cans of Future Sight will be $16.99 each plus tax.
The brewery's second hazy IPA offering is God Complex, which is actually a double IPA featuring Citra, Galaxy and Mosaic Cryo Pellets. Described as "tons of citrus and tropical fruit on the nose and flavor," four-pack cans of God Complex will be $18.99 each plus tax. Rounding out the offerings from RC is Vandalism Spree, the brewery's base kettle sour fruited with a ton of raspberries. Coming in at just 4.5 percent ABV, look for a smooth drinkable sour packed with flavor. 4-pack cans of Vandalism Spree will be $15.99 plus tax.
There is no limit on any of the beers, and all three will also be on tap when Resident Culture opens Saturday at noon (cans will be sold on a first-come, first-serve basis).
Wooden Robot
Earlier this week, Wooden Robot released this year's version of Galactic Nexus. This is a sour golden ale that was fermented onsite in one of Wooden Robot's foeders then pulled out and refermented on two pounds of North Carolina raspberries per barrel before being bottled. Bottles of this raspberry sour ale are $16 plus tax, with a limit of one case per person. Galactic Nexus bottles went on sale this past Wednesday and should be available through the weekend, but I wouldn't wait too long.
Sycamore
Sycamore Brewing has its own juicy double IPA ready as well on Saturday. Boomshakalaka clocks in at 8.6 percent ABV, and will be available in 4-packs of cans and on draft. Gyro Twins food truck will be on hand for the event, which begins at noon. Also, stay tuned for a double can release from Sycamore next week. More on that to come.
Unknown
Unknown Brewing may have the perfect beer for this impending snowstorm. Raisin the Roof is a Belgian quad brewed with Cognac-soaked raisins and cinnamon. The end result provides a great warmth and smooth taste with hints of sweetness. This is a limited bottle release that begins Friday at 6 p.m.