Latest craft beer releases from NoDa, Triple C, Unknown & Wooden Robot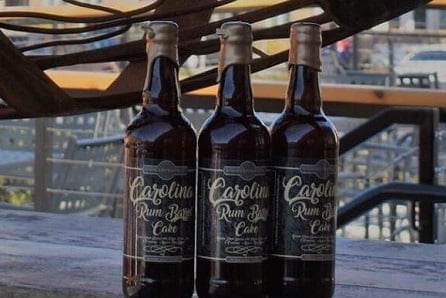 This weekend is chock full of new and returning bottles and cans from several local breweries. Here's a rundown of the releases:
FRIDAY
–Continuing its fantastically done barrel-aged series, Triple C's newest addition to this lineup is Carolina Rum Barrel Cake. This beer is a golden stout brewed with cacao nibs, cinnamon and coffee and then aged in rum barrels from Muddy River Distillery.
Carolina Rum Barrel Cake will be available in Triple C's taproom beginning at 4 p.m., on tap and in 22-ounce bottles. There is a limit of 3 bottles per customer, with each $14. Every bottle purchased will also get you a raffle ticket to win a Muddy River rum barrel (previously used). As part of the event, Blue Barn Bistro will be onsite with cinnamon spiced golden cupcakes featuring cocoa, rum-soaked raisins and Carolina Rum Barrel Cake-infused frosting to pair with the beer.
–It's time for Unknown's annual stout release, Dirty Commie Heathen. This Russian Imperial stout checks in at a robust 12.4 percent, and is brewed with sundried cherries before being aged in whiskey barrels.
You'll be able to get bottles of Dirty Commie Heathen when Unknown opens at 3 p.m. and as a special treat, the brewery will also be selling a four-year vertical of the bottles with aged versions of 2015, 2016 and 2017, celebrating the fourth anniversary of this beer.
–NoDa Brewing rounds out Friday's stout release with its Premium Roast Breakfast Stout. This beer features a custom Colombian and Ethiopian coffee bean blend done in collaboration with Nightflyer Roastworks (previously known as Parliament Coffee Roasters).
Four-pack cans of Premium Roast will be available beginning at 4 p.m. (the beer will be on draft too), with live music and food from the TIN Kitchen also featured as part of the release.
SATURDAY
—After shifting gears to releasing its first can, Wooden Robot is back to what it's been lauded for: sour bottles. The brewery's latest is Foeder for Thought, a sour farmhouse ale that was brewed with local malts before being fermented in WR's oak foeder with a mixed saison culture. (Smacking your lips yet?)
The Foeder for Thought release begins at noon and as with previous releases, the line will begin on the east side of Wooden Robot and funnel through the brewery then the taproom to make for the easiest experience. Bottles will be $12 plus tax, with a limit of one case (12 bottles) per person. Wooden Robot will also have special Foeder Robot T-shirts for sale ($25) to celebrate the event as well.
–I wrote about Olde Mecklenburg's barrel-aged Fat Boy breakfast release earlier this week; check out all the information here.