LaVecchia's Still a Great Catch for Seafood
An uptown favorite for seafood has a new chef, new location, and, puzzlingly, a familiar look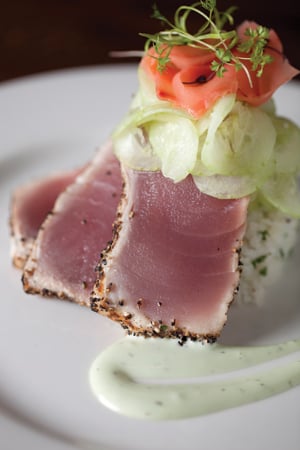 When Nick LaVecchia opened the original LaVecchia's Steaks and Seafood in Seventh Street Station in 1998 (it was called LaVecchia's Seafood Grille back then), it was the city's hottest spot to see and be seen. Bankers filled the funky, fish-adorned dining room during lunch hours, and evenings found the upscale bar area packed with Charlotte's most notable—and most beautiful—sipping martinis while waiting for a table.
Over time, the former hot spot lost its luster. Meanwhile, LaVecchia, a Charleston Johnson & Wales–trained chef with a background in seafood, began opening other local restaurants, including Nix Burgers & Brews in uptown, as well as steakhouses and taverns in Belmont, Gastonia, and Kings Mountain.
Last year, the restaurateur moved his flagship spot several blocks south to a location just off the entrance to uptown's Hearst Tower. Its patio, tucked beneath the tower, is popular during warmer weather for lunch as well as happy hour. The new location's interior features the restaurant's signature oversize fish sculptures and contemporary décor with bright blue lights, meant to evoke the feeling of being beneath the sea. But the mix doesn't work here as well as it did at the former location, and the combination of white leather booths and neon lights leaves the space feeling cold and slightly outdated.
The layout does allow for looks into the raised kitchen, and that's where diners are most likely to be impressed. The location change included the addition of Executive Chef Michael Rayfield and a menu update. Rayfield's appetizer selection is seafood heavy—and pleasing. The Cold Tower ($38)—a holdover from the old menu—featuring quivering, fat-bellied oysters, brightly flavored ceviche, and sashimi tuna, offers your best bet for indulging in the restaurant's freshest selections. Lobster bisque ($8), which is offered at both lunch and dinner, is opulent and smooth with a generous helping of lump crabmeat in the bowl's center.
LaVecchia's offers steaks, but you'll find better steakhouses uptown. You may not find better seafood. A pan-roasted Chilean sea bass ($39) is seared so it's crispy on the outside and perfectly tender and white inside, while the yellow fin tuna ($27) is so fresh and flavorful that only a hint of pepper and wasabi cream are necessary accompaniments. The wine list has also been upgraded, and servers are knowledgeable regarding pairings for highlighting the flavors in the fish.
Unfortunately, though, in general the service at LaVecchia's lacks the charm of its dishes. While the restaurant touts itself as the perfect place to dine before a show, service dragged in early visits, making this an ill-advised choice for those in a hurry. LaVecchia's still has improvements to make to reach its former popularity. But the consistently well-prepared seafood and new, more central location offer hope for the future.