Lavendar Boutique Denim Sale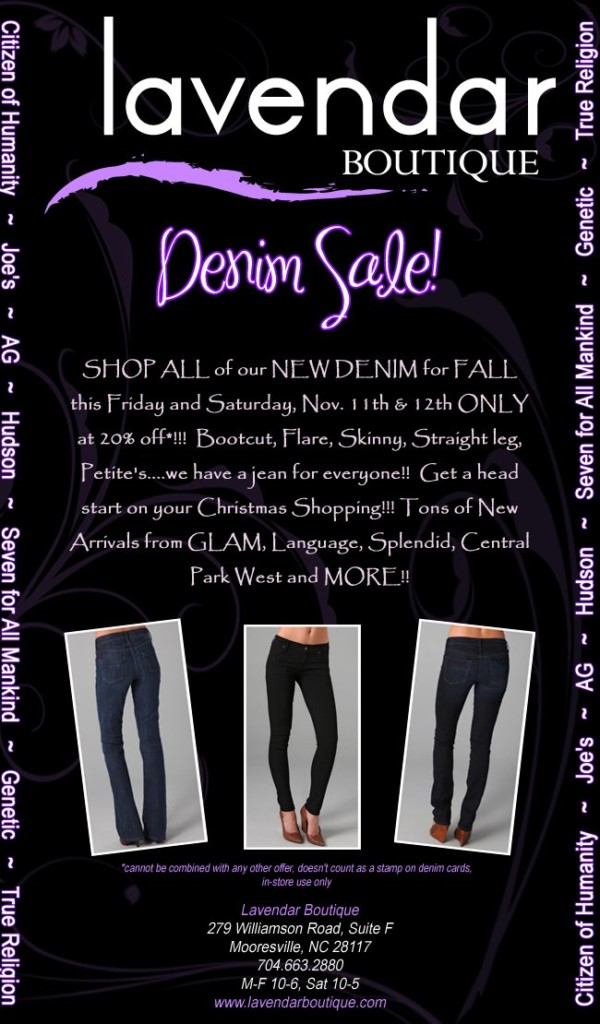 There's a lot we'll do for the perfect pair of jeans. Like, say, show up at J.Crew on five different occasions this week because you (or I–no need to name names here) are panicking about whether or not you picked the right leg shape for every last pair of heels in your closet. The point is, the process is arduous. But Lavendar Boutique in Mooresville has been kind enough to make that process a little less stressful–at least on our wallets. Tomorrow and Saturday, November 11 and 12, all jeans in-store will be marked down 20 percent off as part of the season's Denim Sale.
Whether you're looking for skinnies, super flares, baggy boyfriends, or bootcuts for your new Frye boots, the selection runs the gamut. Designer labels include: True Religion, Hudson, Seven for all Mankind, Citizen of Humanity, Splendid, Genetic, GLAM, Central Park West, and more.
Treat yourself to some denim–and don't be the girl (ahem, this girl) stalking J.Crew.
279 Williamson Rd, Ste. F, Mooresville; 704-663,2880