Layers of History
Old Carolina Brick Company makes beautiful, handmade bricks and pavers that come with a sense of history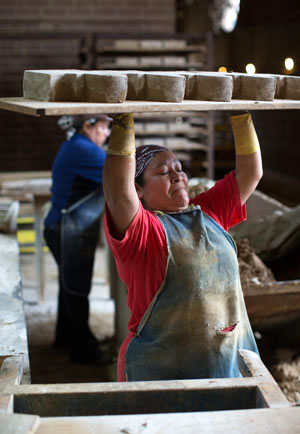 When you ask David Frane, co-owner of Salisbury-based Old Carolina Brick Company, what makes his company's brick different from all the others, his answer is simple: "It's the overall look." Architects and designers alike covet the company's handmade products, which have been used by historic Southern towns including Savannah, Charleston, and Williamsburg. "There's an unevenness that makes it appealing," says Frane. "Our bricks … have some uneven textures and folds in the material that are unique to a handmade brick."
That explains why they are often called upon to assist with restoration of historic properties throughout the country including Mount Vernon, Robert E. Lee's birthplace, and Yale University. The bricks have a tumbled, weathered appearance that makes them appear as though they've been in place for decades, even centuries—something other brick companies, which use machines to create their bricks, have a hard time replicating. "People like something to look old," explains Art Burkhart, vice president of sales and marketing. "They want the distressed, aged look. They don't want it to look new or perfect."
Why do people love your brick?
Burkhart: It's the classic, antique beauty of the brick. Whether it's a traditional home or a very modern home, we do both because people don't want a home that looks like it was done yesterday.
What does your brick consist of?
Frane: It's a mixture of clay and shale that's mined here locally. Most comes from Gold Hill, North Carolina, where the gold for the 13 original colonies came from before the California Gold Rush. We do bring some material from out of state for special orders. The clay makes a nice red color, and the shale with the clay gives it the characteristics we need for brick-making. We do a lot of color and custom-color development. We like to keep it local, although some material you have to bring in because pretty much everything here is red.
How are your bricks made?
Frane: Making brick is somewhat of an art form. It's a 3,000-year-old technique. The clay and shale mixture is chopped into individual slugs, and those are picked up and rolled by hand on each side. Then they're individually thrown into each mold cavity. The excess is struck off, and the molds are turned onto a dryer tray. It takes probably five days to get through the whole process. In those five days, one day is in the dryer and one day in the kiln.
How many bricks do you make on an average day?
Frane: We make 30,000 to 35,000 bricks on an average day. About 10 million to 12 million bricks a year are made. We're smaller than most plants—most plants have gone really huge. We do have a higher-priced brick, but it looks better. We try to remain exclusive.
What special requests can you accommodate?
Frane: We have a pretty infinite capacity to design special shapes—we have 200 different shapes and 50 standard shapes. Our product line goes from a standard-sized brick to an oversized brick to pavers. There are also glazed brick, thin brick, decorative garden brick, date brick. The thin brick has been a big mover lately. Brickmaker Carmen Alba cuts bricks for arches.
What's your most popular brick?
Frane: The most popular is called Savannah Gray. We sell the majority of that in the Lowcountry area—Charleston, Savannah, Hilton Head. It's grayish with a variegated off-white coating. It's similar to what you would see in Charleston and Savannah on the original buildings. The second most popular is the red version of that with an off-white coating called Georgetown.
How much of your business is restoration versus residential?
Burkhart: Ninety percent of our business is upscale homes. We've worked several celebrity homes—Arnold Palmer, Jack Nicklaus, Davis Love III, Andie McDowell, Richard Gere, Jennifer Lopez, and Arthur Blank [founder of Home Depot and owner of the Atlanta Falcons]. We're getting ready to do a home that will take 250,000 bricks. We also do a lot of restoration work—that's 10 percent of our business, most of which is for Colonial Williamsburg. We've also worked on the University of North Carolina Chapel Hill campus and President Taft's home.
What area of the country do you see your product being sold to the most?
Burkhart: Our number-one area in the country is around Savannah, Hilton Head, and Charleston. Our number-two area is Virginia, and, surprisingly, our number-three area is between Los Angeles and San Francisco. We completed a project in Brazil that we sent by boat and also did a house in Dublin, Ireland.