Leading Man: Tony Zeiss
With the help of an occasional costume, Tony Zeiss, the irrepressible president of Central Piedmont Community College, is carving out a legacy in Charlotte that few will match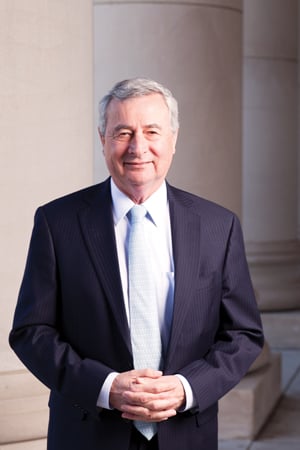 The sun pours through massive windows, illuminating round tables topped with giant pieces of crocheted lace. A few dozen elegantly dressed women make polite conversation in thick Southern accents. You can almost hear the pride in their heritage in the elongated hellooos. Most of the women in the room are in their sixties or seventies, with full heads of perfectly groomed and unmovable gray hair. They greet strangers (even Yankees) with generous smiles and instant offerings of sweet tea. It is the monthly meeting of the Mecklenburg Declaration of Independence chapter of the Daughters of the American Revolution (DAR), and the women await the lone man expected to arrive at this morning's reception.
He is hiding in the men's bathroom.
Dr. Tony Zeiss doesn't want to ruin the surprise. A dynamic speaker, he knows how to make an entrance. When he arrived, the sixty-six-year-old looked every inch the college professor. Now, his dress pants are strewn in the corner. His starched white shirt and corduroy blazer finish off the pile. He has traded his usual uniform for another that suits him just as well—the full dress uniform of an American captain in the Revolutionary War. "I had a lady that specializes in clothing in Dallas [make the costume]," he says, gesturing to his jacket. A black felt top hat sits next to the discarded clothing. He'll don that just before he leaves the bathroom. "Parts of this had to be made, and she found me the pants somewhere." For today's speaking engagement, Zeiss will play the part of Captain Thomas Young, a South Carolina teenager who fought in the Revolutionary War. Just before he slips from the bathroom to address the women, he stops to pull a vintage pocket watch from inside his jacket and says with pride, "It actually works. It's not authentic of course."
But Tony Zeiss is. The president of Central Piedmont Community College, he had a full head of dark hair when he started the job in 1993. The school serves 70,000 people in Mecklenburg County each year and focuses on training its students for careers. Going into his twentieth year as president of CPCC, he still has all his hair, though it is white now. Bushy eyebrows frame kind eyes, but deep rings line them, suggesting a man with a lot going on and very little time to sleep. There is a constant buzz around him. He's like an electric mixer permanently stuck in the "fast" position. "He always speaks quickly and breathlessly," says County Commissioner Jennifer Roberts. "It's almost like his passion makes him go so fast so he can get it all out." She met Zeiss in his role at CPCC, but she also works with him on another of his passions, the Little Sugar Creek Greenway. It's a project that, even in its early stages, has created an indelible mark on the city's landscape.
Most college presidents last five years. There's a reason Zeiss has stayed twenty. "It's all about finding your purpose," he says. "Mine is to make a difference."
Zeiss often dresses up for talks he gives on area history. For this one, he spoke as an American captain in the Revolutionary War. Photo by Andy McMillan
He remembers the exact moment that became his life's goal. He was thirteen and walking back from a swimming hole in the Indiana farming town where he grew up. "My buddies had run ahead and I was walking alone on this country road. It was one of those perfectly beautiful days, and it was the first time I can remember thinking what a privilege, what a gift life was." He admits he didn't know at that point what he would do, only that it had to be something that would help others.
"Once you get settled on your purpose, then you seek out ways to make that happen," he says. "That's why I went into education, and that's why I speak, and that's why I write."
Zeiss started his career as a high school speech teacher. On the side, he wrote for anyone who would pay him. The Boy Scouts newsletter, the church bulletin. Zeiss thought for a while he might be a journalist. It wasn't long before he was at Vincennes College in Indiana teaching a broadcasting class. He loves telling the story of asking each of his eighteen students what they wanted to do, what their purpose was. "Most of them didn't really know," he says. "But there was this one student who played the guitar all the time and told the class he would be a rock star." Zeiss remembers being pleased that at least the young man had a purpose. Just a few years later the world would come to know that student as John Mellencamp.
That same class prompted Zeiss to write the first of many books. It was a textbook that he put together after more than half the students in his class failed. His twenty-first and most recent book, Backcountry Fury, A Sixteen-Year-Old Patriot in the Revolutionary War, was published in June 2010.
"I've written four or five history books," Zeiss says, by way of trying to remember them. "Four on the Civil War and the one on the Revolutionary War." The other sixteen titles focus on motivational themes for job seekers and employers and feature instructions on becoming "indispensible," "invaluable," and building "a ladder to success." "This is a passion for me. It's all about helping others," he says, repeating his mantra.
Often asked to speak about the books he writes, Zeiss spent a Saturday in February giving the keynote address at another DAR event. This time, it was a luncheon and a younger crowd. They were gathered at the Charlotte Museum of History to honor area high school students who were being awarded DAR scholarships. Before speaking, he can't help but wander through a new exhibit at the museum. "I'm dying to see the new Civil War exhibit. Let's peek in," he says. Like a five-year-old with a shiny new toy, his eyes start to sparkle. He begins to wander through, and he is disappointed when he realizes there isn't enough time to enjoy the exhibit before lunch. The students are waiting and he has tailored today's speech to what he thinks will benefit them most.
"I'm going to talk about one part of this book," he says, holding up Build Your Own Ladder: Four Secrets to Making Your Career Dream Come True. "Power of vision is the first principle—and I'm going to talk to them about building their vision because at this age there will be a lot of them who don't know what they want to be yet. So many young people … they're not sure what they want to do and it is so, so important."
Like the textbook he crafted when the students in his first broadcasting class flunked, Zeiss says the ideas for all of his books come when he is compelled to write because of a specific need. He wrote Backcountry Fury in the voice of a teenage Revolutionary War hero after he visited a CMS middle school two years ago and realized that students weren't learning enough about American history.
He is clearly unsettled remembering that visit. "Let me tell you a quick little story," he says. He starts a lot of conversations that way. "I taught a class of seventh-graders, and I said, 'How many of you have covered the Revolutionary War?' They said, 'Yes, we were taught last year.' I said, 'Oh good, quiz time!'" Now Zeiss is grinning. "I asked the kids, 'What was it fought about?' They didn't know. And I said 'Who did we fight?' They huddled up, and half the class said Russia and the other half said France." Nobody said Great Britain.
"I said, 'I'm going to give you another chance. When was it fought?' They huddled again and said, 'We got it, we got it.' They said 1954!"
"I told them I was born in 1946!" Zeiss exclaims. Backcountry Fury was published a few months later.
One of Zeiss's pet projects is the Trail of History along the Little Sugar Creek Greenway. This statue of Captain James Jack is at Fourth Street and Kings Drive, across from CPCC's Halton Theater. Photo courtesy CPCC
Stories about his great-grandfather ignited Zeiss's passion for history. "My father was a great storyteller. He would tell me all about how his grandfather fought in the Civil War," he says. Zeiss shares his love of history with his wife, Beth. They've been married for thirty-three years, and "she's been my girlfriend for thirty-four years," Zeiss laughs. Both are lifelong educators, devout Christians, and avid fly-fishermen. And they are complete and total history buffs. She heads up the regional chapter of the DAR, while he is active in its men's branch. The pair often planned family vacations with their two sons around what historic sites they could visit along the way.
"This is what we like to do together in our spare time," he says. But it is clearly more than a hobby. The couple has marked the gravesites of Confederate soldiers, traced their lineage, and pledged to keep history alive, a pledge that they are making good on in Charlotte. That's where Zeiss's patriotic alter egos come in handy.
He brought another to life last summer during one of his most prestigious speaking engagements. Zeiss was invited to address the National Congress (the national conference of the Sons of the American Revolution) in Washington, D.C. "They'd invited former president George W., and I was the backup. He couldn't come so I got to do it." Naturally, he gave his speech in costume. "I spoke as James Jack. … He was the one who took the Mecklenburg Declaration of Independence and carried it to the Continental Congress … and now we've made a statue to honor him."
The chiseled bronze version of James Jack shows the patriot on his horse, midgallop, a couple blocks from CPCC's main campus at Seventh Street in midtown. The statue is the first of several planned monuments to honor a handful of Mecklenburg County's most important historical figures. Zeiss started working on this project, called Trail of History, four years ago. The plan is to line a section of the Little Sugar Creek Greenway with the statues, and Zeiss is leading the charge to raise the cash from a small group of private donors. "We have already raised money for four new ones," he says proudly. "We think we'll have two more up within the year."
"He has just been so hard at work on all of that, finding the artists, choosing the figures and raising the money. He gets so excited," says Roberts. "He loves history and the history of our area, and it's turned him into a great promoter of our county."
"I don't play golf," Zeiss offers up as an explanation for how he makes time for everything. Beth adds, "One nice thing about college is that you have breaks. At Christmas, we would go back to Texas to visit family. My sister and I would go shopping and Tony would stay and write and play hide-and-go-seek with the nieces."
A key to Zeiss's fundraising success has been attracting the support of Charlotte power players like Allen Tate, left. Photo courtesy CPCC
Just as with his books, much of what Zeiss does is born from a specific need, and he somehow manages to see it before the rest of us. Twenty years ago during his interview for the top job at CPCC, he talked about turning the school into a leader in workforce development. Today community leaders are talking about how he did just that. "Dr. Zeiss is uniquely in touch with employers, keeping a finger not just on what the needs of a company are today, but what are the needs coming in the years ahead," Charlotte Chamber President Bob Morgan said in a recent interview with CPCC TV. Zeiss says CEOs often call him with program suggestions. "They see a need and we figure out a way to fill it," he says.
Even President Obama has noticed. This past January, Jackie Bray, a laid-off mechanic getting retrained at CPCC, sat with First Lady Michelle Obama during the State of the Union address. The president spent more than a minute of the speech talking about Bray and CPCC, highlighting the college's partnership with Siemens in which students are trained to work for the company's newly expanded Charlotte hub. President Obama said, "I want every American looking for work to have the same opportunity as Jackie did."
There are so many Jackie Brays these days that enrollment at CPCC has grown 35 percent in the last five years. The operating budget is now almost $200 million—more than three times what it was when Zeiss took the reins twenty years ago. The campus too has changed with the times—from one in midtown to six spread out across the city. In the TV interview, Morgan credited Zeiss with the school's success.
"Tony is a unique guy. He's probably one of the best presidents of a community college anywhere. He has made Central Piedmont relevant—I can't imagine it being more relevant—to the workforce development needs of our community. What I love about Dr. Zeiss, though, is that he's passionate about whatever he's passionate about. And he's passionate about many things."
Perhaps that's why when Zeiss asks for money, he gets it. No matter whom he asks. No matter when he's asking. There may not be a better fundraiser in Charlotte. "People understand his enthusiasm and he explains what the needs are in a way that shows how reasonable and necessary it is," Roberts says. Zeiss recently convinced the school to set a new fundraising goal of $30 million (the school foundation says it's the largest ever by a community college), mostly to pay for student scholarships and additional teachers. The school closed out its last campaign five years ago after raising $28 million—$13 million more than its goal.
A glance through CPCC's glossy annual report offers a glimpse of how Zeiss makes it happen. Donor names like Gates, Levine, and Blumenthal are all there. Even Mecklenburg County voters have always approved of bond referendums for CPCC. Seven referendums have passed on his watch, raising almost $350 million for construction at the school. Zeiss thinks voters have long recognized the school's impact on the community. (An independent analysis last year showed the school contributed $918 million—which includes what all employed grads contributed—to the Mecklenburg County economy annually.) You can't help but wonder, does anyone turn him down? "I'm trying to think of somebody," he says, pausing. "You know, a few, but not very many. Most people want to help."
From anyone else that answer might sound like bragging. From Zeiss, it just sounds like he's stating a fact. "His personality is infectious," says Bill Anderson, the executive director of Mecklenburg Citizens for Public Education. "He is the ultimate optimist, and people want to be a part of that."
In typical Zeiss fashion, he downplays the praise, offering a different explanation. "I'm very productive," he says. "I just feel like we've got to be following our purpose as much as we can. Do you want to look back and say, 'I wish I'd done that, I wish I'd done this?'" He lives without regret, proclaiming, "Life is not a dress rehearsal!" That may explain why he is so comfortable in costume—at least most of the time.
Several minutes into his speech at the DAR morning reception, Zeiss tells the crowd he is a little uncomfortable. The Thomas Young suit is wool, and he is getting warm. He gets an easy laugh when he asks permission to shed his jacket. "Do you mind if I disrobe?" he asks the room full of women. They laugh in response and he quickly adds, "But not completely of course!" This time, there is no need to retreat to the men's room.