Legion Brewing officially open, Sycamore's first bottle release and a chili cookoff at Unknown Brewing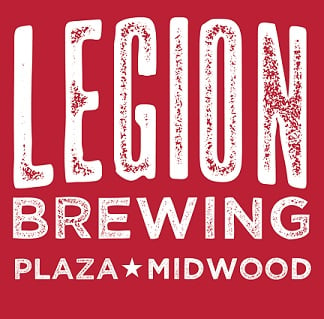 With the official opening of Legion Brewing today (more on this below), that puts Charlotte proper (meaning within the city limits) at a brewery count of 15, with several more out in the likes of Cornelius, Huntersville, Mint Hill, Mooresville and Waxhaw. It's unbelievable to think that just five years ago, the Queen City had a huge dearth when it came to craft beer.
Now, Charlotte is being looked at as a craft beer destination and leader, and rightfully so. It's a great thing. In that spirit, here are a few things going on this weekend in the local craft beer community:
–After a couple soft openings earlier in the week, Legion Brewing will officially throw its doors open to the public today (Thursday) at 2 p.m. Legion is the first brewery in Plaza Midwood (1906 Commonwealth Ave. to be exact), a neighborhood that has been in need of such an establishment for some time. Legion has been ramping up for this date, and will have 10 taps in the beginning with more to come in the near future.
Legion has included craft staples in their offerings (IPA, pilsner, brown ale, etc.) and has also branched out some, including a saison with cranberries added. I'll have more on Legion and their beers in the coming weeks. The brewery will be open weekdays from 2 p.m. to 11 p.m. and on weekends from noon to 11 p.m.
–Last week it was Heist Brewery releasing its first-ever bottle (barrel-aged Cataclysm II) and now, another local brewery is set to have its initial bottle release. This Saturday, Sycamore Brewing will have The Salty Coconut Red Ale bottles available for purchase in the taproom, beginning at 9:30 a.m.
This beer has been one of my favorites since it debuted at Sycamore. The addition of just the right amount of coconut gives it a unique finish, and the batch that is now in bottles have been aging in wet rum barrels from Nicaragua and Barbados. Sounds like a winner, if you ask me.
Each bottle was dipped, numbered and signed by the Sycamore brewers. There are only 1,000 available, and if you know the Sycamore scene, you know they won't last long. As part of the release, Roots Farm Food will be at the brewery serving up breakfast, and Sycamore also has a Pig and Beer Fest Saturday beginning at noon featuring live music and a whole pig roast by Sauceman's (sandwiches will be $5 and brisket $7, with sides available as well).
–After some unseasonably warm weather in December, it's finally supposed to start cooling down in Charlotte this weekend. That makes for a perfect setting for Unknown's second annual chili cookoff on Saturday from 1 p.m. to 5 p.m.
For $10, you'll be able to sample chili from 20 different amateur teams (good luck to friends Daniel Hartis and Eric Gaddy's squad!), and then vote for your favorite. Of course, Unknown will have a full lineup of beers to wash it all down with. There will also be live music during the event, which will see some proceeds benefit Purple Heart Homes.