Legion Brewing's SouthPark Site Still on Track for Fall Opening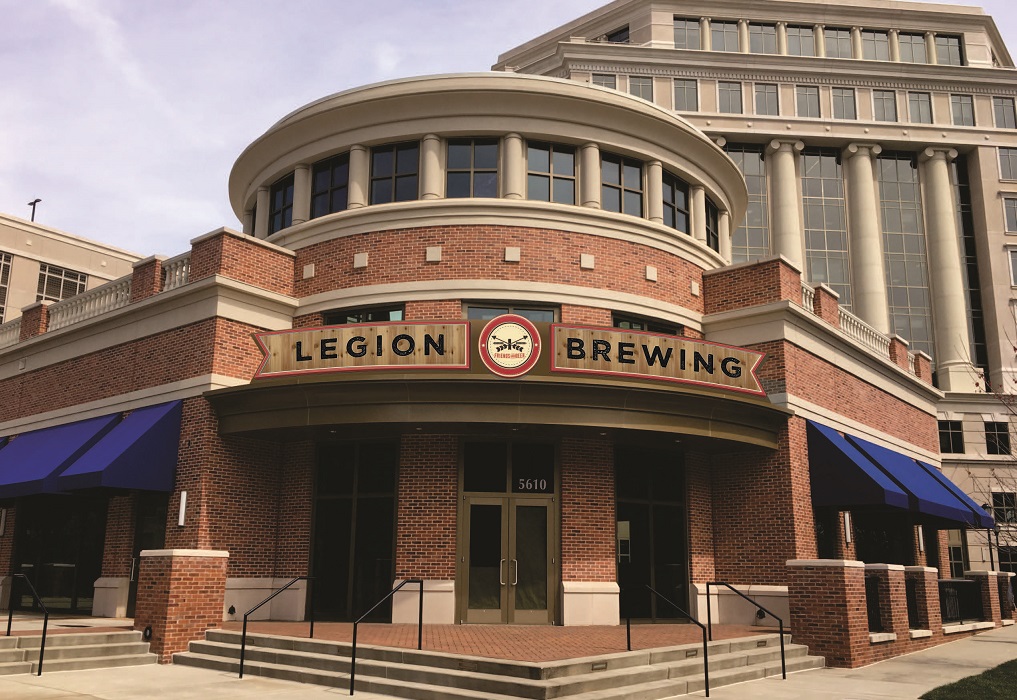 When Legion Brewing co-owner and managing partner Phil Buchy began thinking about a second location, the SouthPark neighborhood immediately came to mind.
The reason?
"Well, I live about two blocks from here, so it made sense," he says with a laugh.
Joking aside, this is an area that continues to massively grow and also one that is untapped (no pun intended) when it comes to breweries. So it was a no-brainer when Buchy signed on late last year to open the second site, officially located at 5610 Carnegie Boulevard.
Buchy was on hand Wednesday to show off the latest progress for the roughly 11,500 square-foot location in the Capitol Towers development. Construction of the two-story building complete with a rotunda is going along on schedule with a targeted fall opening still in place.
Legion's second location will have a major fermentation focus, underlined with three 40-barrel wooden foeders (or, "120 barrels of wooden love," as Buchy refers to it) in what will be an expanded sour program for the brewery. The SouthPark site will also feature two stainless steel tanks for fruiting and blending (beers will be poured directly from these tanks), along with multiple barrels. The wort will be made at Legion's original Plaza Midwood location, and then trucked over to SouthPark for the remainder of the process.
Buchy says the building's design plays in perfectly with the new additions.
"A rotunda is a unique architectural feature here, and we were running through our minds of how we utilize it," he adds. "We don't have any more space in Plaza to add foeders, so when we saw this spot it was perfect for them. And with the wood surrounding you at the bar (reclaimed from trees throughout Charlotte's greenways and neighborhoods) and on the ceiling, to me, it kind of feels like you're on the inside of a foeder."
One item that hasn't been previously reported is this site will serve liquor, making Legion only the second brewery to do so, joining Heist.
"We're already working with local and regional distilleries to source our drinks," Buchy says. "It will be a nice, curated but limited cocktail menu – because the focus is on the beer. We want to fit the personality of each neighborhood we go into and we feel like having liquor fits here in SouthPark."
When you walk in to the new location, you'll immediately see a 360-degree circular bar that will seat 20 people, and there will be numerous tables on the ground floor as well. Buchy describes the upstairs space (which will have a bar of its own) as a "tucked away and cozy feel" featuring TVs, a foosball table, dart boards and a long drink rail overlooking the main floor.
Legion's SouthPark location will also include a full-service restaurant, led by Chef Gene Briggs, previously the head chef at the uptown restaurant Blue. The kitchen will have an open viewing area and feature a wood-fired Argentinean grill. Look for Briggs to incorporate different Legion beer into certain dishes as well as hold special beer dinners.
"I love beer because it's an extension of food," Buchy says. "We'll definitely have a higher-elevated menu than we do at Plaza, and we're super excited to see what chef Gene is going to do for us."
Outside is an enormous patio that will have plenty of furniture and space for live music and games, and there's a private event space in the back that is sure to be booked many times over once the location opens.
As for the beer, you can expect all of your favorites – yes, including Juicy Jay – to be on the taplist. Buchy adds you may see some variations between the two sites but overall the drafts should relatively be the same.
And while Legion's second site has yet to open, Buchy says he's already actively looking to add a third location. Nothing is imminent on where that spot will be, as Buchy adds everywhere between "Mooresville to the South Carolina border" is in play.
"We're growing so fast, we're going to need to build another spot so we don't max ourselves out of capacity," he says. "There are definitely neighborhoods in Charlotte that we're focused on but nothing has been signed."
Buchy says he's thrilled to bring Legion into an area that's never had a brewery, pointing out the same happened in Plaza Midwood ("Being the first – that's kind of our thing," he adds.)
"There's nobody else here; we wanted to bring our version of fun to a neighborhood that is vibrant and has a lot of cool stuff going on, but they don't have anything like what we do," Buchy says. "So we're excited to come in and fill that niche.
"I've been a builder for the past 20 years, so as soon as I walked in here I knew exactly what we were going to do with this space. But to actually see it happening and evolving like it was imagined is extremely gratifying."