Leon Levine's Wonderful Life
The businessman and philanthropist, who died Thursday at 85, is woven into our city's fabric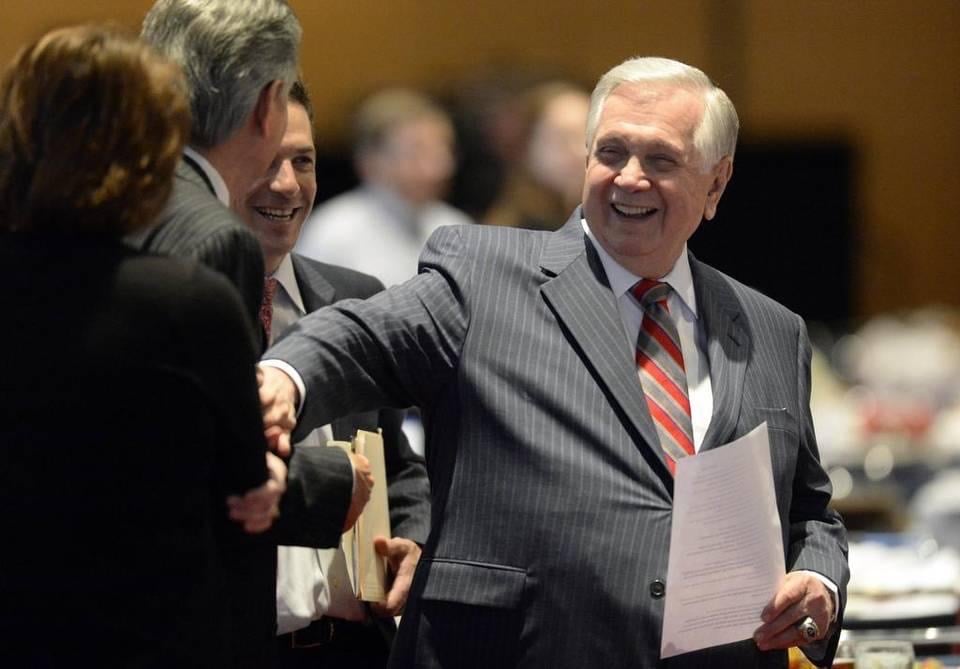 By Guest Contributor, Mary Tribble
In the movie It's a Wonderful Life, an angel named Clarence convinces George Bailey of his worth by showing him what the town of Bedford Falls would look like if he hadn't lived—the people who wouldn't have prospered, the homes that wouldn't have been built, the institutions that wouldn't exist. If Clarence came to Charlotte to show us what the city would be like without Leon Levine, the story would have a similar theme. Imagine Charlotte without him. The city would be a very different place.
Likewise, I can't fathom what my 30-year career in Charlotte would have been like without Leon. He and Sandra were interwoven into so much that drove Charlotte, and by association my special events business, that it's hard to imagine my life without them.
I first met Leon and Sandra early in my career. I planned an event for Family Dollar, which staged a dance number I somehow convinced the sales reps to perform in. It made enough of an impression that when Sandra was planning a party for her 50th birthday, she and Leon hired my company to put on an elaborate cruise-themed party with tropical decor and a musical review. That led to years of planning milestone events for the family—bat mitzvahs, birthday celebrations, weddings, and the like. It was an honor to bear witness to the Levine family rites of passage over the years.
One experience that stands out was Leon's 60th birthday, when Sandra asked me to help her surprise Leon with a book written about his life and the business he built. I hired Charlotte writer Bea Quirk to interview a long list of family and friends, but to get the full story, we needed to interview Leon. We created a ruse, telling Leon we needed him on video for a segment at the party we were planning, and set up a crew so Bea could do the interview for the book. I spent hours on the phone with Leon while we worked on that event, listening to the amusing, inspiring and sometimes heartbreaking stories of his life. I felt so fortunate for that experience, when I was allowed to see past the serious and tough business icon into the funny, compassionate, and loving man he was.
Most of the family events we planned were during the time that Leon was building his very successful business. When he retired from Family Dollar, my work with Leon and Sandra evolved from personal to philanthropic. It wasn't long after his retirement that the Levines decided to make a mark on the world by investing their fortune in the Charlotte community. We began planning ribbon cuttings, grand openings, and other celebrations for myriad charities and institutions that bear the Levine name today.
This shift represented a broadening of the Levine legacy to the wider community whose educational, spiritual, and occupational lives were and continue to be enriched by their philanthropic pursuits. Leon told me more than once that he enjoyed giving his money away more than he did amassing it, and it showed. Every time he cut a ribbon or made a speech with Sandra by his side, I could see his pride in the legacy he built. I could see the joy he had in the impact he had made. And I could see the love he carried for this city and this state.
Imagine Charlotte without Levine Children's Hospital. Levine Cancer Institute. Levine Museum of the New South. The Levine campus of Central Piedmont Community College. The Levine Center at Charlotte Country Day School. Levine Avenue of the Arts. The city wouldn't be the same.
While the buildings that display the Levine name will be with us for years to come, the effect Leon Levine has had on so many individual lives, including mine, is his true legacy. His life's work will continue to impact the people of Charlotte for generations to come.
Leon Levine was a generous man.
His was a wonderful life.
Mary Tribble is a writer and higher education professional at Wake Forest University who planned special events in Charlotte for many years.