Lessons Learned on Mount Katahdin
At the northern end of the Appalachian Trail, an education on determination and finishing what you started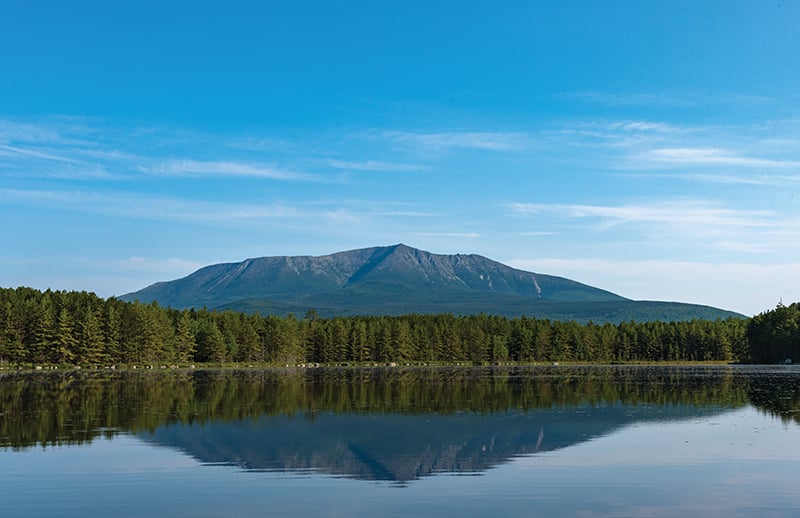 THE WIND SHOUTED for my attention as I tried to sleep in my tent at the base of Mount Katahdin, the tallest mountain in Maine. It was early morning, and I hoped to climb the 3,900-foot ascent to the 5,267-foot summit and get back down before dark. But the air temperature on this October morning dropped into the 30s, and the blistering wind promised to make that feel even worse. I like hiking, but I like not freezing to death better.
I lingered in my sleeping bag for half an hour, waiting for the roars of the wind to relax into purrs. When they didn't, I crawled out. My eyes followed the noise up. A canopy of bright yellow leaves obscured the bluing sky. I expected to see trees bent in exhaustion from trying to stand against the wind. But they barely moved.
What sounded like fury signified nothing.
Baxter State Park insists all hikers sign out at the ranger station when they start to climb the mountain. I said good morning to the park ranger as I marked my departure time of 7:15 a.m. on the sheet for the Abol Trail, one of several routes to the summit. The ranger told me that ice covered the boulders above the tree line, and the wind at the top gusted at 60 to 70 miles per hour.
I didn't believe him. I had been camping and hiking on Maine's most famous mountain for three days, and all the advice I'd received involved worst-case scenarios. By this point, I expected a bear to eat me and then get struck by lightning during a blizzard that caused an avalanche. If I was lucky, there would be no pestilence.
The rangers have reason to be discouraging. The summit of Mount Katahdin—the northern terminus of the 2,189.1-mile Appalachian Trail—is widely considered the most difficult and dangerous mountain on the AT. That sounds poetic and exciting when you read about it in guidebooks. But when you're standing at the bottom of Katahdin, its craggy face rising above the tree line, the cold already slicing your face, it looks like it sucks. Then you start hiking, and it's even worse.
The Abol Trail goes up, up, up, relentlessly, up. There are no switchbacks, no stretches of easy, and the only way to catch your breath is to stop. I've hiked all around North Carolina, and Katahdin reminds me of Linville Gorge. Both remain rugged to the point of dangerous. Neither is appropriate for first-time hikers. Baxter State Park has not made climbing the mountain easy to accommodate the masses. There are no guardrails or stairs or ropes to help you along. And it's not just the nonstop incline that makes the hike difficult. Long portions of the Abol Trail follow a jagged, pointy rock bed.
Trees grow thickly along both sides of the trail. For the first few hours, I encountered no other hikers. The only people I saw were placing hefty rocks for trail maintenance. They seemed awfully cheerful, considering how difficult it must have been to get those rocks up there.
***
G.K. CHESTERTON DESCRIBED "becoming a Christian" as like arriving in Europe and "discovering" it. That's as good a description as I've ever heard for why I love hiking. I follow trails, so I know I'm not discovering a thing, but I still sometimes feel like the first person who was ever there—the first person to see that tree or hear that bird or trip over that rock.
When I was a boy in Michigan, I explored the campgrounds where we spent our vacations. I remember bounding across one trail that led me out of the campground and into what I thought was untrodden territory. That sense of going somewhere new ended when I encountered an abandoned school bus and found a hobo's kitchen inside. But thankfully, no hobo. (No offense to hobos.)
Another time, when I was maybe five, a group of us came upon a clearing in the forest to find the wooden frame of a teepee—five or six giant logs leaning on each other to form a cone. I thought it must have been hundreds of years old. An older boy pushed one of the logs away, and the whole thing toppled. Four decades later, I assume that wasn't the frame of a real teepee, but an exhibit. I believed it was real at the time, and even though I was only five, I knew better than to deprive the next boy of that joyous discovery.
I thought of the hobo's bus and the teepee after I reached the top of Mount Katahdin, about three hours into my hike. It's a false summit—the top is not actually where the trail ends. The summit is another mile or so across a lonely and barren, dome-like top. I looked around and, for a moment, saw little evidence that anybody had been there before. Not only that, I saw little evidence of why anybody would want to be there.
At Thoreau Spring—a section of the mountain named for Henry David Thoreau—the trail devolved into a wasteland of rocks set up in a hopscotch pattern, a gray-scale world in stark contrast to the rich colors of the forest I had left behind.
"It's not what you look at that matters," Thoreau wrote, "but what you see." Well, I couldn't see squat, because clouds engulfed me.
On paper, the last mile looks easy. But given the cold, wind, rocks, and clouds, it might have been the hardest mile I've ever hiked. I carefully placed each booted foot onto the next rock and looked for even ground into which I could plant my poles.
I had spent the previous hour scrambling over enormous boulders. As the ranger warned me, ice covered them, and grabbing them left my gloves soaked. My fingers were so cold, I pulled them back into the center of my gloves and made fists.
The wind felt like a thousand ice birds pecking at my face with their ice beaks. I don't know if the gusts up there were actually 60 to 70 miles per hour, as the ranger predicted, but if they weren't, I never want to stand in winds that are. During hard gusts, even standing was difficult. For an hour or more, I thought, if it gets any worse, I'm going to turn around. It got worse, but I kept going, in large part because I had joined another hiker and wasn't going to quit now that I was with somebody.
When we reached the summit, a half dozen people loitered near the sign that marks the end of the Appalachian Trail. We shouted fragments to each other about the cold. For passionate hikers, it's one of the most famous places in the world. One reason I kept going despite the cold was to get a picture of myself in front of the sign. My new hiking partner wanted one, too. Her iPhone froze and would not turn on, so I took one using my phone.
Clouds swallowed and abandoned the mountain several times in the few minutes I stood at the top and caught my breath. When they blew away, I looked down at my campground. I wondered which of those screaming-with-yellow trees 3,900 feet below had obscured the morning sky when I crawled out of my tent. But I couldn't linger. I needed to get off the summit while I could still feel my fingers.
I struggled on the hike off the domed top as much as I struggled on the hike onto it. Simply walking required so much concentration, I briefly lost my hiking partner. I couldn't grip my poles. Twice I slipped on icy rocks—and by slipped I mean big, dramatic, comical falls that sent my feet into the air, my arms flailing wildly, and my hiking poles flying across Katahdin's bleak landscape.
I scrambled down the boulders and started to get woozy. I was more than five hours into the hike by now, but I hadn't stopped to eat, because it had been too cold. Now out of the wind, I scarfed down trail mix and reentered the forest, which was impenetrable except for the trail. The tree cover suddenly provided protection from the wind. It turned into a nice fall day. I passed other hikers who were on their way up, and I warned the ones wearing just T-shirts they shouldn't go much farther.
I dropped my backpack off at my tent and walked to the ranger station to mark my finishing time. I had covered 8.8 miles, ascended 3,900 feet, and made it back down in about 8.5 hours. I poked my head into the ranger's cabin to tell him he was right about the wind and the ice. Heat rushed through the door when I opened it. It must have been 80 degrees in there.
Matt Crossman is a freelance writer who has hiked on the Appalachian Trail in four of the 14 states it goes through. He previously lived in Charlotte and wrote about Crowders Mountain and Grandfather Mountain for this magazine. He lives in St. Louis, Missouri. Read more of his work at mattcrossman.com.
How to get there:
Fly to Bangor, Maine, drive north on I-95 to 157, and take that west
OR
Drive to Springer Mountain, Georgia, find the Appalachian Trail, and walk north. Follow the white blazes for 2,189.1 miles or so