Let the Wine Flow at Fig Tree
Restaurant receives recognition from Wine Spectator magazine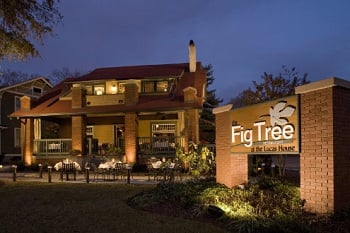 A few weeks ago, Wine Spectator magazine's August issue hit newsstands and proclaimed The Fig Tree Restaurant as the winner of the Best of Award of Excellence for the third year in a row (2012, 2013, and 2014).
The magazine, which specializes in all things wine (obviously) annually reviews restaurant wine lists and menus from around the world, only recognizing those with outstanding offerings. The Best of Award of Excellence is given only to restaurants that typically offer 400 or more selections of wine with superior presentation, vintage depth with several vertical offerings of top wines, or excellent breadth across several wine regions.
From 2006 to 2011, The Fig Tree won Wine Spectator's basic "Award of Excellence" award which acknowledges wine lists that offer a well-chosen selection of quality producers along with a thematic match to the menu in terms of both price and style. Typically, these lists offer at least 100 selections.
"We're so honored to receive this accolade," said Sarah Zanitsch, co-owner and general manager of The Fig Tree. "We go out of our way to make sure every diner has an amazing experience at The Fig Tree, and, in many cases, wine is a part of their celebration. With more than 2,500 bottles and more than 700 labels in our collection, our diners can expect an exciting dinner paired with an amazing bottle of wine every time."
The Fig Tree's chef and owner Greg Zanitsch considers the award to be not only an accolade for the restaurant but also a significant recognition for the culinary landscape in Charlotte as a whole. "I believe the mark of a great restaurant is not only to have great food, fine wine, and impeccable service, but also to promote local products as much as possible. It is encouraging and reassuring to see us being recognized for our passion and commitment."
It is Friday, so everyone should go out and test this award-winning wine list at The Fig Tree this weekend. Congrats to the eatery and staff!