Let Them Lead the Way
Young people know social media as they would a native language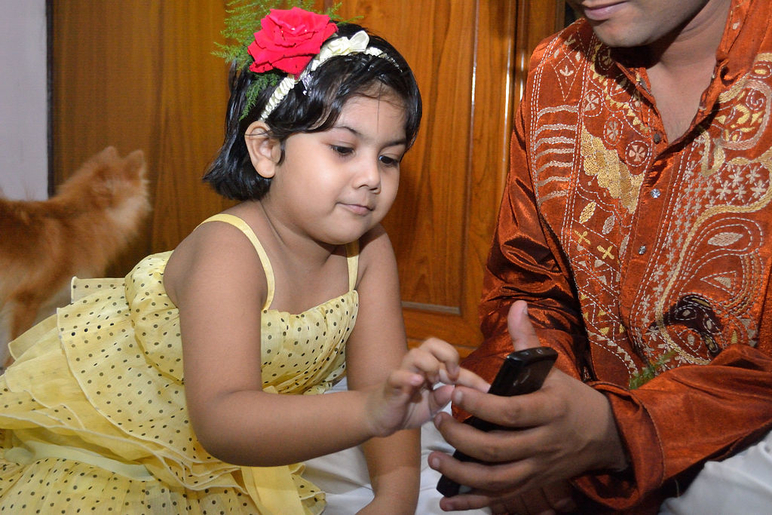 Of the four people who'll make up the panel at our next #discussCLT event on April 25—"Social Media & Kids. It's Complicated."—three are adults. The lone teenager will be Avery Primis, a 17-year-old senior at Myers Park High School, who understands how social media represent a distinct border between her generation and the ones before it. "We are the true digital natives, meaning that we grew up with that technology. So I believe that has a huge impact on my life," she told me on a Sunday afternoon over the phone, that artifact of legacy tech.
Avery plans to study digital communication in college at Fordham University in New York, and eventually work in the field. "I think a dream job would be to like work for a Refinery 29, or something like that, like a digital platform that doesn't just do news, doesn't just do beauty, doesn't just do clothes, but kind of does a little bit of everything—but is also just a really cool environment to be in. I know that social media will always be a big part of what I'm doing."
So young Avery seemed to be an ideal person to talk to not just during the upcoming event but beforehand, as a kind of guide to all the complications and dangers awaiting our children in the wolf-infested forests of social media. However can we protect them? After a half-hour or so of chatting with her, I concluded that I might want to hire her as a social media consultant, maybe even a life coach, and that I probably would end up working for her at some point. I asked her, for instance, if she thought social media enables sociopathy or reveals it.
"I think it's a little bit of both. Social media gives you this metaphorical wall," replied Avery, who, remember, is 17. "When that person's not in front of you, you can talk all the smack you want because you know you're not going to get that true, genuine response right in front of you. If I am going to say it over social media, I'd better be able to say it to your face."
I don't know how fully she represents her generation, but if she is, we older people have it backwards. We're the ones who need to better understand the difference between real and online life, and how to control and respond to the bullying and bad faith that infect so many Facebook and Twitter spats. Avery—and, judging from the success of the Parkland students, many of her peers—understand exactly how to handle that stuff. They're dolphins frolicking in those waters while laughing at their clumsy landlubber parents. "How can parents raise technologically and emotionally savvy kids?," this magazine asks in its promo for the #discussCLT event. We might be better off asking how technologically and emotionally savvy kids can teach their clueless parents how to hashtag without tearing a ligament, or losing their advertising base.
The Parkland students do seem to represent something new—the digital generation's first watershed moment, the time when medium, cause, and practitioners came together to knock the bullies back a few feet. Avery said she was astonished that a teenager like David Hogg could intimidate a 54-year-old political operative with a nightly TV show into stepping on that big a rake. But realizing the immediacy and power of a medium like Twitter is the first step toward using it responsibly. (The same principle applies to another tool, the one that started the whole Ingraham-Hogg argument to begin with.)
"I look up to them immensely. I think they are the epitome of what it means to be an advocate," Avery said. "The way they utilized their presence on social media is so important to their cause."
Still, she said, she's never been trolled—not personally. She's never had her career ruined or life threatened because of a stray tweet. That's in part because she's cautious. It also doesn't hurt that her father is Blair Primis, OrthoCarolina's vice president of marketing. But mainly, she understands without having to think that whatever she posts on any of her four social media platforms (Twitter, Facebook, Instagram, Snapchat) is potentially open to public consumption. If you're going to say it over social media, you'd better be willing to say it to someone's face—and maybe tens of thousands of other users who weren't even invited to the conversation.
Her worst experience on social media? Some friends who started "finstas," or secondary Instagram accounts shared only among close friends and often a platform for mean chatter or insults about other people. Think of a primary, tame, real Instagram account, or "rinsta," as the ego. The "finsta" is the id. When Avery sees a nasty post or meme, and the account belongs to someone she knows, "I'll DM them and be like, 'Hey, you should probably rethink that. Just make sure you know who your audience is. If you need to talk, I'm here. But I don't think this is the right platform to be doing this,'" she said.
That sounds more like advice from a lawyer or human resources consultant than from a classmate at Myers Park. "I'm not trying to be some social media angel or think I'm better than anyone else," she said. "However, I do believe I have some sort of platform, and because I have that, I have to use it for good." Users such as her, like white blood cells, are leading the culture's response to the infection.