Level Charlotte Opens, Offering a Pleasantly 'Local' Nightclub Experience
Grand opening party this weekend at new Uptown venue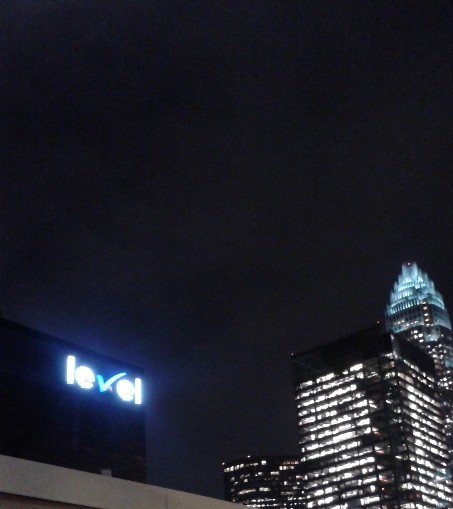 The fourth quarter of this year has been a surprisingly busy season for grand openings in Charlotte, and the latest venue is a new nightclub in a familiar spot.
Level Charlotte
holds its grand opening this weekend. I received a preview tour earlier this week.
Level Charlotte occupies a three-level building—hence the name—in Uptown's First Ward neighborhood, across the street from Time Warner Cable Arena. You might remember the building as the longtime home of Breakfast Club, which
closed in September 2012
, but the new owner has done a great job renovating and upgrading the space into what has the potential to be a vibrant nightclub. Level is owned by Charlotte businessman Dennis Hilliard and managed by his sister Carolyn Hilliard, an event promoter who's organized parties in Charlotte for several years.
In a nutshell, level one of the club is a sports bar and lounge (large bar counter, pub tables, multiple TVs), level two is the dance floor (complete with a stage, DJ booth, and VIP section), and level three is the exclusive VIP area, overlooking the dance floor. Each level has its own bar, and levels one and two have the capacity to feature separate DJs. There's also a large outdoor patio on wood floors, with an outdoor bar. The patio isn't expected to be used much until the weather gets warm.
One of the things I like most about the club is the paint schemes throughout—they pay tribute to the city's pro sports teams. The walls in level one are painted shades of purple and teal that match the colors of the
soon-to-return Charlotte Hornets brand
about as good as any vintage Hornets jersey. Those hang in frames on the wall, too. Level two has the Carolina Panthers' colorway.
Those touches and accents are an intentional approach to making the nightclub feel local.
"People were asking us, 'What kind of club are you going to be? Are you going to have a Miami feel,' Carolyn says. "We're a Charlotte club, and we want you to feel like you're in Charlotte when you're here."
Level will be open on Mondays at 7 p.m., and Friday and Saturday nights at 10 p.m. It will also be open after each Charlotte Bobcats home game in an effort to give fans a place to hang out after games. As for the music, Fridays will feature DJs playing EDM, while Saturdays will be top-40 hits. In celebration of its grand opening month, drink specials throughout December include $4 pineapple fusion cocktail, $4 Fire Eater, and $2 Bud Light and Corona.
The grand opening party this Friday, December 6, begins at 10 p.m. and will feature music from DJ Kenny Logic and DJ Candy. Special guests include the Charlotte Beer Girls, and Toys for Tots will be there collecting toys for children for the holidays. You can get a complimentary ticket to the party by visiting
levelcharlotte.eventbrite.com
. VIP admission and bottle service are available as well.
Be sure to bookmark www.charlottemagazine.com/Blogs/Dusk-Till-Dawn to stay plugged into Charlotte's nightlife and social scene. Follow me on Twitter @HollidayInk; email me at jarvish@grownpeopletalking.com.