Life Lessons: Alessandra Ball James on a Sugar Plum Fairy's Next Move
Longtime Charlotte Ballet dancer pirouettes to new career amid COVID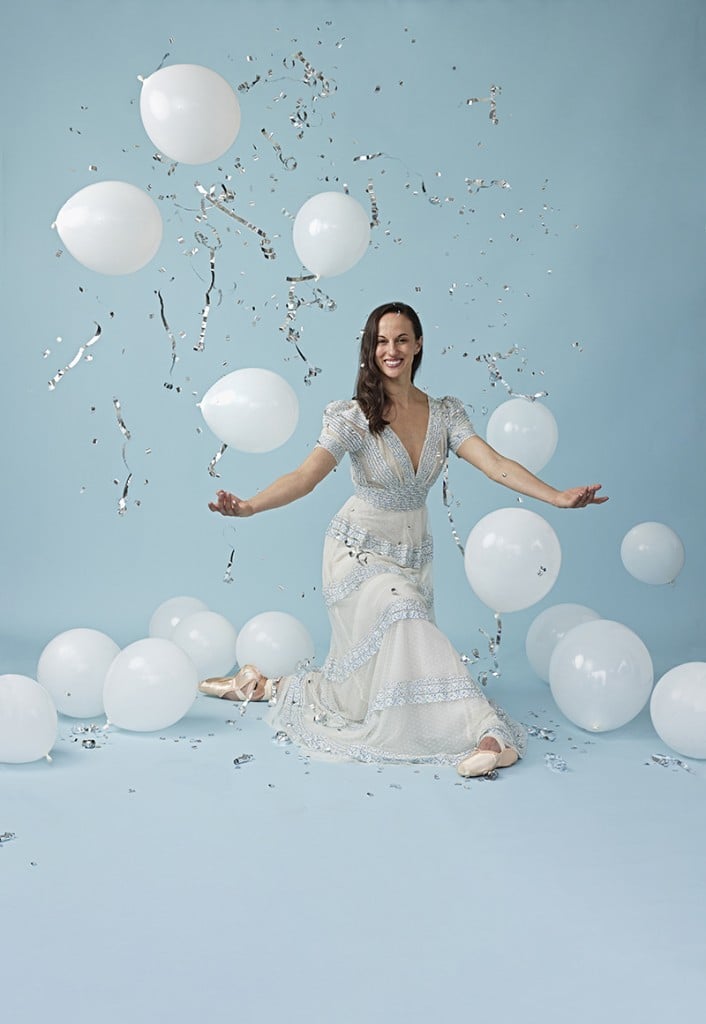 Ballerina Alessandra Ball James delighted audiences in a staggering 750 performances over 15 seasons with Charlotte Ballet, including her repeated role as the Sugar Plum Fairy in The Nutcracker. Aside from watching her command the stage, you might know her from Instagram—her handle is @burritojames—where she posted behind-the-scenes snapshots that allowed followers to peek into her life both on and offstage.
Although the Atlanta native has also danced professionally in Denver and Madrid, James' seamless blend of the two worlds made the refined art of ballet seem accessible, modern—and distinctly Charlottean.
But in the middle of the endless chaos of 2020, James, 37, announced her retirement, a step that isn't unheard of in ballet; the physicality of professional dance wears on dancers' bodies just as professional sports force most athletes into retirement before 40. Another reason, she says, is her foray into entrepreneurship with a business, EveryBODIES Ballet, that James created with longtime friend and fellow dancer Sarah Hayes Harkins. EveryBODIES (@everybodiesballet on Instagram) offers virtual classes, choreography, posture coaching, and more for dancers of varying experience levels. James also spends more time with her husband, Mike, and 7-year-old son Charlie, a luxury after years of a ballerina's unforgiving schedule.
Here is James in her own words. Responses have been edited lightly for length and clarity:
---
I started ballet when I was 3. My mom put me in a class because I was hyper. I danced three or four days a week, but I didn't see it as a career path until 16, which is late for a dancer. I didn't go to a performing arts high school, so you can imagine me walking into the college guidance counselor's office like, "No, thank you. I'm auditioning for ballet companies." My parents never doubted me, though. They blindly got behind me, and my mom traveled around with me to auditions. I really owe being a professional to them.
One of my favorite performances was when I was doing the Don Quixote pas de deux (a dance for two people) at an outdoor amphitheater. There are all these fouettes at the end, where you're pumping your legs forward and you turn. I had to do that 32 times, on a dime. I was so tired, and it was hot and humid. But the amphitheater was packed, and the music's exciting. The audience was clapping to the beat. I thought to myself, "I will never forget this moment in my life, because, my golly, it feels so good."
When I had my son, my husband was so selfless. He understood how physical and emotional this job is. I'd come home exhausted, and he always had dinner on the table. He always had Charlie taken care of. I never had to worry about anything. It helped me be a better mother and a better dancer. He's an engineer, so we'll joke, "That's what happens when an engineer meets a ballerina."
I already had retirement on the horizon for 2021. But when COVID hit, I was just kind of waiting it out. As it went longer and longer, I realized I really enjoyed being able to be here for Charlie. I enjoyed being home. I got a taste of what retirement would be like. I actually felt my best physically when I decided to retire. I was the most in tune with my body I'd been and was able to work in a smart way that made me feel in the best shape of my career. I felt good leaving when my body was feeling its best, instead of facing the frustration of being in pain. I was like, "I feel so good. I feel so fulfilled. I have so many memories." I sat with the decision for a good bit of time. And I just felt like it was right.
No, I won't have that big last show. And I'm totally OK with that. I don't need one final thing to sum up my career. I used to be like, "I want pink glitter! I want balloons to fall from the ceiling! I want it to be a big hurrah!" But one of the blessings of COVID is it's given people time to step back and pause and think. It's been a time of reflection for me. I've realized what is truly important to me and what means the most.
The biggest adjustment moving from ballet to entrepreneurship with EveryBODIES is, as a dancer, you're responsible for yourself. You're responsible for showing up in great shape. As an entrepreneur, we're all over the place. But I welcome that challenge. Sarah and I are holding each other's hands through this, and we're able to be like, "OK, let's take a little pause." We both have really had to be really conscious about listening to one another.
The striving for perfection you do as a dancer—that skill helps as an entrepreneur. But as a dancer, you always want to please. You want that approval from the choreographer or from the audience. As an entrepreneur, it's about having a backbone and finding that moment of, "What's our policy on this?" You've got to stand your ground in situations, whereas as a dancer you're like, "Everything's great!" But as dancers, we also know how to lock in and make sure it's just right. The skills we've honed have helped us so much as business owners. You have to be able to go above and beyond.