Life Lessons: Bunny Gregory
Art changed her life. She hopes it can change her community, too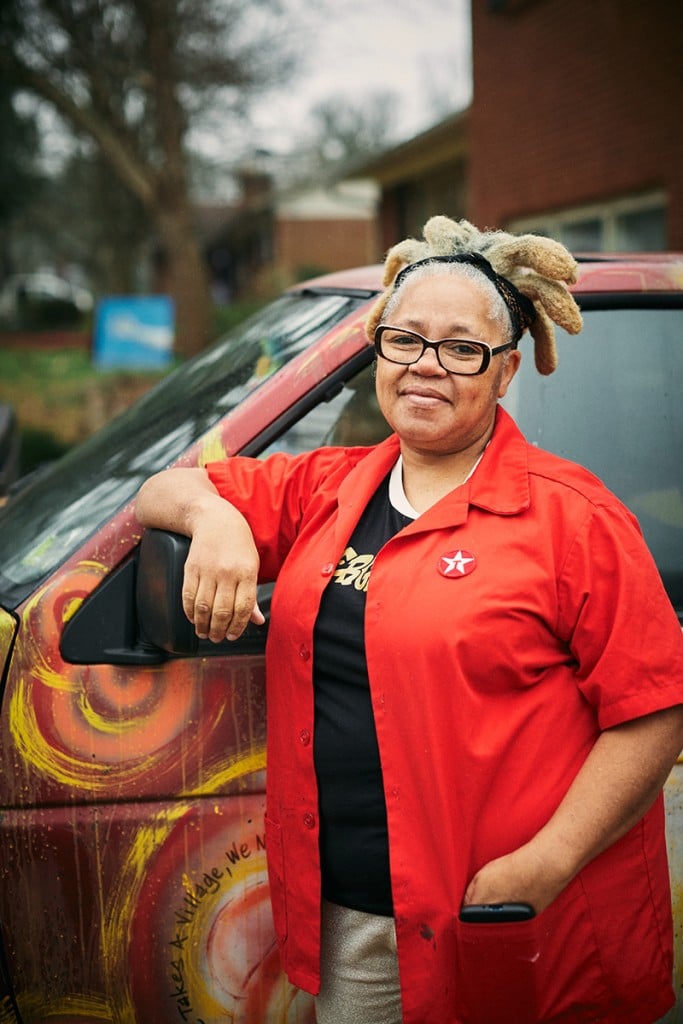 Michelle "Bunny" Gregory, 55, grew up on Charlotte's west side, and she's watched the area change, imperceptibly at first. In the mid-2010s, as gentrification gained momentum there, Gregory launched The Underground, a collective to support young Black artists. Since then, The Underground (not related to the Live Nation venue of the same name) has evolved from a venue and gathering space—first at a warehouse in NoDa, then at another on Monroe Road that closed in 2016—to a community that organizes and hosts an assortment of arts-related events, from regular bonfires to art shows around town.
Last year, Gregory achieved her longtime goal of acquiring a school bus to deliver art instruction and activities to neighborhoods throughout Charlotte, especially where she grew up. The force behind each of The Underground's iterations is Gregory herself, who's driven by the belief that art can create opportunity—and help the west side maintain and celebrate its historically Black character.
Here's Gregory in her own words, edited for space and clarity.
I started doing The Underground thing over 10 years ago. It was all about me finding other Black artists here, which, growing up in the '80s in Charlotte, I didn't think existed. I didn't know where to meet them or how to be a part of that movement.
I'm thinking, Probably not going to be around long. Nobody's going to come through. When I first opened the doors, that place was crowded 'til the doors closed. I met so many Black artists here in Charlotte: visual artists, chefs, gardeners. We had a bonfire every Tuesday night, rain or shine. The first bonfire, there were about 11 of us. After that, it could be anywhere from 50 to 120 people.
I realized that a lot of the artists wanted to do their art, but they also needed a job. A lot of them were homeless. So they would come by here, and I'd let them wash up, and they'd be able to change into clean clothes or have something to eat. They've done a lot of collaboration with one another and always support each other.
If there was any craziness, if anybody brought any bad energy, I never had to say anything. They would make sure that that was over. You're not welcome here with that.
I have kids—I call them kids; they're not kids—who will call me, sometimes late in the night, just screaming and cursing. I always say, "If something's bothering you, you just need somebody to vent to, somebody you can call." They trusted me enough to do that. They would come around and want to learn something about drawing or whatever. It started out as a safe space to just be who you are. I try to meet everybody where they are.
I am a victim of molestation and sexual abuse, and art kept me in a place where I could get outside of that. It wasn't easy. It was an outlet. It was definitely a place where I could go and do something creative with something that I thought was beautiful. Because outside of that, there was a lot that I just didn't think was beautiful.
Every time that I felt some kind of way, I would literally lock myself in the room and paint and draw all over my walls. It was my safe zone. I was kind of not a part of this world when I was in that room. The first time I actually painted on the wall, I had been given a set of oil paints. I was too young to know that oil paint was pretty much forever. My mom was really cool about it.
If I wanted to do creative stuff, I would always end up hanging out with a crowd of white kids. So when I started The Underground, it was like, I know that there's got to be other Black artists here. And when I opened it, it wasn't just Black artists. It was such a diverse crowd. But a lot of those people—all of them—had the same motivations I had. It was about having a community of people. When I started, it was right around when we really started to lose communities.
It was very gradual, especially on the west side. It definitely wasn't like there were whole neighborhoods going down at once. It was one or two houses. It would be like a regular neighborhood house, and then, all of a sudden, there'd be like this huge $600,000 home next to it.
There are houses with individual families in them, and they don't know the people next to them or down the street. It was not like that at all (when she grew up). I could walk around my block, and I knew the parents. I knew if someone saw me doing something crazy or something that would hurt me, they were going to call me out, they were going to call my parents, they were going to make me stop. We don't have that. We are so disconnected from each other. We're just neighbors; we're not a community.
My mom used to charter buses. Her and a few other women would work their asses off to gather money to charter a bus for all the kids in the neighborhood to take a trip. We'd have huge cookouts at the park. It's not like that at all anymore.
Kids that came through (The Under­ground) would say, "I wish we had something like this when I was a child." I thought, We could do this. I know my parents couldn't afford classes. You're not going to get people who work eight-plus hours a day. You get home and your kids are gonna go like, "Can you take us over here so we can paint or build a birdhouse?" You're gonna be like, "Hell, no." Even if you want to. Even if you think it's a great idea.
These parents are tired. They don't have money. They already got a whole lot of stuff to do for their kids. So I thought, Well, shit, what if we took it to the neighborhood? What if we came to them? What if it was free?
Whatever it is you're doing—gardening, painting, creating jewelry, metalsmithing, or whatever—you're actually learning creative thinking. And then you can do anything. If you sell vacuum cleaners door-to-door, you damn well better be a creative thinker. It opens their minds up to do whatever it is they decide to do. It's not about making a whole bunch of little artists who are painting or doing sculpture. Art is a gateway to do creative thinking in general.
There was a time when I thought I hated (my life). I hated being a woman, just because of stuff that I went through. But the community of people, of artists, that we have now—I feel amazing. I would not want it any other way. I don't have a lot of money, I don't have a lot of things, but I've never been happier.
You just got to show up. We always think we need a pocketful of money to make changes, but we don't. All we really need is each other. If everybody does the part that they can do, we can make things happen.