Life Lessons: CMS Superintendent Clayton Wilcox
The county's public schools chief started his career as a teacher, and he still loves that first day of school feeling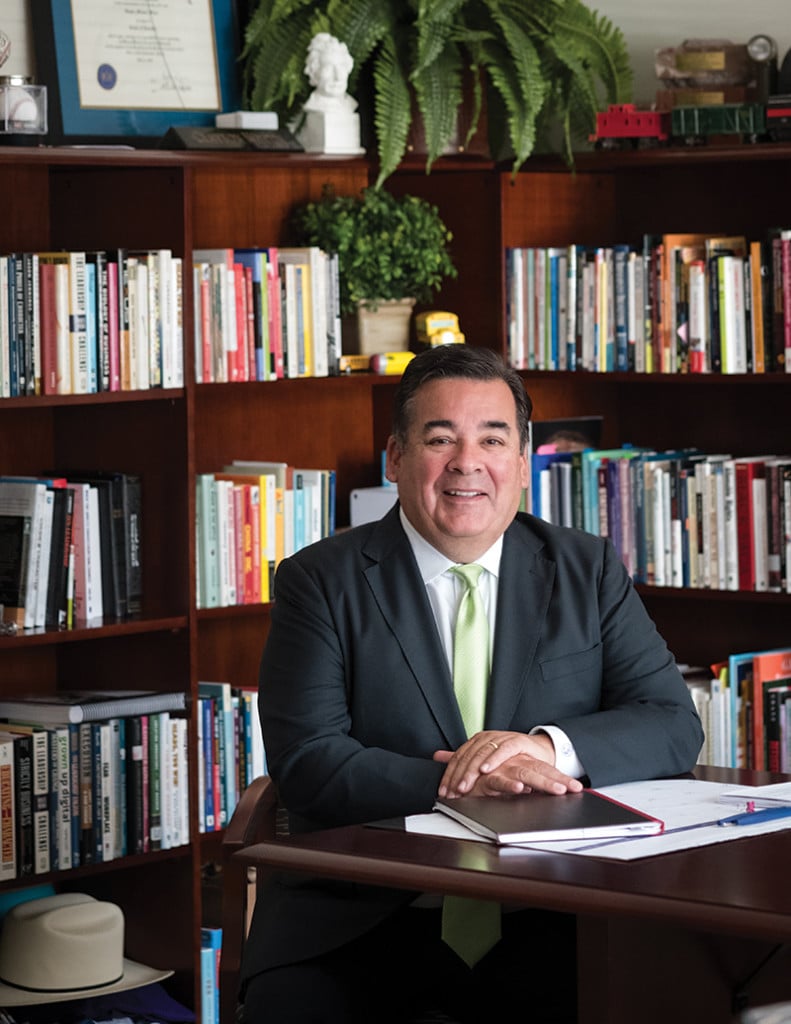 CHARLOTTE-MECKLENBURG SCHOOLS SUPERINTENDENT CLAYTON WILCOX took over as the district's top educator last year, becoming the fifth person to hold that job in the past decade. He spent his first academic year setting a course for the future—while developing a new budget; answering questions about safety in the wake of the Parkland, Florida, school shooting; and dealing with suburban towns that want to break from CMS to create their own districts.
But the affable former teacher relishes the start of a new school year, a feeling he hasn't been able to shake since childhood.
Here he is in his own words, edited for clarity and length.
---
Mrs. Box was my first grade teacher. We lived in Cedar Falls, Iowa. I remember I invited her home for lunch. My parents' house was adjacent to the schoolyard. And she came. But I hadn't told my mom.
I came walking up to the back door with my teacher, and my mom thought something was wrong. When I explained I brought Mrs. Box home for lunch, my mother was horrified. She didn't have anything ready. So she made sandwiches, put out some celery and some carrots—the only things she could do in that moment for an appetizer. We had these salt dishes, like a 50-cent piece around, that were made out of crystal. And I lost my mind with my mother because she didn't put those out for my teacher. Because I thought that was fancy.
I was a good student. I wasn't a great student. Most of my classmates would probably say, 'We never thought you'd end up either as a teacher, or certainly not as the superintendent of a large school system.' I loved school. Being an A/B student was just fine with me. I wasn't chasing grades. I played any sport that was in season. I was in student government, student council president, all those sorts of things. I loved school.
When I was a senior in high school, they asked us to do volunteer work. I chose to be what was called a cadet teacher. I went back to the junior high that I had gone to. I was with probably the most inspirational person in my career, a guy named Jim Zimmer. He was a PE teacher and my basketball coach and a mentor to young people. I just saw the impact he had on people, and I knew what he had done for me. He really changed my trajectory from what he called 'Clowning Clayton.' He actually drew a picture of me as a clown. He taught me that if I applied myself, I could do far more than what I thought I could do.
I went away to Drake University in Des Moines, Iowa to study political science and pre-law. I really thought I was going to be a lawyer.
Midway through my sophomore year, I ran out of money. Mom and Dad were great, but we didn't have a whole lot. So with the combination of my part-time job and lack of scholarship money, I decided to come home and go to the University of Northern Iowa. That's when my interest in being a teacher really picked up. So many of my friends through the university were on the teacher track. It was really viewed as an incredibly honorable profession.
My first year was in Downs, Illinois. I was teaching sixth grade. And I loved it. For me, it was like going back to school. I had a 1979, brand-new Camaro. I wasn't married. And I was in love with teaching, coaching basketball every afternoon.
Two students introduced me to my wife. I was teaching at West Intermediate School in Waterloo, Iowa. I was a science teacher there. My now-wife was a long-term substitute teacher in reading. We didn't know each other. These two boys played for a football team I was coaching. They kept telling me that there was this great-looking teacher upstairs and I had to meet her. Had to meet her. You know, I just never did go meet her. Well, she had a fight with her long-term boyfriend, who lived in Oklahoma, and he sent her two dozen long-stemmed roses. The two boys happened to be the office runners. They took the card off of the roses and took them up to her and said, 'Oh, these are from Mr. Wilcox.'
She came down to thank me and I was like, 'Wow, these boys were right.' She was a great-looking woman, and she shared my love for kids. The rest is history. Thirty-three years now.
Today, when I go into a classroom, the first thing I look for is not the great academic content—although that's critical. I look for whether the kids like the teacher. Is there a relationship here that the teacher can build on? I would argue that you could have all the content in the world, but if you don't have a relationship with the kids that you're privileged to serve, you're not going to get that content across to them.
When I was a teacher, I looked at what my principal could do and said, 'Well, I could do better.' When I was a principal, I looked at the people in leadership and said, 'How could they make that decision? I could do better.' Now, I realize that was somewhat arrogant. I didn't realize how complex it is. I didn't realize how many different constituencies you have to address as a leader.
I thought CMS was poised to be a really huge player in a community turnaround. I don't think there was any doubt that Charlotte was an up-and-coming city, and there was a rich legacy of entrepreneurship. What I started to see is this idea of making sure everybody has opportunity to grab hold of what we sometimes casually call the American dream. I just saw that we were uniquely poised to be in that moment to really help this community. For me, as a 62-year-old man, I thought if I'm ever going to do that, now is the time.
I believe that public schools as we know them—while they're flawed—are our last, best hope for our democracy. They are the place where people who are very different on their politics, their background, their upbringings come together and we can create a common, shared experience.
What I love about the start of the school year is that there is a sense of a new beginning. It doesn't matter if last year you were a struggling student. This year, you think, 'I'm gonna get it. I'm gonna buckle down and I'm gonna do my homework.' If you're a teacher, you have a new class. There's a freshness to it. You walk into a school, you see waxed floors, painted walls, the landscaping has been done, bulletin boards are fresh. There's just a moment in time that says, 'We can do this. We've got this.'