Life Lessons: Felix Sabates
Before he bought a NASCAR team, the Cuban-American businessman parked cars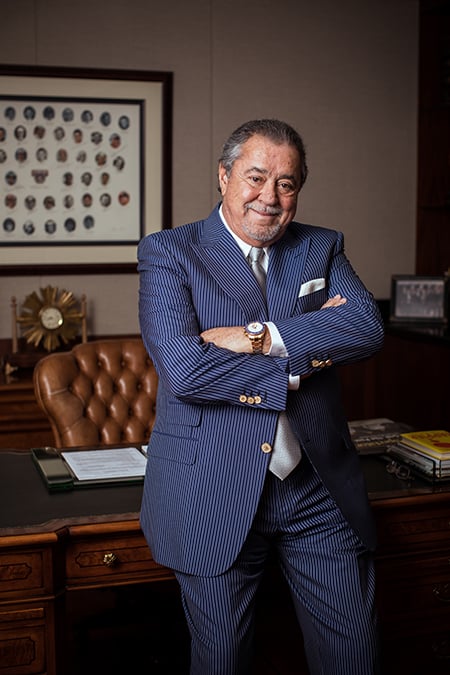 IN HIS CAR DEALERSHIP COMMERCIALS, Felix Sabates relays one of the core ethics instilled in him early in life. "Tu palabra," his father always said. Your word is your bond. His father's words stuck.
Many Charlotteans know Sabates from those commercials, if not his other ventures: co-owner, with Chip Ganassi, of a NASCAR team; his minority stake in the Charlotte Hornets; a successful career at Top Sales Company, which distributed everything from computers to talking teddy bears; or his philanthropic giving.
In the fall of 2016, he became seriously ill with double pneumonia. He spent several months in the hospital and rehab, including almost a month in a coma. Doctors thought he might not survive. But Sabates, 72, has a way of overcoming challenges that may appear insurmountable.
Here he is in his own words, edited for clarity and space.
---
My family wasn't the wealthiest in the world, but we were pretty comfortable (in Cuba). We had jewelry stores, gas stations, camera stores, car dealerships, and cattle. By the time we came to America, we had nothing. (The Castro government) took everything.
In Cuba, there was a wall where they put people and shot them. It was called Paredón. The school forced us to go look, the whole class. The people being shot didn't have their eyes covered; they didn't have hoods. They were looking at the people who were shooting them. Another time, I was riding my bicycle and heard shots and knew what it was. I went back, and there were probably 16 or 18 killed that day.
I was scared because I was involved with those guys. I was with the counterrevolutionary. I guess I've been a rebel my whole life.
My parents sent me (to the United States) when I was 15. I stayed with an aunt and uncle in Boston, and then moved to Missouri with them. I worked in a hospital kitchen washing pots and pans.
I wasn't nervous coming here, because everyone thought the Castro thing would be temporary, and so did I. I wasn't too concerned, and thought we'd be in America maybe six months or a year. That was 55 years ago.
I reunited with a family friend from Cuba, Walter Reich. He was an Austrian Jew whose family was killed in the Holocaust. He had changed his name and fled to Cuba (and then to the United States). He offered me a job working for his company. That company became Top Sales Company.
One day, he said he wanted me to buy the company from him. He wanted $250,000. I didn't have that. So he said, 'We're going to the bank,' and he got a loan in my name for $250,000. He cosigned the note.
I got to a billion dollars a year in sales but I was tired of traveling and kissing butts, so I was ready to sell. I had a big offer, so I went to Dallas to meet with the guy. On the way back to the airport, I asked him about the jobs of two of my brothers and a cousin who worked for the company. He told me 'There are no sacred cows.' I told him right there, 'We're not doing this, because you don't understand what loyalty is.'
I talked to my lawyer and told him I wanted to find a way to sell the company to the employees. I sold it to them for a lot less than I was offered. The new president they hired bankrupted the company in four years.
I have six brothers and sisters. They were all, except the youngest, who was two, sent to America through the Peter Pan program. It was through the Catholic Church. They found foster homes in America for Cuban kids. My siblings were sent to Albuquerque, New Mexico.
Then my mother came. The Catholic Church helped all seven of us reunite and settle in Lexington (North Carolina). Dad couldn't come until later. He couldn't leave, because he still owned property; there was real estate in his name. (The Castro regime) only let him leave because they thought he had cancer. When he did leave, he left with nothing.
When we lived in Lexington, the people there were very nice to my family. When we moved to Charlotte, the next-door neighbors came outside to say goodbye. They were sorry to see us leave, and told us we were great neighbors. It wasn't until years later I found out one of them was high up in the Klan.
I worked at a furniture factory, but there wasn't much opportunity for advancement in Lexington. So I got a job in Charlotte. My first job here was parking cars.
I got involved with NASCAR in 1998. It was a hobby.
Chip Ganassi and I have been partners for 17 years, and the only argument we ever had was over a bottle of wine. I ordered an expensive wine, and he said he wanted to pay for it, but I wanted to.
I don't have a lot of regrets from the business side, but from personal side I have a lot of regrets. In retrospect, I wish I had been there more. You miss a lot of important things.
I don't really remember anything from when I was in the hospital. But I did have a dream that I do remember. I was in a boat with Donald Trump. We were on the way to the tailor to get some clothes. But then the boat captain drove up to the back of the hospital, and told me I had to go back and lie down. It was so vivid.
My recovery was hard. My arms and legs had atrophied. I had to learn how to walk again. I used this machine for my arms. When I went home, the physical therapist talked me into buying one to use at home. At first, I could only do three rotations. In a few months, I could do a hundred.
I still have some problems with my breathing. But I'm doing good.
I met this eight-year-old kid the other night at an event. I gave him my card. The next day he called me and said, 'Mr. Sabates, you said I could call you if I needed anything. I don't need anything, but I want to meet you for lunch.' I told him to pick a day.
I may have made a mistake by giving my children too much too early in life. I'm not making the same mistake with my grandkids. I pay for college, spending money—but nothing crazy.
I know every rich and powerful person in Charlotte, but those are mostly my acquaintances, not my friends. Some people just sit around and talk about money. I don't do that.
I love discussing politics with my grandkids. We don't always see eye to eye, but it's fun to talk about.
I stay humble. My father always said it's more important to be nice than it is nice to be important. I've learned that you can never, never give up. And also that you can't take things personally. I don't hold grudges. Life's too short.
ALLISON FUTTERMAN is a freelance writer based in Charlotte. Reach her at aliwrites10@gmail.com.