Life Lessons: Jim Morrill, Longtime Observer Reporter
He talks retirement, the altered states of politics and journalism, and how he's weathered a devastating personal loss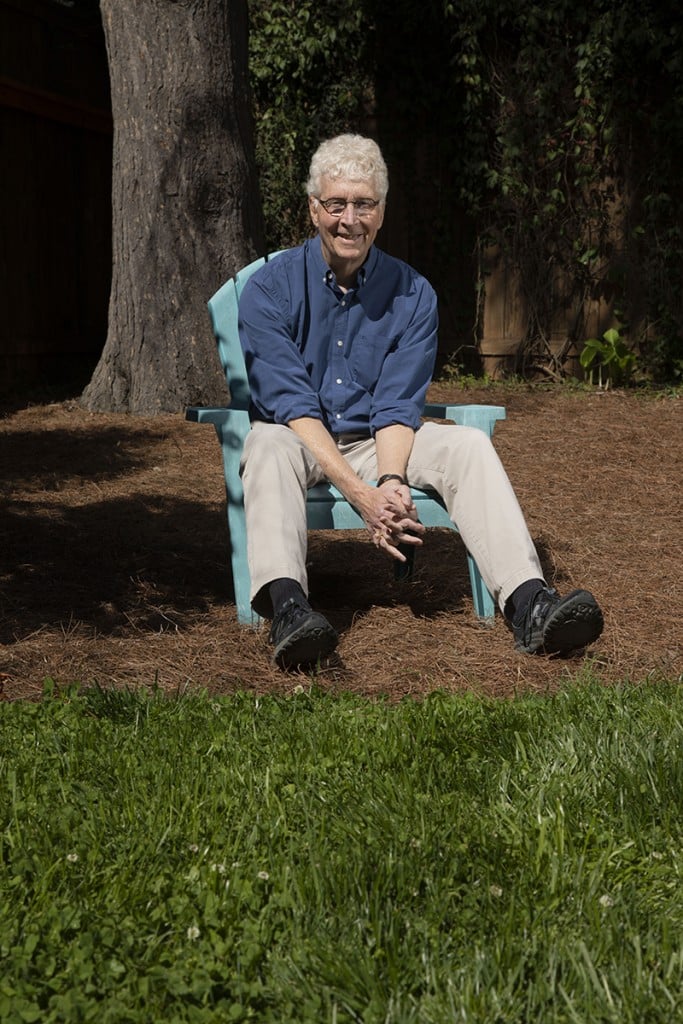 Last year, nearly four decades after The Charlotte Observer had hired him as a reporter in its Rock Hill, S.C., bureau—and after 11 national conventions, 10 Presidential elections, and too many campaigns and interviews to even try to count—Jim Morrill decided that, at 71, it was time to retire. Morrill had been the paper's primary political reporter since 1987, chronicling the Tar Heel State's emergence as one of the most important swing states in America and the assorted missteps and peccadillos of the politically prominent. He's knocked on a lot of doors. "How scary is it," wrote Rielle Hunter, the paramour of former U.S. Senator and vice presidential candidate John Edwards, "that I can identify Jim Morrill, a political reporter from The Charlotte Observer whom I have never met, by spotting the top of his head?"
The native of Aurora, Illinois, graduated from Loyola University Chicago in 1972 with a history degree and, he says, "no idea what I was going to do." He served for three years in the Peace Corps in Togo, where he helped build schools. On the way back home in 1976, with the newspaper industry still basking in the glow of Watergate, he read Washington Post editor Ben Bradlee's Conversations with Kennedy and thought newspapering might be a good career for a young man who liked to write, travel, and at least try to do good. After graduate school at the University of Illinois, he moved south in 1979 to work for The Herald in Rock Hill, then landed his first Observer job two years later.
Morrill covered Charlotte city government, then state and national politics, as the city grew and, in his last decade or so, his industry withered. Toward the end, he and wife, Kathy Haight, a fellow Observer reporter, suffered a monumental personal loss: Their younger son, Will, was killed in a late-night car accident. Morrill had thought about retiring before then. But he kept going for another two years, in part to cover one more presidential campaign and a national political convention but also because, in his grief, he decided work would be good for him.
We spoke with him in February, a little more than a month into retirement. His comments are edited for space and clarity.
(Ed.: In a November episode of WUNC's The Politics Podcast, host Jeff Tiberii said Morrill covered politics "with a gentle tenacity.")
Different reporters have different styles, and some reporters are pretty out there, you know, dogs on a leash, ready to go—and that's just not my personality, for better or worse. But, if I'm on a good story, I can stick to it, and I go after the story. … A lot of this job is winging it. But with Jim Black1 as an example—Black was somebody I covered for a long time, and I knew Jim Black when he was a lowly legislator, probably covered some of those campaigns out in Matthews before he became Speaker, so we had a relationship. I could see him in the Legislative Building and talk to him. In those days, the legislature was a lot more accessible in the sense that you could walk into their offices or walk into their secretaries' offices and talk to them. So when the bad stories hit, you just kind of had to do your job.
There are a lot of memorable people I've had the chance to cover. But when you're covering (the late U.S. Senator) Jesse Helms or (former Governor) Jim Hunt, you're aware that these guys are part of history, that they're historical players, not only in North Carolina but in the country. I didn't get along with Jesse Helms, particularly, after he had left office and he was kind of in his later years. I went to interview him, and he was complimentary and friendly and not the guy who had yelled at me a couple of times before that, you know. But you see history sort of unfold, and you become aware of that later.
I remember, when I was with the Rock Hill Herald, I rode a bus with Ronald Reagan in 1980 from Rock Hill to Chester, S.C. I was just a City Hall reporter who had five minutes on a bus with this guy running for president. That same year, I went to Winthrop and saw John Connally2 speak—that's my six degrees of separation from Kennedy, I guess.
I was just looking this up, actually. When I came here in 1980, the population of Charlotte was just over 300,000, and now it's three times that. The Observer was at the end of a real dead street, in a dead zone in downtown Charlotte. There were a couple of greasy spoons a block or two up the street on Tryon, but getting something to eat at noon was a challenge. When I first covered the City Council, that was the year (1983) that Harvey Gantt won election for the first time (as mayor), and it was the year that Richard Vinroot won for the first time, too, to be on the City Council. The City Council was pretty evenly divided at the time, and for years, that kind of went back and forth depending on who won the at-large seats. as to which party controlled the council. … It was always a kind of a balanced city.
And I remember looking at the 2004 presidential results for North Carolina and for Mecklenburg County, and that was the first year, I think, that Mecklenburg County had gone blue in a presidential race, and I went, "Oh, my God." You know, John Kerry and John Edwards—OK, Edwards was a local guy, but Mecklenburg County had been red before that. So to see the Charlotte that we have today, both economically but also politically, is just so, so different.
North Carolina's so different, too. It's about twice the size that it was in 1980, '81. Back then, it was all Democrats up there; Republicans were an afterthought. … and in Presidential races, North Carolina was flyover country for a long, long time. Presidential candidates, if they came to North Carolina, would come to raise money—the ATM analogy—and, of course, that changed in 2008. So we've gone from a real statewide Democratic state to a real purple state.
I think you always had a rural-urban split in North Carolina, but the difference is that it used to be the Democrats who came from a lot of those rural areas to the legislature in the '80s and '90s and early 2000s. … But that's changed. I guess part of that was the "Jessecrats," the North Carolina Democrats who supported Helms, either changed their registration or they vote Republican now, consistently. So if you look at the legislature now, I think all the Democrats that you'd find, 99% of them are from urban areas or urban counties, and Republicans are all from rural areas and suburbs. … Demographics is destiny, right? And North Carolina cities keep growing. Look at Charlotte, the growth in the Triangle. They get bluer and bluer, and the red counties keep getting older and whiter. So I guess the battle is going to be the suburban counties looking forward.
I'd say Harvey Gantt (was the most memorable person he covered) … because he was such a pioneer, and the guy has such courage, you know, from his Clemson days. All he was trying to do was to become an architect, and he became mayor when Charlotte had never had a Black mayor and Charlotte wasn't like what Charlotte is today. He didn't run a racial campaign or anything like that. He just ran on competence. … and then to see him run against Jesse Helms later (for a U.S. Senate seat in 1990), which was a real national campaign, really, because of what was involved. It was back in the days when we covered statewide campaigns more and didn't have a pandemic to worry about—we traveled around with them—and I could see all these crowds that he would garner in small towns like Whiteville and places like that. It felt like North Carolina was on the brink of change. Turns out it wasn't quite that much. …
And somebody like Jesse Helms, who was sort of a harbinger for the Trump people. A lot of things that we see today, a lot of the sort of passionate crowds on the right—Helms had attracted a lot of those people, too. It was sort of a populist reaction against government, and he was that before the Trumpers. … That strain's always been in politics. I was teaching a course at UNCC about North Carolina politics and using Rob Christensen's book3 as sort of a template. The Wilmington stuff that happened in 1898—you read about it, and you read about these Red Shirts and these people who were just brigands, vigilantes—and you can see similarities with the people who stormed the Capitol. "Populist" is probably too good a word for them. But it's reactionaries. These people have always been there—and Helms was one who riled them up before Trump did. … He would have been right at home on Fox.
It's been sad (to watch the decline of newspapers). … The people who are still there are doing a great job under difficult circumstances, frankly. I mean, you have a pandemic, you have a lot of young reporters who are very, very good and do a lot of work. There was one the other day (Alison Kuznitz) who wrote every story on the front page. … and the pandemic has really cut off opportunities for her to see people in person and get to know people and start building the relationships that we relied on and that you take for granted.
When I started covering the legislature, I remember the press room was a little cement-block office in the Legislative Building with concrete-block walls and small desks, but there were reporters from Asheville and Gastonia, Winston-Salem, Greensboro, Wilmington, even some of the smaller papers, and the Charlotte paper had two or three people there. Now, none of those papers are there on a daily basis. … That's just one metric of how fewer people are covering government.
But it made me feel like my job was more important, if that makes sense, because I thought I could do something that there weren't a lot of other people doing—not because I was better, but because a lot of them had left for whatever reason. I enjoyed what I was doing, too, and for the reasons I enjoyed it at the beginning, I enjoyed it at the end. You know, it's funny to say, but I felt like I was doing it better at the end. Because you feel like you finally kind of catch on, like you finally figured out how to do these things and not sweat about ledes and all that stuff you used to sweat about.
Be fair to people. There are oftentimes two sides to stories—not always, but sometimes. You know, just give people the benefit of the doubt and treat people fairly. It's a cliche, I remember—and this is one aspect of having been there for a long time—is that you see people come and go and come again in different roles. I was covering some statewide candidate in the early '90s, and the kid who was driving him around, who I got to know, is now a player in Raleigh. He's the head of Common Cause (NC) now, Bob Phillips. He was a driver for Dennis Wicker, who was a lieutenant governor. You see it in politics all the time. The people I met on the John Edwards campaign in 2004 and then briefly in 2008, some of them are in the White House now. The woman running Biden's communications office (Kate Bedingfield) worked on Edwards' campaign. You just see people come and go, and in North Carolina, the political class is not that big. …I guess the lesson is appreciating people on both sides to the extent that you can.
You've got to truth-squad everything. We used to do these TV ad watches during campaigns and truth-squad things, and then it became like truth-squadding stuff in every story, almost. Stuff like QAnon—I mean, it's just ridiculous and crazy, but I think you just keep writing the truth and not get sucked into the noise machine. Sometimes we do; I did. We did a lot of things that weren't so good—too much reliance on polls and all that stuff. But now it's harder to make your voice heard when there aren't as many people reading papers, period, and getting their news off Facebook and stuff like that.
We pay for the sins of the "liberal media." I mean, we are the "liberal media," so we're the fake news media, so we're the enemy, you know? (U.S. Rep.) Dan Bishop hasn't called me back for, like, a year and a half. Back when he was a lowly county commissioner, we'd talk, and it was a different time, I guess. But people like that, they don't call you back, and people on both sides put out a lot more statements now, so it's hard to get the personal relationship with politicians anymore because they're so protected by their minders. They can't say anything without having it go through their press people and all that. So then you get a canned statement, which is bullshit half the time and too long most of the time, and you've got to work with that.
You see it with Democrats, too. In 2012, when the convention was here, Obama had a press guy in North Carolina, and if you got a quote from somebody in the campaign, you had to clear it with the press people. The New York Times wrote about it, so there was a lot of blowback, obviously. So people try to control the message a lot more on both sides. They don't want independent reporters telling the story. They want to control it.
(Ed.: In 2005, Morrill wrote in the Observer about his discovery that one of his great-grandmothers was Black.)
I guess it was ironic that I ended up living in the South. This great-grandmother was from Alabama, where my great-grandfather was born, and my great-great-grandfather was a carpetbagger after the war, a Union soldier. I really didn't know a lot of that history about my family in the South until the '90s, when I started doing some of that research. It made me think more about race and what it is and what it isn't, and I've been reading a lot of stuff; I just read Caste4. You know, people in Africa don't think of themselves as Black. They think of themselves as Ewe or Kabiye or whatever the tribes are wherever they are. Race is sort of an American construct that nobody thought about until they were made to think about it. It just made me realize how complicated things are.
(Ed.: Will Morrill, 23, was killed when his SUV ran off Interstate 40 near Black Mountain and hit a tree. He was ejected from the vehicle and died at the scene.)
It was the morning of Nov. 30, 2018. I had just gotten up, and there was a knock on the door, and there were two Highway Patrol officers there. It's the kind of knock you never want to get, and it's been tough. It's tough. It was tough then. It's been tough ever since. You know, it's like ripping your heart out every day when you think about it, and about all the things that might have been.
My way of dealing with it is by doing things. There's a lot to do after an accident like that, involving probate and all that stuff. But we also set up a scholarship for him at Appalachian5, and people have been very, very generous in contributing money. And then his fraternity at App State started the Morrill Mile. We had a couple of hundred people one Saturday at Sanford Mall, which is like their quad, and a band, and people walked around. It was a fundraiser, and it raised about $10,000 for the scholarship. They gave their first scholarship out this past year, which was good, and it's an annual thing. And if you're familiar with the Re-Cyclery on North Davidson Street—when he was in high school, he volunteered there and learned all about bikes and everything, and he later started his own bike repair business. And so we just heard a week ago that they're starting a scholarship for him, too, for kids who are interested in bike building. It's gonna be, like, $1,000 a year. That came out of the blue for us. So we're trying to make sure that his memory stays alive.
I think it kept me working for a couple of more years, frankly. I'd thought about retiring maybe earlier. In 2018, I was 68. I guess I wasn't really ready to retire, either, and when that happened, I think I kind of needed a place to go, something to do. So that kept me working. … And that (2020 Republican National) convention just sort of fizzled out, thank God. We had a pretty good relationship with the convention organizers and those folks, but I was really glad to see it not come here—because of the pandemic, for one thing, and, you know, it's just … too crazy. I mean, I just think a traditional convention and a pandemic was not a good mix. But I was glad we got a chance to do one (in 2012). That was another illustration of how Charlotte has changed: You go from being flyover country to hosting a damn convention. I never thought we'd see that.
***
1Jim Black was a Matthews optometrist and N.C. House member who held the House speakership from 1999 to 2007. He pleaded guilty that year to a federal corruption charge based on his acceptance of illegal campaign donations.
2Connally was Governor of Texas from 1963 to 1969 and later U.S. Secretary of the Treasury. He was shot and injured by Lee Harvey Oswald as he rode in a limousine with President Kennedy in Dallas on Nov. 22, 1963.
3The Paradox of Tar Heel Politics: The Personalities, Elections, and Events That Shaped Modern North Carolina, The University of North Carolina Press, 2010.
4Caste: The Origins of Our Discontents, Isabel Wilkerson, Penguin Random House, 2020.
5Will Morrill graduated from Appalachian State University in May 2018.