Life Lessons: Jim Nantz of CBS Sports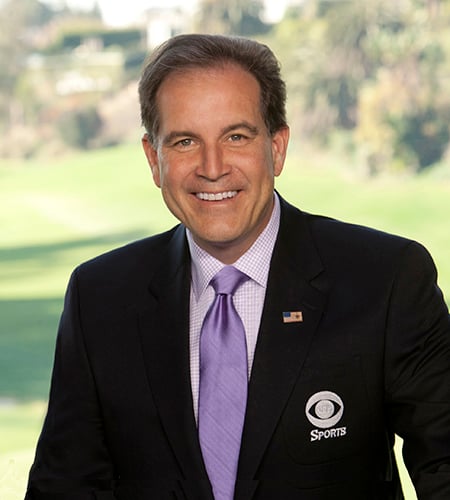 JIM NANTZ HAS GIVEN VOICE to the sports soundtrack of our lives.
Since 1985, he has worked for CBS Sports, becoming the network's most recognizable talent while calling many of the biggest sporting events in the world. Nantz debuted on the network's Masters telecasts in 1986—the year of Jack Nicklaus's most memorable victory there—and now occupies the host role at Augusta National each April.
Final Fours. Super Bowls. The Olympics. Nantz has called them all. And this year he will anchor coverage of the PGA Championship at Quail Hollow Club, an assignment that brings him back to the city where he was born. Though he only lived in Charlotte for six years, Nantz has nurtured and maintained his connections with the city through the decades.
His father, Jim Nantz Jr., died from Alzheimer's disease in 2008 and is buried in Mount Holly, just west of the city. Nantz visits the gravesite each time he's in Charlotte. He sat down with this magazine recently to discuss his hometown city, a career in golf, and what he's learned along the way. Here he is, in his own words:
I was born in 1959. My family moved away (from Charlotte) in 1965. I was six years old. We started to hopscotch around the country. My dad was climbing the corporate ladder. He was working for McLean Trucking in management. He took his young family from Charlotte to New Orleans to the San Francisco/Oakland area, where he ran the office, ultimately to New Jersey.
I get a lot of good-natured ribbing because I claim a lot of hometowns, but Charlotte is on the birth certificate. My mom is from Charlotte; my dad was from Mount Holly. My dad is laid to rest there.
I was born in what is now Carolinas Medical Center. It was called Memorial Hospital. Davis Love (III) was born in the same hospital.
We had a home off Providence Road on a street called Turnbridge Road. The house we lived in when I was born was off Albemarle Road, and it was on a street called Dooley Drive.
I go by those homes, not every year, but maybe every other year. My mom's parents are buried in a cemetery off Sharon Road.
My grandparents were the sweetest folks. Their plot is next to the guy who had a lot to do with the building of the coliseum that hosted the 1994 Final Four, Paul Buck. I remember what a gentleman he was and a great person for the city of Charlotte.
My parents were original members of Pine Lake Country Club. That is something I need to go by and see some day. My first round of golf ever would have been at Pine Lake Country Club.
One of my first memories is when Pine Lake was under construction. They had this membership group and they were asked to go help clear the property. I can remember tagging along behind my parents. There was a whole line of people from the left rough to the right rough between the tree lines walking in concert with one another and picking up stones and rocks and throwing them into little wagons behind the people. The membership was clearing so they could seed the fairways.
My dad is in the old town cemetery in Mount Holly. The family plot overlooks what was formerly Mount Holly High School. Now it's a middle school.
When you're there, you can look off in the distance and see the football field where he starred in high school and got his ticket to a college education; my dad went on a scholarship to Guilford College. … Maybe 300 yards away (from the cemetery), you see this battle-torn playing field. It's not in perfect shape. Now there's a lot of Pee Wee, Pop Warner football there. It makes me very happy to know that's where my dad is.
He got to see the first 10 years of my career. He was stricken in 1995 with a mini-stroke and he was never the same after that. He had some ability to attend events and be with me between '95 and '99. I just wish he could have seen what it is today and people I've been fortunate to get to know and the stories I've been able to document.
I was somewhere early in my career where someone recognized me and came over and said hello. I didn't know any other way than to try and be kind of them. It's how I was raised.
I remember him reinforcing it, saying, "Son, always treat people that way. You used to be that boy right there. That used to be you. Never forget that."
I think I walk around day to day like my dad did.
Oftentimes it's hard for people to understand when you're calling a game, it's hard to do Face The Nation. We're calling a game.
In a football game, you have 20, 30 seconds between plays. If you're going to let go of what happened or you're not going to set up what's about to happen, are you going to take that 20- or 30-second window to talk about whatever the hot story is that concerns the central figures in your game? You've got to be really quick.
I had one in the NCAA tournament (this year). In basketball they're racing up and down the floor. If the ball goes out of bounds, it's going to be back in play in 10 seconds.
You're really talking in short, snappy sentences. Tony Bradley came in the game in the Kentucky-North Carolina game. He checks in, decorated recruit. I had told color commentators Bill (Raftery) and Grant (Hill) that at some point we're going to address what North Carolina is going through.
We can't in a basketball game go a layer, two layers, three layers deep. You can't. Raftery said it's been a long time since they've gotten a recruit like this. (He said) they've had a hard time getting players like this. I said something along the lines of, "It has been. They've had to deal with all the swirling innuendo surrounding, in light of the academic fraud allegations."
My "swirling innuendo" was a comment playing off Raft; there's a lot innuendo why they're not recruiting well. People are recruiting against them. I'm not saying there's swirling innuendo on the academic fraud side.
I come off the air, one of the PR people says, "Oh boy, the internet is all over you for calling the academic fraud swirling innuendo." I said, "I didn't say that." They said, "What did you say?"
It didn't bother me a bit. One guy had a headline that I was whitewashing all the NCAA whatever. I felt we had done a good job addressing it in the frenetic nature of a game. It still gets misinterpreted.
I think I live my life with a lot of gratitude in my heart. My dad had it. My mom has it. I appreciate the gift I've been given to have this job.
I try to be very careful and I am not putting myself in anyone else's stratosphere. I'm an observer. I'm a paid observer of events and people. That's my job. I'm a storyteller. I tell people what I see.
When I say I've been fortunate to be in the company of President Bush 41, President Bush 43, President Bill Clinton … I played golf with these men. I've been a golf companion on multiple occasions. I'm not trying to say my life is anywhere in their realm. It's not. I'm strictly an observer.
I'm going to add Arnold Palmer. I spent a lot of time with him. I was blessed to have this extraordinary friendship with Arnold Palmer.
I watched all of these men and how they conducted themselves. It doesn't get any bigger than that quartet. The graciousness with which they handle their adoring public was a beautiful thing to watch.
Phil Mickelson said something at Pebble Beach this year I had never heard before. He said early in his career Arnold Palmer told him, "Recognize people along the way. People are going to love you. They're going to be cheering for you. Don't take that for granted. If you can, look around, nod. People feel like that's for them. If you happen to look in someone's eyes for just a second, they're going to feel like you recognized them."
I've seen it with all of those presidents. They walk out of those restaurants and all of those agents are around watch-guarding the whole thing. They look at everybody. A handshake, they tap maybe 15 people on the back but there are 250 of them there, and everyone probably walks away thinking they've been touched with some sort of encouragement, a nod, a glance.
Since the day it was announced, I have looked forward to August 2017. As we have gone through other PGAs leading up to this one, I've thought, We're one year closer to having the PGA at Quail Hollow.
If you take independent events that have come to Charlotte—I'm not going to count the races at the speedway and I'm not going to count the Panthers hosting the NFC Championship game—I would say this is the biggest event since the 1994 Final Four. And it's golf. It can't get any more prestigious than this. I am going to give it my best to give some moments of commentary on the fringes, whatever that might be—a blimp shot, a scene set, a look at the downtown area—I'm going to do my best to be a great ambassador for Charlotte.
Charlotte is a city that has a lot of sports it loves but when people ask me "Where'd you get your love of golf and college basketball?" (I tell them) I was born in Charlotte. It's in the water.
Ron Green Jr. is a native Charlottean and a long-time sportswriter for The Charlotte Observer. He is now senior writer for Global Golf Post digital magazine.