Life Lessons: Latin American Chamber Director Rocio Gonzalez
She guides Latino business owners—of all kinds—through opportunities, accents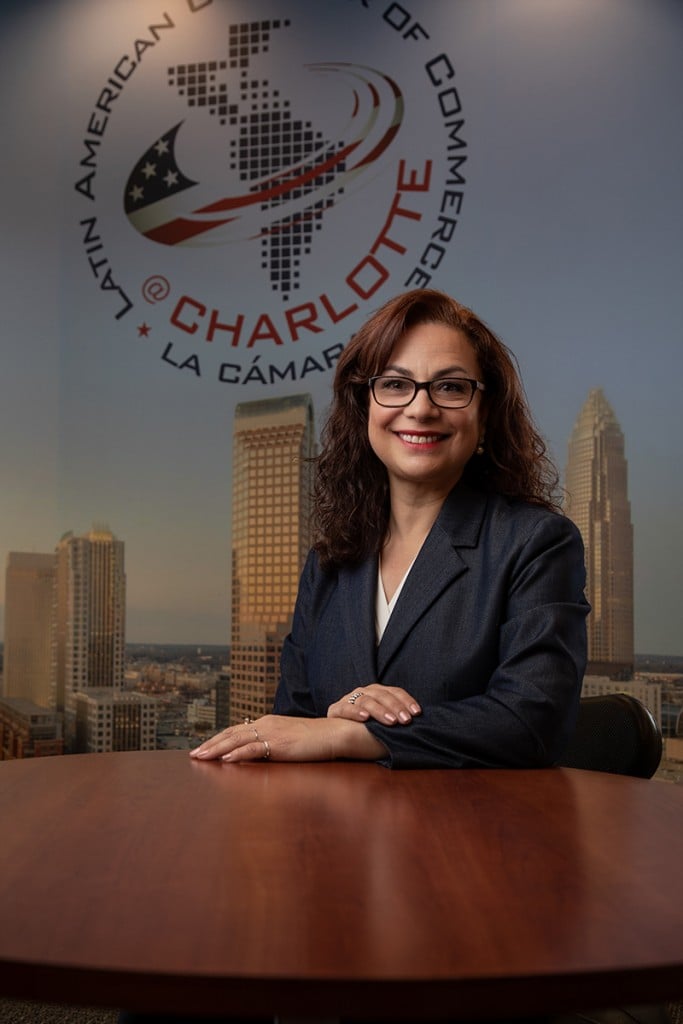 FEW PEOPLE IN CHARLOTTE have a work background as varied as Rocio Gonzalez's. She's been a social worker, child abuse investigator, group home manager, accounts payable manager, and real estate agent.
Today, in her role as executive director of the Latin American Chamber of Commerce of Charlotte, Gonzalez helps Latino-owned businesses thrive and connects them to the larger Charlotte business community. One of her main messages is that, contrary to the stereotype, Latinos in Charlotte are represented in just about every profession here—pursuing careers as diverse as hers, and more.
Gonzalez was born in New York City but grew up in Bogota, Colombia. After she earned a computer science degree in Germany, she returned to the United States and lived in Pennsylvania for a time. When her then-husband was offered a job in Matthews in 1999, she was excited to try something new.
She picks up the story from there in her own words, edited for clarity and brevity:
MY EX-HUSBAND was offered a job here, in the wood flooring industry, with the boom of construction back in 1999. The funny thing is, I thought he was being offered a job close to the beach. I was delighted that I was going to live by the beach! He said, "No, it's Charlotte, not Charleston." I didn't know where Charlotte was.
WE SPENT A LONG WEEKEND HERE, and I said, "Wow, this city has so much potential. You can be a homeowner. There's good education." And we just fell in love with Charlotte, which at that time was a small city. It felt like an up-and-coming town. I loved the fact that there was so much greenery, so many trees, open spaces, and the fresh air.
TO BE HONEST WITH YOU, there were several occasions where I did not feel welcome because of being Latina and having a northern accent. I was living in Mint Hill. I would begin to speak, and people would look at me with a wondering face and say, "You sound funny. Where are you from?" Or, "Are you from Mexico or Puerto Rico?" And those were the only two options I would be given.
I WOULD TAKE THAT OPPORTUNITY to share information and educate them— that there are more than two Spanish-speaking countries, that yes, I sound funny, and everybody has an accent. And there is a Southern accent, which to me sounded funny.
SOMETIMES I'D ASK THEM to please repeat the same word, and they'd say it two or three times, and I could not understand what they were saying. For example, I started to hear the words, "I might could." And I'm going, "Is this proper English? Should I copy this?" And I asked somebody, and they said, "No, no, no. This is wrong. Don't copy that. It's not proper English."
TODAY, WE ARE MUCH BETTER than we were before (in Charlotte). We still have a lot of work to do. There is still hesitance in accepting that Latinos cover industries beyond roofing and construction and janitorial and gardening. People still make a big face of surprise when they see a Latino heart surgeon.
THE PEOPLE WHO FEEL THAT WAY, they might have been correct between about 2000 and 2008. But today, we are seeing a lot of professional Latinos moving into the Charlotte region. Now we see a lot of dentists, a lot of chiropractors, a lot of attorneys. That's another misconception: "Oh, it's a Latino attorney. It has to be immigration." No, we have a lot of real estate attorneys, people in civil and criminal courts, and all kinds of attorneys that are coming.
WHEN YOU START SEEING the challenges that small businesses have, it doesn't matter where they are coming from or what language they are speaking. They have the same challenges: access to capital, finding qualified employees and retaining them, understanding their competition, how to manage their finances.
THE BIGGEST CHALLENGE the Latino business owner has is, if they are foreign-born, sometimes they not only have to acculturate themselves to what we do here in the United States but also unlearn what they know from their countries. For example, in the United States, depending on where you are, you cannot purchase a house with a two-car garage and open the door and convert it into a small shop. In some countries, you can do that, because it is your property. You have to learn what is permitted and what is not.
THE LATIN AMERICAN CHAMBER OF COMMERCE is a space for Latino business owners who have not really learned what a chamber is. In Latin American countries, sometimes the chambers are set up for large organizations. We serve the startups, the small businesses, and connect the small businesses with the big corporations. We have a big gap here. There is a big need.
WE CREATE NETWORKING EVENTS to provide a space for the businesses to get to know each other, connect with each other, sell to one another. We provide short seminars that speak specifically on targeted topics that are important to small businesses: how to promote your business, how to manage your finances, how to utilize so ware packages to keep your employees' schedules.
WE ALSO HAVE ONGOING EDUCATIONAL PROGRAMS that are more in-depth. Cohorts of 25 to 30 people go through a journey of learning how to create a business plan. We also have leadership development programs. Many small businesses are unable to continue to grow because the owner of the organization started the business out of love, but they have never been taught to be a manager. They have never been taught communication skills or management skills, or hiring and ring, or how to manage a growing group of employees.
THE ICE RAIDS have never not been an issue. When you look historically, the first three months of the year, those things are happening. I don't know if they have to meet a number or what. Within the organizations that support the Latino community, we have meetings and we talk about this and we say, "This is nothing new." It just depends on how much visibility is being given to these activities by the media.
THAT WILL NEVER END. There is an agency that exists to go out there and question people and decide whether to take them or not. That's their job. If that agency exists, those activities will continue to exist.
THE LATINO COMMUNITY should understand that this country is a country of opportunity and that they need to give themselves the opportunity to learn the country, to love the country, and to love the people, and to make the best of it. They should see this country as their home. If you're here now, allow your heart to be here and treat it as your home.
MY MESSAGE to the community is to listen—to really listen with their heart. When you listen to someone and you make an effort to understand what they are saying, then the accent is no longer important.
TONY MECIA is editor of the Charlotte Ledger, an e-newsletter on Charlotte business news.