Life Lessons: Malcolm Graham
The longtime public official and businessman assesses his life, and the nation's, two years after his sister's murder in a Charleston church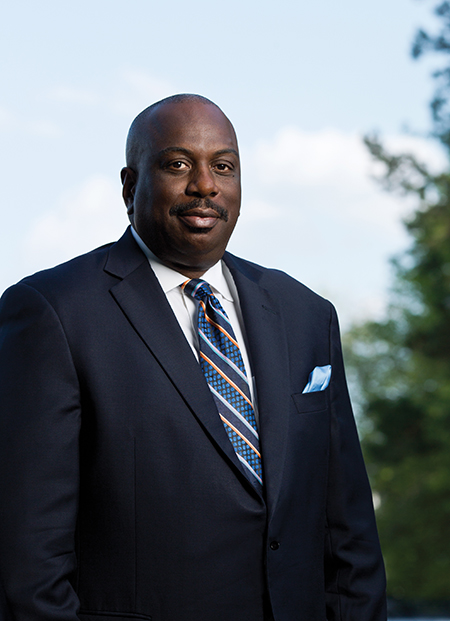 ON JUNE 17, 2015, a 21-year-old white supremacist named Dylann Roof shot and killed nine black people during Bible study at Emanuel A.M.E. Church in Charleston, South Carolina. It was a tragedy and shock for the nation and a personal horror for Charlottean Malcolm Graham, a Charleston native, former Charlotte City Council member, and former N.C. Senator. His older sister, Cynthia Graham Hurd, was one of the victims.
The past two years have passed in a blur of grief and activity for Graham. He made arrangements for his sister's funeral. He's accepted numerous speaking engagements in the Carolinas and elsewhere to talk about Cynthia's legacy and the corrosive effects of racial hatred. He's also formed a foundation in Cynthia's name, the Cynthia Graham Hurd Foundation for Literacy & Civic Engagement, to promote literacy and reading nationwide, especially among poor children; Hurd was a longtime librarian and branch manager in the Charleston County Public Library System. While running his own business consultancy, the Center for Supplier Diversity, which helps minority business owners and major corporations do business with one another, Graham also found time to run a Congressional campaign, although he lost in the Democratic primary last year to eventual general election winner Alma Adams. In December, he attended Roof's federal trial in Charleston, which ended with Roof's conviction and death sentence.
Graham, 53, spoke with Charlotte magazine in March about his continued struggle to understand the Charleston massacre and Cynthia's murder in the context of the recent presidential campaign and Graham's own experience in public office.
Here he is, in his own words (edited for clarity and space).
***
It was about quarter to 10. Kim (Graham's wife) and I were getting ready to call it a night and go to bed, and breaking news came across the television, "shooting in Charleston at Emanuel A.M.E. Church." At the time, six were feared dead. So I called Cynthia, right? And obviously, there was no answer.
I was in Charleston by 7 o'clock the next morning. Didn't sleep at all.
Then, at the bond hearing, you have two or three members of families saying that they forgive this guy. This is three days after they were murdered. So the next day in the paper, throughout the country: "Charleston Forgives." And I'm like, "No, my sister's still in a morgue." I hadn't even seen her. I don't forgive this guy. That's when we began to find out the nature of what had happened, that this was a hate crime. This guy went in there and killed nine defenseless individuals simply because they were black.
It took me almost a year for me to say that she was killed, that she was murdered.
I just stayed busy, because I knew that's what Cynthia would want me to do—that she would want me to use my public voice to speak against what had happened. Cynthia would say that this was not an attack on her, that this was an attack on a race of people, on the Christian church, on humanity.
I cope by talking. That's my form of therapy. It gives me the chance to talk not about how she died but how she lived.
In the same way it took me months to actually describe what happened to my sister in real terms, it took me weeks before I even said (Dylann Roof's) name. I just did not make it about him in the aftermath of her death. Didn't forgive him, didn't go to the bond hearing. Because at that point in time, it was about Cynthia and the eight others, it was about the Charleston community. There were a lot more important things to be concerned about.
It wasn't until the last person was buried, Mr. (Daniel) Simmons, that I began to think about what's next. There's a certain sense of closure when you go to a funeral. Now there's the prosecution of what happened. Then I started focusing on (Roof), and it was less about him than seeking justice for them.
I sat through that whole trial for I guess six weeks, five weeks, and was in his presence. I just kind of ignored him. He doesn't exist to me.
The trial was a necessity. It's important that we put hatred and racism and discrimination on trial. But it was heartbreaking to sit there day after day, and hear his manifesto, to see my sister on video, walking into the church, laughing and smiling—and she never comes out. To see a very proud woman balled up into the fetal position, hiding under a chair.
It was heartbreaking to hear him offer no sense of remorse, to witness eight other families go through the same kind of pain. How senseless it was. It was just senseless. I sat through it because if the roles were reversed, Cynthia would have sat there for me, and Cynthia would have been my public voice.
It was a relief that this chapter was over, he's been sentenced finally, and the system worked. There was no joy.
My mom passed during my senior year in college, and my father during my sophomore year in college. So Cynthia became kind of the matriarch of the family. She wasn't the oldest, but she was the oldest girl. She became a mother figure, adviser, counselor, protector, campaign consultant, proofreader—she would take my speeches, mark them up for me and mail them back. Those who knew Malcolm in Charlotte—not Senator Graham or council member Graham—knew Cynthia, because she was up here a lot.
She was a very, very sweet person. I was in Sugar Creek, I guess about a year ago, pumping gas, and a total stranger came up to me and said, "Hey, I'm from Charleston. I knew your sister when I was younger. She used to help me look up words at the library."
Cynthia came here in May (2015), and we were celebrating my older daughter's graduation. She was here for four days with us, and I think I was talking about Cortney (his older daughter) getting her Ph.D., and she was just saying, "Let the girl enjoy her graduation day." It went totally over my head.
We talked every other day on the phone, but that's the last time I saw her. I think about that conversation every day. Every day. That's one of those life lessons, I guess: Live for the moment.
We've got a lot of work to do in our country, and we're not as pure as we want people to think. What happened in Charleston is a visible example of what's happening. Dylann Roof was able to go to Breitbart and those types of sites to provide him with support and comfort, and now that's in the White House.
Donald Trump ran a racist campaign. Fearmongering, hatred, dog whistles, and sometimes dog whistles that were very audible. And the first thing he does is hire Steve Bannon and puts him in charge in the West Wing, which was too much for me. And after the first African-American president, so it's almost like the pendulum swung totally the other way.
I think it says a lot about our country—that people voted that way. It says we're still a racist society. If you're a person of color, the criminal justice system has unintentional bias in it. The education system has unintentional bias in it. The political system, you have lawmakers putting up artificial barriers to prevent people of color from voting.
As a country, we've got some moral issues to deal with, and taking down the (Confederate) flag in Columbia is simply not enough. If that incident (the church shooting) had not occurred, that flag would still be up there today. There's no doubt in my mind.
America has to take a look at the man in the mirror and critique what it sees: the good, the bad, and the ugly. Certainly racism and discrimination continue to be America's Achilles' heels.
I'm gonna finish what I start. Certainly I would love to serve in Congress. I haven't given up on that idea. So we'll see. But politics is about timing and opportunity.
I've learned that life is short, and every day counts. You've got to tell folks you love them. I learned that I'm resilient. You throw that onto a failed Congressional campaign, that's a hell of a two years. But here I am.
GREG LACOUR is a contributing editor to this magazine. Read more of his work in the News + Opinion and #discussCLT sections of this website.