Life Lessons: Military Defense Attorney, John Baker
The longtime attorney, who made news at Gitmo, has found a home and cause in Charlotte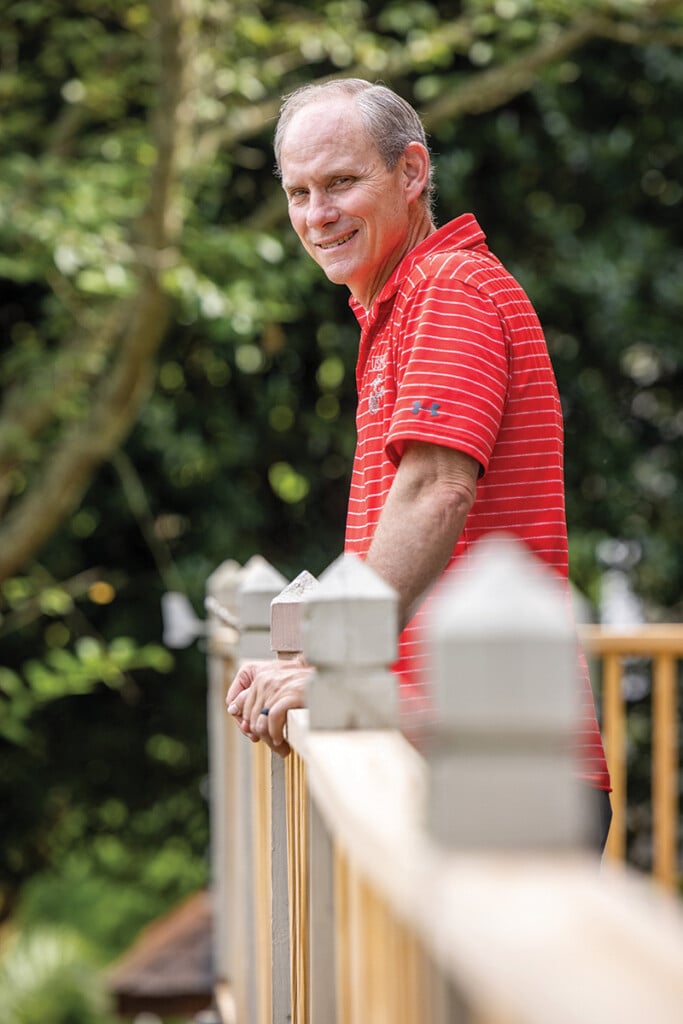 Near the end of his 32-year career in the Marine Corps, retired Brig. Gen. John Baker, now a Charlotte-area resident and attorney, served as chief defense counsel for the Military Commissions Defense Organization. The MCDO is a Defense Department agency that assigns attorneys to represent indigent defendants in military court. Baker oversaw a staff of about 200 military and civilian attorneys and support personnel who defended Guantanamo Bay detainees.
Baker made national news in 2017 when he allowed three civilian defense attorneys to resign from the case of Abd al-Rahim al-Nashiri, accused of masterminding the 2000 USS Cole bombing that killed 17 U.S. sailors. (Pre-trial hearings are ongoing.) The attorneys quit after they discovered a microphone in their client meeting room and alleged that the government had violated attorney-client privilege by listening to the meetings. Baker assumed the authority in allowing them to resign, but a military judge ruled during a hearing that only a judge could approve their dismissal, and he ordered Baker to testify. 
When Baker refused, the judge found him in contempt of court and ordered him confined for 21 days to his trailer at Gitmo and fined him $1,000.
Baker was allowed to leave confinement after two days, and the rest of the sentence was deferred pending appeal, which he won: In 2018, a U.S. District judge ruled that the military judge lacked the authority to convict Baker of contempt. "I was more disappointed than angry," Baker says. "I kept thinking the judge would make the right decision. I knew I was right, and the federal judges who reviewed the decision said I was right."
Baker, 56, retired from the Marines in December 2021. Three months later, the 4th Circuit Court of Appeals in Richmond, Virginia, appointed Baker to serve a four-year term as federal public defender for the 32-county Western District of North Carolina, based in Charlotte. He oversees a team of about 50 attorneys and support staff assigned to represent defendants charged with federal crimes.
Baker lives on Lake Wylie in Belmont with Barb, his wife of 31 years. "We see this as our forever place," he says. "It's different, living on a lake—it's relaxed and beautiful." He's a native of Le Roy, New York, a small town between Buffalo and Rochester, and he's the first in his family to serve in the military. He graduated cum laude from the University of Pittsburgh School of Law and later served in Kuwait and Iraq during Operation Desert Shield, the precursor to the Gulf War in 1991, and during Operation Iraqi Freedom.
Beneath Baker's calm, reserved demeanor lies a dry sense of humor. When we meet, he's wearing socks with the message, "Ringmaster of the Shit Show." His predecessor at Gitmo gave them to him. "And when I left," he says, "I gave a pair to the next guy who took over." His words are edited for space and clarity.
Some people wonder why I do this work. The why is easy: It's a calling. Somebody has to speak for those who can't speak for themselves. The justice system should be blind. The rich and poor should get the same defense. As a nation of laws, we have to provide justice for people accused of a crime.
I saw the Guantanamo detainees who were charged with a crime as human beings that needed help. There never has been justice in Guantanamo.
Due process and justice matters. We need people to hold the government accountable. This idea harkens back to John Adams. As federal public defenders, we try to get the most just outcome possible for our clients and do the best we can for each person. The need is particularly high in the federal system because the stakes are so high.
My family's nickname for me is "Just on Time John." I'm always on time. Not early, not late.
My wife and I met our senior year in high school and dated on and off in college. Then I went to Japan with the Marines. I still thought we were going out, but apparently she didn't. I invited her to visit me in Okinawa with plans to propose. I had the engagement ring wrapped in a series of larger boxes.
At first, she said, "I don't know." I was busy preparing to leave for Operation Desert Shield, but I had some friends who weren't as busy. So she spent three days hanging out with them, and they worked on her until she said yes.
I was in Saudi Arabia and then Kuwait, in combat with an artillery unit. We received a Combat Action Ribbon in Kuwait.
I was in my first and only firefight while en route to a crime scene in Iraq. I had done no house-clearing training except for watching Cops on TV. So Lt. Col. Baker did just what the lance corporals told me to do.
While I was in the Marines, I got my MBA. When I was at the education center, there was a sign up that said, "Want to go to law school?" It seemed like a good opportunity to be in the Marines and be a lawyer at the same time. I kept thinking I'd get out of the Marines, but new opportunities kept becoming available.
In Guantanamo, there was a time when we couldn't freely explain to the client what was going on. The lawyers weren't confident that the meeting wasn't being recorded. A microphone was discovered.
I had a hearing and was held in contempt. I thought the judge wanted me to disclose privileged information, so I refused. I was confined to a FEMA trailer where I lived when I was at Gitmo. I stayed in my position throughout everything. I stepped down as supervisor in that case, but everything else moved on.
When I think of my first visit to see a client in the brig or my first attorney-client meeting with an alleged terrorist down at Gitmo, the commonality of those two memories was that I was meeting with a human being who needed my help. The same applies to this job.
I can't do this job if I can't compartmentalize, and that has held true throughout my career. That has meant remaining a bit impersonal. You hurt your client, yourself, and others when you lead or lawyer mad. You can't react in the moment when you're seeing red, because you don't make good decisions when you're pissed. You can't take things personally, because it's not about you, it's about your clients.
I loved being a Marine, and I love being a lawyer—and I've learned that I love leading lawyers.
There is a nationwide crisis in incarceration and systemic racism in the legal system. The impact is felt by people of color to a disproportionate amount. 
This isn't specific to Charlotte, but it exists here. I'm focused on addressing systemic racism, mass incarceration, and high pretrial detention rates.
Racism and mass incarceration go together. We incarcerate more people in this country than almost anywhere else—and the percentage rates for people of color are off the charts. Part of how we address it is the work we do on a client-by-client basis. We go case by case, telling the stories of our clients and trying to get the best outcomes for them.
Our clients are indigent, and if we don't represent them, nobody is going to. The right to representation is a foundational principle of our country. And it's very expensive to hire a private lawyer. The judge makes a determination in each case about whether the person qualifies for a public defense.
A federal crime is when there's a violation of a federal statute, usually involving interstate commerce. It could be involving the internet or a gun violation, such as a transfer. In general, federal crimes are considered more serious. In the federal system, it works against you when you go to trial because of the way the charging decisions are made, and the sentences are so big. You usually get a lower sentence if you accept responsibility.
For the first year, I was focused on running the business side of the office. But I recently started handling cases again—mostly related to guns and drugs.
I really enjoy this job and the people I work with and have every intention of reapplying for another four-year term.
My goal is to build on the great work that's already been done by our office and the incredible lawyers who work here. As one example, over the last two years, the pretrial detention rates here have dropped by 10%, which is a lot. That's due to the incredible lawyering of the assistant public defenders in our office.
Allison Futterman is a writer in Charlotte.