Life Lessons: Thread Talk Founder Hannah Kay Herdlinger
On surviving domestic abuse, starting anew, and taking time for others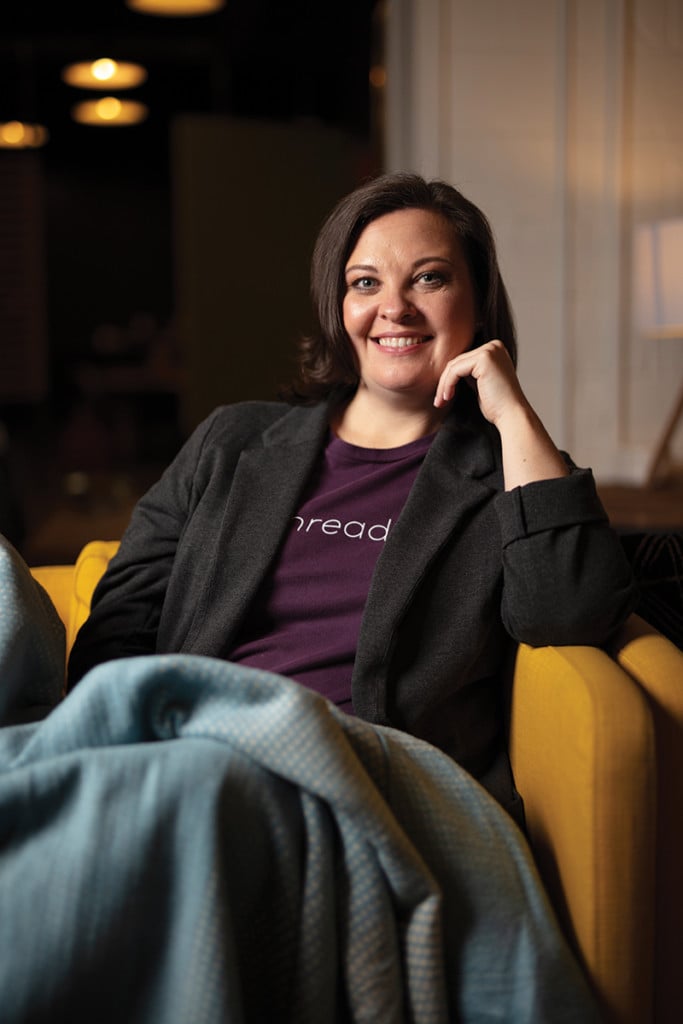 SOON AFTER SHE GRADUATED from the University of Georgia and started her career in Washington, D.C., Hannah Kay Herdlinger became the youngest scheduler in the Senate. Facebook then recruited her to start its D.C. office, after which she married her college sweetheart and moved back to Georgia, continuing to work for Facebook. Herdlinger was blissfully happy—until her husband turned violent, and the two divorced.
Herdlinger fled Georgia and moved to California, where she worked closely with Facebook Chief Operating Officer Sheryl Sandberg to start the women's advocacy nonprofit Lean In. Years later, she decided to launch her own business to confront her personal trauma and support other survivors of domestic violence. In October 2017, she unveiled Thread Talk, which sells eco-friendly blankets nationwide and donates a portion of profits to domestic violence shelters. Charlotte spoke with Herdlinger, 35, about her experiences as a domestic violence survivor and the future of her business in Charlotte. Here she is in her own words, edited for clarity and space.
---
I grew up in Arkansas by the university. I was the first one in my family to go out of state, away from the University of Arkansas; I went to the University of Georgia for speech communications. Then, I moved to Washington, D.C., without a plan, and I got an internship with a senator from Arkansas.
My husband and I met the first week in college. I was just getting to the University of Georgia and he was a couple of years older. We didn't really date until the end, but we were always hanging out together. We broke up because he was graduating and I was going to study abroad, but we always kept in touch. When I was living in D.C., he was living in Georgia, and he courted me for like two years straight. It was just constant texts and phone calls; it was so sweet. I was smitten. We reunited at an Arkansas-Georgia football game. He moved to D.C., we got engaged, and then we got married. It was sort of the perfect love story.
I don't know when it changed. Everyone asks, 'Well, did you see signs?' When we got to Georgia, we were the perfect couple. We had awesome jobs, we lived in my dream home, and we were always out. And then, slowly but surely, I was going out by myself. Friends have said, 'Your house used to be so happy, but then all of a sudden it got so dark.' But no one said that to me before I got divorced. It started with screaming. I always used to say if a man laid a hand on me, I would leave immediately, but you can't say that. The first time it happened, I thought I did something wrong.
I don't know if I even would have told anyone, but my dad and I always had a set daddy-daughter day each month. You don't cancel daddy-daughter date for anything. I knew I wasn't going to be healed by that time, so I just called my dad and said, 'He hit me.' It was my dad who said someone else needs to see you. I did not want to go see anyone, because I knew that would have to get reported, and I just didn't want to. I went and I was told if the hit had been slightly harder and slightly more to the right, I would have been dead or in a coma. That was the wake-up call I needed.
We were only married two-and-a-half years, but I didn't want that 'divorced' sign. I thought I would be damaged goods as a divorcée at 30 or something like that. Everyone says couples fight, so when you're in a relationship and you're fighting and it escalates, in the back of your mind you're like, 'Every couple fights, so is this what every couple does?'
Sheryl had come out with her book Lean In, so I was helping with the book tour. I actually had a meeting with some of her team, and I did a video conference with them, and I wasn't healed, so I told them what was going on and why I had to take time off work. I told them to tell Sheryl, and then Sheryl called. I still have the voicemail she left me on my phone. I'll never forget that.
The first time that my story was really shared, I'd given Sheryl permission to share it. We were in a room full of amazing women, and after, I had multiple women come up to me and say, 'I've been through that,' or 'I've gone through that.' If I'm in this room full of these amazing women who I would have never thought that happened to, how many other people are out there? With the statistic one in four (women are domestically abused), you are going to know someone, even if you don't think you do.
When it was time (to leave the nonprofit), I think I told Sheryl, 'I have no plan, I'll get you through the job transition, I'm not leaving tomorrow. But I want to go somewhere closer to home, and I want to help domestic abuse survivors.' I hadn't picked Charlotte at the time; I just knew I wanted to go somewhere. I was sad, but I knew I needed to do what was right for me.
I wanted to give back to domestic violence shelters in particular, because when I got divorced, I donated 90 percent of our belongings to our local domestic violence shelter. That's when I realized that these shelters aren't just a shelter. They have programs, and they provide the feeling of safety people need to get back on their feet. I was fortunate enough to have that support system with my friends and the resources to contact a lawyer, but not everybody has access to those resources or even knows where to start.
I chose blankets, because blankets provide that sense of security and comfort. By selling blankets, I'm able to start a conversation about domestic violence without being in your face and without being negative. Everything that you see when it comes to domestic violence is all dark and dreary and awful—and yes, it is dark and dreary and awful, but there is light at the end of the tunnel. You're not stuck there.
We call them our empowerment blankets. We named them Confidence, Love, Serenity, Hope, and Wonder. Whether you're gifting it for someone or you're getting it for yourself, when you wrap up, you're wrapping up in that confidence, and you're remembering that you're loved.
I say my business is for profit, for purpose. There's so many nonprofits out there kind of all doing the same work, so why can't I do something to help boost them? Instead of donating a blanket for every blanket sold, we donate a portion of the proceeds from the blanket to fund specific wish list items, so we're giving them what they actually need. Where the blanket is sold, the proceeds are donated within that region.
The biggest thing, which seems so obvious but I think people need to be reminded, is to take time for others. You never know when one check-in call is going to allow someone to open up. And then lean into the unknown. It's OK to take that jump; there is hope on the other side.
ALYSSA PRESSLER is a freelance journalist and digital marketer based in Charlotte. Email her at alyssapress71@gmail.com or follow her on Twitter: @alyssapress71.