Life Lessons: Toussaint Romain Returns to Charlotte
The activist and former public defender returns to Charlotte to represent others in the system's grip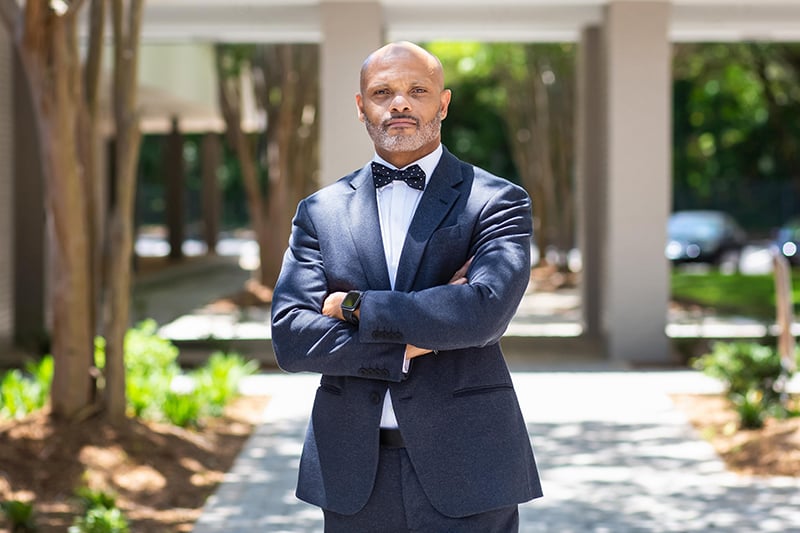 Night after night in late September 2016, Toussaint Romain positioned himself between protesters and police in uptown Charlotte and tried to prevent violent clashes between them. The protesters had taken to the streets after a Charlotte-Mecklenburg police officer shot and killed Keith Lamont Scott, a 43-year-old Black man, in the parking lot of an apartment complex in University City.
Romain, then a public defender and adjunct professor of constitutional law and criminal justice at UNC Charlotte, went uptown the next night, when police and demonstrators clashed near the Epicentre and 26-year-old Justin Carr was shot and killed in front of the Omni Hotel. (Another man, Rayquan Borum, was later convicted of second-degree murder in Carr's death.) That night, still dressed in a white button-down shirt and tie from his day job, Romain emotionally told CNN's Boris Sanchez in a live interview: "We can't lose any more lives, man. … I can't represent any more people."
Romain began to travel the country as a social justice advocate and speaker. In 2019, he left Charlotte to work as deputy general counsel for Appalachian State University in Boone. But in late April, Charlotte Center for Legal Advocacy, a nonprofit that provides pro bono legal services to people who can't afford representation, announced that Romain would return to Charlotte as its CEO. He replaced Ken Schorr, the organization's executive director since 1988, who retired in April.
Romain and I meet at his new office on a rainy afternoon in May. Before we talk, he greets each person in the room and the hallway outside. Afterward, I begin to leave without an umbrella, and he insists on finding one for me.
Here's Romain in his own words, edited for length and clarity:
(This job is) another level of advocacy for me. This is a job for me, but also more of a calling. In a courtroom, I did it for individual clients, and I did it in the community, where I represented one or a few people at a time. In this role, I get to do it for 40 attorneys who are representing hundreds more people, so it's a broader scope than I could ever reach individually.
And just dealing with justice; working to build a just community; creating safety, economic security, and stability; making sure that we're serving clients in great and deepest need, connecting them to our legal resources, representing them individually; but most of all, systemic advocacy is a part of this work, too. So really getting into a variety of different high-level, high-impact type litigation, representation, and collaboration with other organizations in town.
2016 broke me. Before that, I had been in the community trying to save people, and I had clients get shot and killed. The criminal justice system didn't work. It was a revolving door for so many folks. I saw brokenness. And after 2016, 2017, a lot of folks were calling on me to fix the criminal justice system. People were beginning to say, "Hey, man, you should be our next district attorney."
I remember going into the jail one time to see one of my clients, and within the holding cell was another individual—not my client, never met him in my life. I go into the holding cell while he's waiting to be released, and he says, "Hey, man. I know you! Are you going to do it for us?"
I said, "What are you talking about, man?" He said, "I know you, Toussaint. Are you going to run to be a prosecutor and make the system fair for all of us?"
A friend of mine, Spencer (Merri-weather), had already been appointed by the governor and had all the political endorsements. He was running a tough-on-crime platform. I thought if I ran a reform platform, I had enough political and social capital to at least change the narrative. So I ran on that criminal justice reform-police accountability platform, and by the end of the campaign cycle, Spencer was also talking about reform and some level of police accountability. He won. (Ed.: Merriweather, who remains the district attorney, won the Democratic primary in May 2018 with 78% of the vote.) I didn't win the battle, but I won the war. And it took its toll.
The mountains were good for me. I was going through a divorce. It was just me and, like, 50 acres in the Blue Ridge Mountains, working at a university and snowboarding every day. It was me getting healthy, me in therapy, me confronting and dealing with my health and wellness and just getting to a better place. … I knew it was time with this job because I wasn't feeling anxiety. I wasn't feeling the emotional turmoil or baggage or heaviness.
2016 really woke a lot of people up in this city. They just didn't realize what was happening before. I remember thinking back on all the folks in middle- and upper-class Charlotte who were like, "This is my city. How can this happen in my city?" … Now that this awareness has been created, I can help folks get to action. And that's where this organization comes into play. We are the folks who can connect the dots and get the work done.
The clients we're talking about helping … (are) the ones who are poor, struggling with landlord issues and their taxes and public benefits. They're veterans, seniors, people who are immigrants. And we help them with their legal issues, but also with their social and community issues. And we eventually connect them with other organizations that can help us collaborate to meet all those needs, which gives them safety, security, stability, and brings that upward mobility.
If you walk by a pond one day and see a fish floating on the top, you might say, "Man, what happened to that fish? What did that fish eat?" You might walk by the pond on another day and see 10 fish on the top, and you might think, "What's wrong with those fish?" You walk by the pond a third time and see all the fish littered at the top. You're not going to ask, "What's wrong with the fish?" You're going to ask, "What's wrong with the water?" But there are folks who have always known this water to be toxic, and it's not just something that just happened or just started to pop up. The water's been toxic for the past 400 years.
What I really think we have is an inability to stick with something long enough to reach a resolution. We like to divorce ourselves from things that have become very important because we don't know how to fix them. And there's constantly new things happening that take our attention. When 2016 happened, there was a moment where everyone was just really waking up. But even so, how do you fix systemic racism? How do you fix the fact that an officer executed someone and then was never held accountable? That's not just an easy fix. (Ed.: In November 2016, then-District Attorney Andrew Murray determined that the officer, Brentley Vinson, acted legally when he shot and killed Scott. A DA's office investigation concluded that Scott was armed and ignored police commands to drop his handgun.)
That's also where this organization comes into play. It's been around since 1967, and it's been doing that work. That's where I come into this next chapter, I hope, to (create) more community partnerships so that we can not only become aware but get to the point where we're awake, aware, and we're doing something about it.
Does my Black life matteR? It matters. But will it matter in 4,000 years? No one's going to remember Toussaint Romain in 4,000 years. So the question has to become not, "Does my Black life matter?" but "Will my impact matter? What can I do today that will benefit tomorrow, next week, next month, next year, next decade, next millennia, times four?" Because ultimately, isn't that what those people did when they marched and got bit by dogs and shot by hoses so that I could get a chance to get a law degree and then, maybe, be the first person of color to lead an organization that fights for people of color and poor white folks? I think the hope is that there's something I can do, some impact I can make on a system that's been around for 400 years.
Charlotte is a very giving city. The resources are here. The tax breaks are here. There's lots of money given. I also think our Southern charm makes things more accessible. Like, I was sitting down once a month for a while with Hugh McColl, founder of Bank of America, to introduce him to people like Braxton Winston and other folks who he then teamed up with. That's not happening in New York City. I mean, the resources are there in New York, but the access to those individuals is not. The issues we face are the same that Minneapolis, L.A., or any small-town U.S.A. faces. But we have the right folks and resources here to fix it. We just have to put them together.
How does it feel to be a Black man fighting for a racist, unfair, unjust system? It's like being a hospice worker. How do you love being a hospice worker? Now, I know hospice workers who love their job, but they're helping people transition to a non-glorious death. How do you tell people you're proud to represent vulnerable people in desperate need in a system that's designed and has systemic ways of hurting them? How do you rely on a system that's breaking people and represent the people in this broken system and then go home and think, I did a great job today? It's taxing. It takes a toll. I think that's part of social justice work, advocacy, and activism that's never accounted for. We're just not seeing the hospice-type human aspect to what we're doing. I think if they did, people would have more of a heart.
TESS ALLEN is the associate editor.