Life Lessons: Vic Howie, Founder of U.S. National Whitewater Center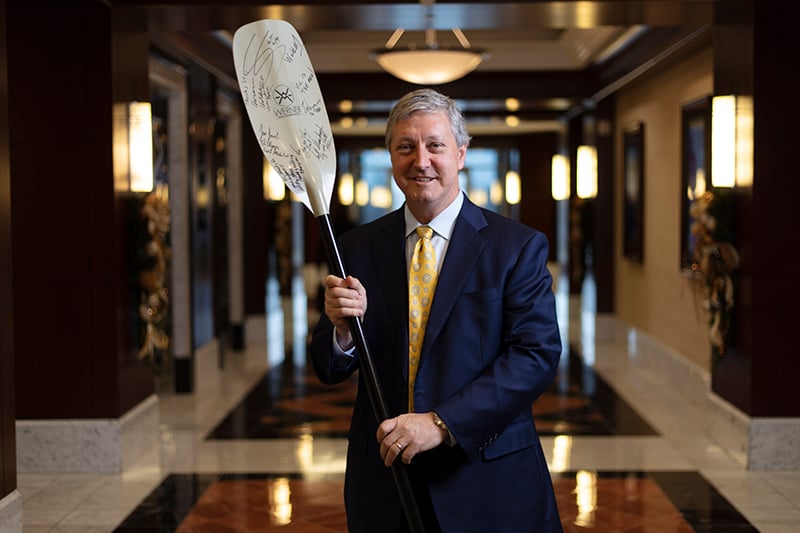 IT'S BEEN MORE than 18 years since Vic Howie, his belly full of red wine, grabbed a napkin and sketched what is now the U.S. National Whitewater Center. It was a doodle that launched a thousand rafts, leading to what Howie calls "one of the craziest start-ups in North Carolina, ever."
Nearly two decades later, the USNWC is largely viewed as a success, annually ranking near the top of Charlotte's tourist attractions in attendance, according to the Charlotte Business Journal. That success hasn't come without its slaloms, however; along with CEO Jeff Wise, Howie had to convince local governments—including Mecklenburg County and the City of Charlotte—to agree to cover some of the center's losses during its first seven years. It was a move that became increasingly controversial as the center struggled amid the Great Recession.
These days, Howie, who resigned from the USNWC board in 2011 and is a vice president at Merrill Lynch, is sharing those lessons with his side project, PitchBreakfast. It's a well-attended monthly breakfast meeting at which entrepreneurs practice their pitches in front of a live audience and a panel of successful entrepreneurs and investors. The goal, explains Howie, is to teach them how to ask for the money they need. The Greenville, South Carolina, native recently sat down with Charlotte magazine to discuss his time with the USNWC, and how the self-proclaimed "river rat" is using those experiences to help shape the city's entrepreneurial scene. Here he is in his own words, edited for clarity and space.
---
I grew up with a lot of strong women. My mother was a strong woman. According to family lore, my grandmother was the first woman to run for a state Senate seat in South Carolina. She'd go to Egypt and ride on camels when the Egyptian men wouldn't let women ride on camels. We have a picture of her with an Egyptian man basically trying to shoot her the bird while she's on the camel.
She ran against Dick Riley in that Senate race, the future governor who happened to be my dad's good friend from school. She knew him really well. This was back when politics were a little bit easier.
My dad was one of the funniest people I've ever met. He was probably one of the friendliest people ever in Greenville in the way he did things and the stories he would tell. He was funny. When someone would say something, he had the joke. He always had it right. I think that's where I got my go-lucky approach to things.
I say this all the time: That Whitewater Center should never have happened. There were things that happened that could have shut it down, but we kept going. It's a great start-up, entrepreneurial story. It was absolutely one of the craziest start-ups in North Carolina, ever. Why would a banker want to invest in an artificial river at $36 million? And it happened.
One time, (former Charlotte Mayor and N.C. Governor) Pat McCrory introduced me in front of a bunch of people, and he said, 'Hey, if you ever see this guy with a pen, a napkin, and a glass of wine, you better run, because it's going to cost you $36 million.'
Once we started digging, there was no going back. This is like tearing up a piece of property for a huge mall or something. When you get started, you have to go.
There were a lot of hurdles and a lot of naysayers. There's still a lot of naysayers to this day. I'm like, 'Go out there, please. Just shut up and go. If you don't like it, write the editor in the paper and say why, or call me. I'd like to know, because there's so much to love.' A lot of that's gone away, but it was tough.
Right after we opened, 2008 happened and a big part of our business plan—the activities and events—all of a sudden, no corporation wanted to put their name on an event anywhere. The banks were getting ripped, so that income did not come in as projected. If it hadn't been for the Great Recession, we probably would've been hunky-dory, but it was years catching up on the business plan because of that. That was a hard time. We were really struggling to keep going.
There were times when it was still sticky, and we were sweating bullets, but we knew we had the right thing.
One of the things we talk about in the start-up community is that you have to be dedicated to this, and you have to know in advance that you can grind this out for several years, because it doesn't happen overnight.
The PitchBreakfast idea came from meeting Adam Hill. Adam was running Packard Place at the time … I just asked the question, 'So what's the biggest problem we have here in Charlotte with this new start-up community?' He said, 'Well, here's the deal: Our companies go to investor conferences, but they do not know how to pitch their product, and they get pushed out because they don't do a good job of explaining what needs to happen for this company to be successful.' I said, 'That's easy.'
Investors in Charlotte understand real estate and banking. Those were the key things, and the start-ups weren't doing any of that.
Everyone asks, 'Are you Shark Tank?' Heck no, we're not Shark Tank. That's TV, this is the real deal, and everyone in there is pulling for the person pitching, who is stepping out in front of 130 people every month and having people grade them and tell them what they're doing wrong and what they're doing right. It's really tough.
The panelists are really the ones that make it happen because they bring the gospel. They're the ones that can say, 'You're on the right track, but you need to do this,' or 'You're competing against a whole new world that you don't even know is out there.'
I try to get them laughing, because some of them are kind of scared, or are real intense, going through their pitch. When we're getting ready to go on, that's not the time to be getting ready to pitch. You should have that down already.
Just get up and move around and get some blood flowing. That's just stuff I've learned over many years from having to present to boring bankers as well.
The best pitcher is somebody who can elaborate really well and tell a story, and that story tells why they got into the business and what their passion is, and who followed them in to be on their team. That's what panelists really want to see. Can you tell a good story about why this is your passion?