Life Lessons: WFAE's Joe O'Connor
Taught by some of the biggest names in television history, WFAE's president and CEO is driving Charlotte's NPR radio station toward a bright future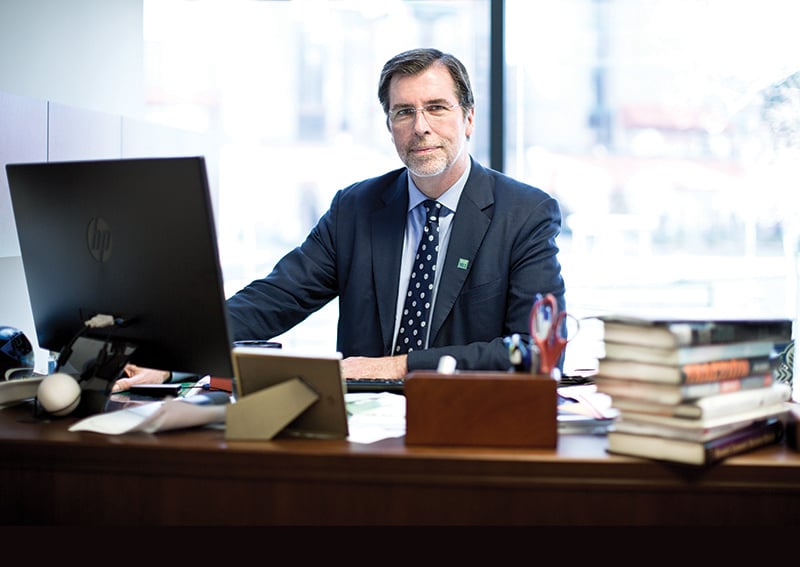 DON'T ASK Joe O'Connor about his Emmys. He has five of the shining, golden statues in his office at WFAE-FM. But please, find something else to talk about.
O'Connor deflects the praise that comes with winning one of television's top awards. These statues are only in his office because friends hounded him. Be proud of them, they told him.
O'Connor, who turns 60 this month, worked with some of the most talented minds in the television world—Diane Sawyer, Ted Koppel, and Peter Jennings—before he moved to radio in 2005. They're the real reason he's won those Emmys, he says. He was just lucky.
Modesty aside, O'Connor has proven himself as a successful media professional, starting with those years in television. O'Connor led the effort to make Rhode Island Public Radio independent from the outlets in Boston, 50 miles to the north. As CEO of the station, he led a $4 million capital campaign—during the Great Recession.
He's already generated similar success in his latest venture as general manager of Charlotte's National Public Radio affiliate. He joined the station in February 2015, and the station's number of annual donors has surpassed 19,000 for the first time in 2016. Its ratings continue to eke up even as other media outlets cut back.
O'Connor spoke with Charlotte magazine in January about his early life, starting out in broadcast journalism, and the future of radio in an increasingly digital world. Here he is in his own words (edited for space and clarity):
---
Becoming a journalist, for me, was a combination: Growing up in the suburbs of Washington, D.C. (O'Connor grew up in Chevy Chase, Maryland.) My dad being an Army colonel, there were all these dramatic events in American history, from the assassination of J.F.K., Martin Luther King, Robert Kennedy, and my mom was suffering from some very significant mental health issues. Both of these sort of rendered themselves very early on that something in journalism would work out for me. You've always got to ask the question, "Why?" and never be satisfied.
My dad had an outstanding career in the Army, 33 years, and attained the rank of full colonel, but mental illness in the family was an emotional battlefield he wasn't trained to deal with.
Why was my mom having these constant delusions, and why was my mom feeling like our home was under constant assault? Trying to get a greater understanding to that led to greater compassion about mental illness, family, about individual stories, about why decisions are being made on a personal level to a greater, national level.
The residue of great storytelling is empathy and of hope.
I started as an intern at WMAL as a student at Georgetown. This was an alternative acid rock station, and I was trying to do some sort of substantive news in that sort of environment.
My first paid job was a dime over minimum wage as a video journalist at CNN. I think "video journalist" was a euphemism for minimum wage.
The first six months after graduate school, you're like, "Did I really go to college for this?"
The news business is an apprentice business. You can be the best pre-law major at Yale, but if you're not willing to get lunch or make copies, you're not going to make it.
You need to be high performance and low-maintenance. You need to constantly keep learning from the best in the business.
So many folks in college in the last 10 years, they talk about being in the right place at the right time, their big break or whatever. You had the luck, but every one of them earned that luck. They were working their butts off. They had that sense of integrity and, ultimately, an opportunity came for them.
There's always gonna be disappointments. There are always gonna be unexpected episodes of discouragement, but don't take that as the be-all, end-all. Take it as data to make a better decision next time.
When I worked on Nightline with Ted Koppel, there was one episode where I pitched a series of stories on mental illness. I agreed to concentrate on this great guy who was schizophrenic but was highly-functioning. We profiled him and his story, which was pretty incredible, turning this wound into a gift.
Ted Koppel knew my mom suffered from mental illness, so to my surprise, he, through a national audience, dedicated that show to my late mom. That was, personally, the most rewarding, the most cathartic chapter in my career.
Working with Diane Sawyer, Peter Jennings, and Ted Koppel was a distinct privilege, but what may surprise people is knowing how hard they work. A lot of people think about the glamour and the stardom, but these folks worked their butts off; their standards were the highest. It was a thrill to work with them. It was also arduous to work alongside them.
Ted Koppel had the keenest B.S. meter. He was the best producer I knew.
When my parents passed away, the first phone call was from Ted, "What do you need? What can I do?" I asked him, "Would you mind being at the service?" He was there at the service.
We're so busy in American life that no matter our stature, if you're in a two-person family, if you're working several jobs to make ends meet, the ability to take in stories is always there. There's a distinct advantage, believe it or not, to radio and audio. TV has its own unique advantages, but it can be difficult to produce the same quality story because it takes a lot more people to create those stories.
On the radio, there's something about the theater of the mind. There's something about taking accurate stories that provide context on audio that you figure out on your own what pictures to have in your head as the reporter tells the story.
My son just graduated from Emerson (College in Boston), and he would keep reassuring me, "Whether you want to believe it or not, my classmates don't own radios, we don't own transmitters, but we're listening on our phones."
There's a trust there in radio. People are listening to WFAE and NPR not just for minutes but for hours each day. It's a constant companion.
Rhode Island is the nation's best-kept secret. It's absolute stunning. I was like, "How come nobody told me about this?" When I got to Charlotte, I thought the same thing.
Working at WFAE during the election season, what you feel is a palpable sense of excitement. You are impressed by the significant challenge to cover everything right and cover it well. And you're also just as filled up with pride.
The folks who are not just skeptical but cynical about what we do at WFAE, I say, "Well, do you listen? How often do you listen? Would you mind listening for three days on your way to work, and can we chat again?"