Lisa Sherry's Luxe Life Camp
A summer camp for grown-ups in the North Carolina mountains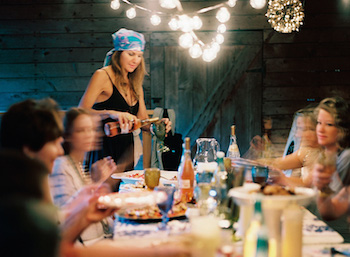 Designer Lisa Sherry of Lisa Sherry Interieurs tries to incorporate a total-lifestyle perspective into her life and the lives of her clients. She doesn't create a pretty room or home just for the sake of design. By improving someone's surroundings, she hopes to establish a starting point that inspires the client to better other aspects of his or her life.
This holistic philosophy inspired Sherry to create her Luxe Life Camp. Sherry was completing a project for a couple in Washington, D.C., when she mentioned her idea. The couple, who own Skyland Camp for Girls in Clyde just west of Asheville, said they wanted to get involved. So Sherry and her partners put together the first Luxe Life Camp this past fall at Skyland.
Sixteen women attended the inaugural event, and Sherry says it was a success. When they filled out surveys at the end of the weekend, all of them said they had a good time and learned something. So Sherry is holding the camp again May 30-June 1 and planning for another event in the fall. About half of the spots are full for the spring camp.
The all-inclusive weekend costs $825. Guests arrive on Friday evening and begin the weekend with cocktails in the barn and a gourmet dinner in the hayloft. A food coach will prepare all the weekend's meals and talk to guests about the benefits of "clean" eating. Saturday starts with coffee and a healthy breakfast. Guests then plan their own days. They can try yoga, horseback riding, archery, swimming, massage, or workshops on healthy eating and design. Or they can choose to do nothing.
"You can do as much or as little as you want," Sherry says. "There's no commitment to a schedule."
The weekend blends memories of childhood camp with upscale amenities. A sleeping porch and two cabins have beds with fine linens and pillows. The communal bathhouse has private toilets and shower stalls with soaps, sloughs, body washes, creams, spritzes, and "super-soft" towels. Every detail is designed to inspire.
"I hope they gain some knowledge of things that they can incorporate into their lives," Sherry says.
For more information about the Luxe Life Camp and a link to register, click here.