Living Room Rebirth
A Dilworth bungalow gets a kick of color and texture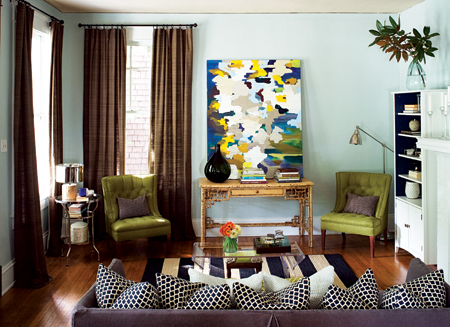 For Ryan and Sara Hall, buying a century-old home in Dilworth meant a few updates. They enlisted designer Bryn Alexandra Dunn, who specializes in budget-friendly makeovers, to revitalize their living room with contemporary and traditional takes. The first order of business: bidding adieu to the space's monotony, both in color and texture. Dunn chose navy and lime-green accents then added dimension by purchasing a single—but loud—pop of artwork, a Lucite coffee table, striped rug, and bamboo desk. What remains is an entryway that's in a position to make a first—and, now, lasting—impression.
PERSPECTIVE
Although the large abstract painting is meant to hang horizontally, turning it vertically brings the eye up and changes the entire look of the space—literally and figuratively. What's more, the pairs of mocha drapes show off the house's tall ceilings and classic architecture.
BIG PICTURE
The back of the bookcase in the living room echoes—and, ultimately, complements—the same navy blue walls in the connecting dining room, which is just one way to pull together an open floor plan like the Halls'. In other words, always remember what the next room looks like.
BEFORE
COLLECTIONS
Dunn grouped together statement pieces in this definitively eclectic look: glass IKEA candlesticks double as mantle décor; couch pillows were recovered in three different patterns, including a lively navy-and-cream quatrefoil fabric; and the reupholstered antique chairs are a welcome splash of modern.