Local beer festival news: Moo & Brew moves back to N.C. Music Factory, N.C. Brewers & Music Festival sets date and tickets almost sold out for Queen City Brewers Festival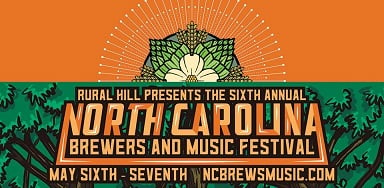 As you're still recovering from the biggest sports day to happen in Charlotte, here's the latest news surrounding local beer festivals. You got to have something to keep you busy for two weeks, right?
–The annual North Carolina Brewers and Music Festival has set its dates for 2016, once again at Rural Hill in Huntersville. This will be the sixth annual NCBMF, which features a number of local breweries along with several bands throughout the day.
No breweries have been announced yet, but if years past hold true, the lineup is sure to be solid. Most of the Charlotte and surrounding breweries have been constant attendees, as well as a who's who of North Carolina breweries. On this week's episode of Cheers Charlotte, the bands were announced, and they include Taylor Winchester, Mipso, The Trongone Band, The Honeycutters, Sol Driven Train, Della Mae, Travelin McCoury's and The Hip Abduction.
As in years past, there will be a campground jam Friday night (May 6), followed by the three-plus hour tasting session on Saturday. The festival organizers plan to announce ticket information later this week, and you can keep up with the latest at the official NCBMF website or Facebook page.
–I wrote in my year-end review about Moo and Brew Festival making quite a splash in their inaugural year, and after toying with the idea of moving to Plaza Midwood, the M&B organizers officially announced recently that the second year would be the same location as the first – the N.C. Music Factory grounds.
The Moo and Brew Festival is a craft beer and burger festival, and this year will take place April 16 from 12:30 p.m. to 6 p.m. Tickets are on sale now for both the VIP and General Admission sessions and can be purchased here.
–Finally, it was recently announced that the first session (afternoon) has sold out for the 2016 Queen City Brewers Festival. If you're interested in going, only around 100 tickets remain for the evening session. This festival became even better with the fact that this will be the day before the Panthers' Super Bowl game. The breweries have always poured a "Super" beer, usually a rare or small batch, and you can be sure there'll be some special ones this go-round.
Tickets for the QCBF, which is Feb. 6 at the Fillmore, can be purchased here, and I'll have a full preview of the festival for Charlotte Magazine next week.