Local breweries bring home record five GABF medals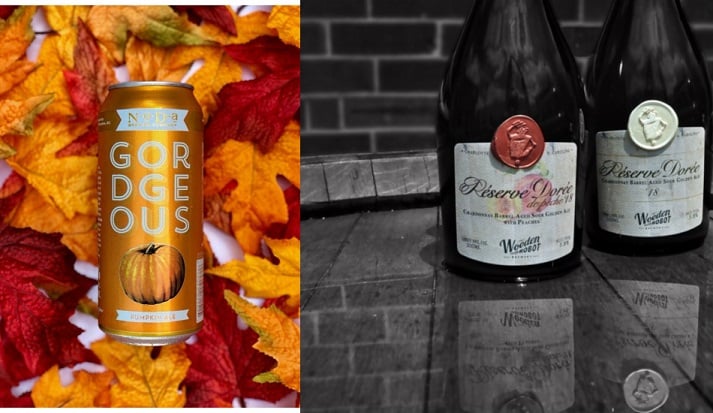 Charlotte's breweries continue to make a name for themselves, and nowhere was that more apparent than this past weekend in Denver.
The 2018 Great American Beer Festival (GABF) saw local breweries win five medals, the most ever in a given year for the area. Previously, no more than two Charlotte breweries had placed in the same year.
NoDa Brewing and Wooden Robot captured golds, while one of Charlotte's newest breweries, Divine Barrel nabbed a silver medal. Rounding out the group with bronzes were Triple C and Cornelius' D9 Brewing.
NoDa Brewing won gold in the Pumpkin/Squash or Pumpkin Spice Beer category for its ever-popular Gordgeous pumpkin ale. You can get this beer at the brewery or at many stores/bars around Charlotte. This is NoDa's third GABF medal, previously winning gold in 2016 for another seasonal favorited by many, NoDajito, and silver in 2012 for its Coco Loco Porter.
Wooden Robot's inaugural GABF medal came for a beer just recently released. Part of the brewery's sour ale "Réserve" series, the gold in the Fruited Wood- and Barrel-Aged Sour Beer went to Resérve Dorée de Pêche, a sour golden ale that was aged in French Oak Chardonnay barrels and refermented on local peaches. Head brewer and co-founder Dan Wade has wowed many with Wooden Robot's sour beers, and this award was deserved recognition. (The brewery was pouring a limited amount of Resérve Dorée de Pêche on Saturday in honor of the win, so you may be able to still grab a taste this week.)
Divine Barrel head brewer and co-owner Ben Dolphens said it was a "bit of shock and surprise" when he heard the brewery's name announced at the ceremony, winning silver for its smoked Grätzer The BIG Lubelski (which placed in the Historical Beer category and is on tap at Divine Barrel currently).
"There are a ton of amazing breweries that enter GABF," he added. "I thought our beers were good enough but you're really going up against the best, so we couldn't have been more excited. And it's extra special for us because we're relatively brand new.
"Really one of the best parts was sitting next to our friends at NoDa and Wooden Robot, and all of our names were getting called right after one another. We were high-fiving everywhere. It's really great to share these awards with everybody and celebrate."
Speaking of celebrations, not too bad a 40th birthday present for Triple C Brewing co-owner Chris Harker, as the brewery won its second-ever GABF medal, a bronze for Zest-A-Peel in the English-Style Summer Ale category. A blonde ale brewed with orange peel, this beer was introduced in 2014 as a collaboration with VBGB (it's currently on tap at both Triple C and VBGB). Triple C previously won a bronze in 2015 for its 3C IPA.
It's now two medals in three years for D9 Brewing, whose Brewer's Day Off captured a bronze in the Gose category. Brewed with cantaloupe and cucumber, you can try Brewer's Day Off at the taproom or find it in cans at several shops around town. D9's first medal came in 2016, with its Systema Naturae – Scuppernong and Lily picking up a gold.
You can view a complete list of all festival winners here. Zooming out from Charlotte a bit, the Carolinas as a whole were well represented at the GABF this year, with 20 breweries capturing medals.
Local Great American Beer Festival Winners Through the Years
1992
Dilworth Brewery, Bronze, Albemarle Ale
2012
Olde Mecklenburg Brewery, Silver, Mecktoberfest
NoDa Brewing Co., Silver, Coco Loco
2015
Sycamore Brewing, Bronze, Southern Girl Lager
Triple C Brewing, Bronze, 3C IPA
2016
D9 Brewing, Gold, Systema Naturae – Scuppernong & Lily
NoDa Brewing Co., Gold, NoDajito
2017
Olde Mecklenburg Brewery, Bronze, Hornet's Nest
Sycamore Brewing, Bronze, Sun Grown (Note: This beer won in two categories)
2018
Divine Barrel, Silver, The BIG Lubelski
D9 Brewing, Bronze, Brewer's Day Off
NoDa Brewing Co., Gold, Gordgeous
Triple C Brewing, Bronze, Zest-A-Peel
Wooden Robot, Gold, Resérve Dorée de Pêche