Local breweries hope to gain their craft freedom with filing of House Bill 500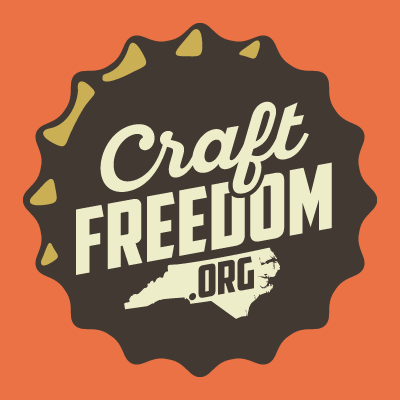 Over the last year and a half, the Craft Freedom initiative that started locally in Charlotte had one purpose in mind: raise awareness on how current state laws are harming and handcuffing the potential growth of local breweries.
On Tuesday, that grassroots work was officially put into action at the state capital with the filing of House Bill 500 (titled ABC Omnibus Legislation) that, among other things, would raise the self-distribution cap in North Carolina from 25,000 to 200,000 barrels in a given year.
"Craft brewers need more freedom to make and distribute their product and for me it's really become sort of a free market issue," says Representative Chuck McGrady (R- Henderson), who introduced the bill and is one of the primary sponsors. "Craft brewers want to sell their products and should be generally allowed to do so.
"Prohibiting distribution at an arbitrary limit and then forcing the business to hand over the rights of the brand, lay off their distribution employees, sell their trucks and other distribution equipment when they want to expand simply doesn't make any sense to me."
Shortly after filing the bill Tuesday morning, McGrady was part of a press conference in Raleigh that also included primary sponsors William Brawley (R- Mecklenburg) and Jon Hardister (R – Guilford); Margo Knight Metzger, the executive director of the N.C. Craft Brewers Guild; and Olde Mecklenburg Brewery founder John Marrino.
"This is a matter of promoting the free market and providing business owners with more control of their product," Hardister said. "We need to get unnecessary regulations out of the way so that (craft breweries) can continue to grow successfully and have more control over their product."
The self-distribution cap has become a hot topic in Charlotte since 2015, when the local industry really started to blossom and two breweries, Olde Mecklenburg and NoDa, began to face the possibility they would run up against the distribution cap. Neither brewery was interested in giving up distribution rights to a third party, which essentially would cut positions in sales and marketing.
What was once a possibility has now become a reality, as Olde Mecklenburg founder John Marrino says his brewery is on a run rate this year to surpass the cap. If the law is not changed, Marrino will be forced to "dramatically change my business plan," in his words. He noted that OMB has been able to create 133 jobs in seven years but "without this law changing, all that comes to an end in 2018 – so we're hoping this law will pass."
Marrino added when Olde Mecklenburg opened in 2007, none of the beer consumed in Mecklenburg County was made locally. It now stands at roughly 2 percent, but he adds there's much more to that number.
"The beauty of local breweries is we do not increase beer consumption one drop … what we do is shift production from somewhere else to right here in North Carolina and in the process we create a lot of good manufacturing jobs and we create a secondary impact on the community through capital investment, construction and buying from vendors," he says. "So it's really in the state's interest economically to allow this local manufacturing sector to grow."
Suzie Ford, a co-owner of NoDa Brewing with her husband, Todd and head brewer Chad Henderson, says their brewery was also on pace to hit the cap but has since slowed growth down due to the current state law. Greensboro's Red Oak Brewery has been pushing up against the cap for several years now, and in 2016 these three breweries came together to launch Craft Freedom.
Since then, it's been a movement to educate anyone and everyone who would listen – from politicians to brewery patrons – in hopes to gain enough support for this legislative session. More than 150 state breweries, bottle shops and businesses have signed on in support of the initiative.
And knowing what lied ahead in the political space, Craft Freedom also employed lobbyists and brought on Paul Shumaker, a prominent political consultant to help advise the group (Shumaker has been instrumental in bringing in support from organizations such as the John Locke Foundation and National Federation of Independent Businesses, along with Grover Norquist, the founder of Americans for Tax Reform.
Through all the excitement of Tuesday's press conference, it should be noted quite the uphill battle remains for Craft Freedom and its proponents. As a quick reminder, there have been six bills introduced in either the N.C. House or Senate since 2007 that would have raised the self-distribution cap. None of them made it out of a committee and crossed over to the respective other house for consideration.
Speaking Tuesday, McGrady acknowledged that he's sure "we'll receive opposition from those who benefit from the authorized monopoly we have now."
That opposition will mainly be spearheaded by the N.C. Beer and Wine Wholesalers Association, whose executive director, Tim Kent, has been steadfast in wanting to keep the current three-tier system as it stands. The NCBWWA has also been very active in Raleigh, giving roughly $260,000 to political candidates and/or committees since 2014.
Still, support for this law to be changed seems higher than it's ever been, and some of that can likely be traced to an industry that Metzger says represents $1.2 billion dollars in economic impact for the state annually, along with 10,000 associated jobs.
"It's increasingly rare to see Republicans and Democrats work together, even on an issue that the people strongly and overwhelmingly support," she added. "Our guild is very happy to be part of the bipartisan effort in order to move North Carolina one step closer toward being first in freedom – specifically beer freedom."
House Bill 500 also addresses several other laws McGrady noted were outdated, from brewery tour tastings to homebrewers being able to participate in festivals. He said it will probably be 10 to 12 days before the bill goes into its first committee for discussion (most likely it will head to the Alcoholic Beverage Control committee, of which McGrady is one of the chairs).
Also, as part of Charlotte Craft Beer Week (which begins this Friday), OMB is hosting a Craft Freedom Festival April 7 from 6 p.m. to 9 p.m. for those who want to learn more about the initiative. A total of 11 breweries will be in attendance pouring unlimited beer samples while they last. Tickets are $30 and can be purchased here.