Local Chef Honored
Bruce Moffett now has a scholarship in his name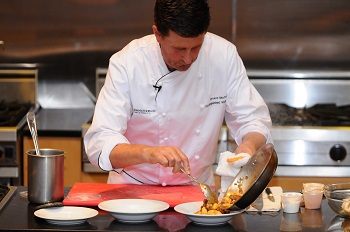 Chef Bruce Moffett of Charlotte-based Moffett Restaurant Group (you know, the ones who own and operate Barrington's Restaurant, Stagioni, and Good Food on Montford) received recognition as a Distinguished Visiting Chef at Johnson & Wales University (JWU) on September 29. As part of the program, chefs being honored are invited to conduct cooking demonstrations for students and share their experience, techniques, and tips of the trade.
More than 150 of the world's leading chefs have visited, and been honored at Johnson & Wales campuses across the country, including Emeril Lagasse, Jacques Pepin, and Scott Leibfried of FOX's "Hell's Kitchen."
The program, which began in 1979 and was established at JWU's Charlotte campus in 2004, " … is a unique opportunity to bring high-caliber chefs face-to-face with students to share the techniques, creativity, and personal philosophies that set them apart in the culinary world," says JWU Director of Culinary Operations, Patricia DelBello.
In addition to recognition, a scholarship fund will be created in Chef Moffett's name. The First Annual Bruce Moffett Scholarship will be awarded to Seth Brode, a JWU sophomore student from Hartville, Ohio who is pursuing a culinary degree.
"I am very honored to be awarded this recognition," says Chef Moffett. "It takes a lot of hard work and dedication to be successful in any career, and I hope my participation in this event encourages the students to be passionate and take advantage of every opportunity— from the minimum wage gig to Sous Chef — as a chance to learn something and grow in this ever-changing industry."
Congratulations to Chef Bruce! Head out to one of the Moffett Restaurant Group's eateries this weekend and see what all the fuss is about. Also, check out Charlotte magazine's stories on Stagioni, Barrington's and Good Food!