LOCAL FLAVOR: Elijah's Xtreme
Elijah Morey lights up a business—and a vending machine—with his hot, hot, hot sauce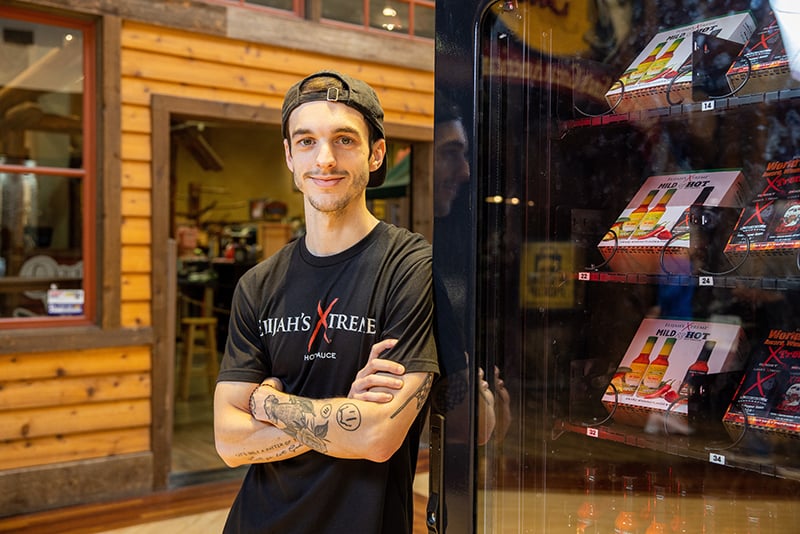 Elijah Morey has always been a daredevil. As a kid in Cherryville, he raced his bicycle off the highest jumps he could find and often landed with scrapes, bruises, or broken bones. In 2003, at 6, he told his dad, Bret, he wanted to be the youngest person ever to eat the world's hottest pepper.
Bret gave him a hot banana pepper from their garden. "After I bit into it, I went running back to the house because it was so hot," Elijah says with a laugh. "I had this vision of a news crew showing up as I bit into a habanero, not fazed at all. So it became a competition between me and my dad, seeing who could eat the bigger bite without drinking water."
Two decades later, Elijah and Bret are co-owners of Elijah's Xtreme Gourmet Sauces. The brand's eight varieties range from mild to "screaming hot," with flavor combinations like pineapple-mango-habanero and beer-bacon-maple. Their hottest variety, Regret Reserve, is made with Carolina Reaper and Trinidad Scorpion peppers, the two hottest in the world. Elijah's Xtreme is sold nationwide in about 2,000 retail locations, including Bass Pro Shops and Cabela's stores.
As demand for their products grew, Elijah wanted an easier and more creative way for customers to get their hands on them. This year, the 25-year-old debuted a hot sauce vending machine at Concord Mills mall. He and Bret worked with a vending machine company for a year and a half to custom-make one that fit their products, but Elijah says the idea wasn't a hard sell once they got it in front of Simon Property Group (which owns Concord Mills) at the Southern Christmas Show in 2022.
The 6-foot-tall apparatus dispenses gift sets, trio variety packs, and single bottles in six flavors. The machine is cashless, and individual bottles range from $8 to $10; gift boxes and variety packs are between $23 and $30. "It's crazy how many people recognize it—and us," Elijah says. "Some people say they traveled two hours to go see it."
What began as a hobby for this father-son duo became a real business venture in 2014, after years of tinkering with hot sauce recipes in their home kitchen. "We started with a ghost pepper flavor that had garlic, habanero, and passion fruit juice," Elijah says. "But when you're cooking that on the stove, it's like pepper-gassing your house. We'd have all the windows open, and our eyes would be burning." They worked on their sauce recipes whenever time allowed—after school, after work, and on weekends. "I'd light some kids up in the lunchroom on Monday," Elijah laughs. "I got in big trouble for that."
Eventually, they perfected their Ghost Pepper Hot Sauce—and the seven varieties that followed. But it was more than just a fun side hustle for Bret, who already owned multiple businesses and spent most of his career working corporate jobs. He wanted to build this business not just with his son, but for him.
When Elijah was 8, he was diagnosed with Crohn's disease, a type of inflammatory bowel disease (IBD). "Dad had a real drive to start this, partly for me, to make sure I had something if I wasn't able to work a 'regular' job," Elijah says. "We're taught hot peppers aren't good for IBD, but in moderation, it's actually really good for inflammation. That's why I do all our taste testing. If it doesn't hurt me, we know it won't hurt someone else who tries it."
Elijah took over the marketing when he was in college. Since he graduated in 2020, the business has outgrown two warehouses and hired a team of six employees. They work with a co-packer in Costa Rica and two in North Carolina, which mass-produce their sauces. Elijah is now chief marketing officer, while Bret manages the inventory and retail side.
Elijah's Xtreme plans to unveil its next vending machine at Gaffney Outlet Marketplace later this year, and they've got new flavors in the works. "I'm trying to nail down tequila-jalapeño-lime, but there's something weird with limes and tequilas," Elijah says. "I can't figure out the right flavors yet."
Despite all the times he's "made his taste buds go numb," Elijah still eats their original Ghost Pepper Hot Sauce every day. "I put it on everything," he says. "Today, I had chicken and rice, and I smothered it. I also use our concept creations not on the market yet. But ghost pepper is my go-to."
TAYLOR BOWLER is the lifestyle editor.