Local Personalities at this Weekend's Home Show
Interact with experts from the Charlotte home, garden, and food scenes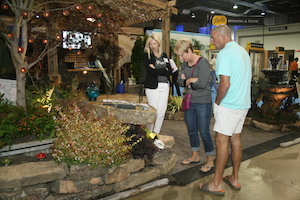 When you head out to the Southern Ideal Home Show this weekend, take the opportunity to meet some of the best in the home-and-garden field. Chefs, designers, contractors, landscape architects, and media personalities will be on hand to answer questions about your next project. For more details about the show, check out Wednesday's post on the blog. With more than 175 exhibitors, the show is filled with home-and-garden professionals. If you don't have enough time to catch them all, we found five local experts across a variety of specialties that you might want to add to your must-see list.
1. Local culinary professional Heidi Billotto will be at the show every day as host of the Cooking Stage. Billotto teaches cooking classes, writes, and runs a catering business. She'll take the stage herself on Friday at 3 p.m. for a presentation titled "Artisan Olive Oil: For the Love of Oil."
2. Darin Brockelbank, the founder, president, and chief visionary officer of Metro GreenScape, has won multiple business and entrepreneurship awards as well as Best of Show titles at the Spring Home & Garden Show. He takes the Home Stage on Saturday at 10:30 a.m. with outdoor-living ideas for "Creating Your Own Staycation."
3. Designer and host of the PBS series "For Your Home," Vicki Payne will provide inspiration to help you rethink your exterior design. Having recently completed a renovation on her Morrocroft home, Payne brings both professional and personal perspective to her "From Inspiration to Transformation" program on Saturday at 11:30 a.m.
4. Jon Fortes, executive chef at Mimosa Grill and winner of the 2013 Fire in the City dining competition, offers summertime flavors with "The Mimosa BLT." He will be on the Cooking Stage Saturday at 2 p.m.
5. A familiar voice, Brenda Matthews, the host of K104.7's 10 a.m. to 3 p.m. radio show, will discuss the "Power of Paint" when decorating your home. She enjoys repurposing and reinventing during her spare time and will bring those design skills to the Home Stage on Saturday at 2:30 p.m.