Loud on the Field, Quiet Off of It
Andrew Norwell, the Panthers guard nicknamed 'All-Yell,' shied away from talking much this week.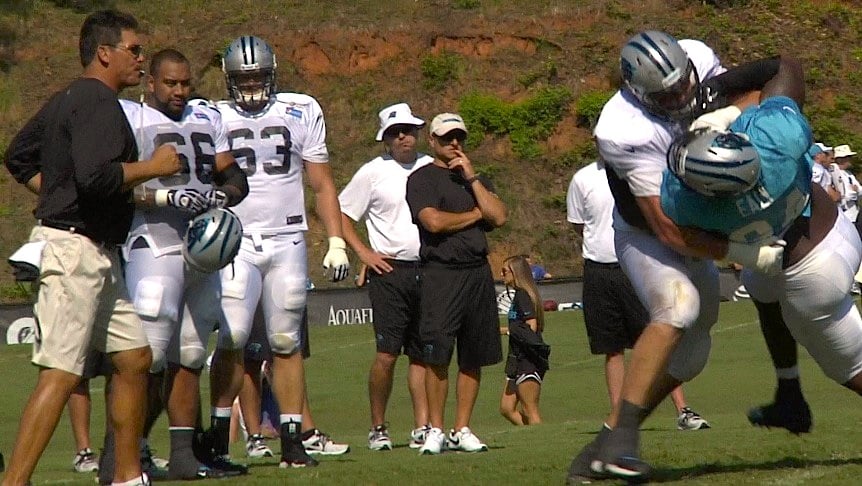 He was described this week as loud, exciting and enthusiastic. But when approached by reporters on Thursday, Panthers guard Andrew Norwell politely declined to talk.
"He's a different young man. Maybe he's camera shy," head coach Ron Rivera said.
The 22-year-old Norwell has found himself in the spotlight because he's set to make his first career start on Sunday. Just five months after the Ohio State product went undrafted, he'll be facing the defending Super Bowl champion Seahawks.
So why didn't Norwell want to chat? Apparently, some his fellow offensive linemen were ribbing him about his newfound status as a media darling.
"That's what you're supposed to do," center Ryan Kalil said with a laugh, when asked if some of the veterans were giving Norwell a bit of a hard time.
While we don't have comments from Norwell, below are some examples of what others have said about him this week.
---
Quarterback Cam Newton, who has nicknamed Norwell 'All-Yell'
"If you're in the huddle, and Norwell's in the huddle, you know he's in the huddle because he's going to break the huddle yelling every single time. Whether he's fresh, or whether he's tired. You know he's in the huddle by him screaming, 'Break!' every single time. So that's why I call him 'all-yell Norwell.'"
---
Rivera, when asked if he has noticed Norwell's loud 'break!'
"I've noticed a lot of things he does loudly. He has a lot of enthusiasm, and I think that's great. He's got a great attitude about working hard. He's got a great attitude about getting the opportunity to play, and I think that's going to spread to his teammates."
---
Offensive coordinator Mike Shula, on what Norwell does well, and what he needs to improve:
"He's just a giant out there. He's got long arms, and he's really strong. So when he gets his hands on you, he can knock some of the biggest players around, … He has to learn through experience that you're not just going to have a stationary target in front of you. You have to make quick adjustments, and the more you play, the quicker you're going to react, … He's a fierce competitor. We're glad he's on our team, and we're looking forward to seeing him play a little bit."
---
Newton, on Norwell's custom of hustling down the field during a play
"When you see linemen running down the field, as a quarterback, you're looking around saying, 'I've got to get on my horse and get down the field, too.' That's just great habits as a lineman. And when you see a guy doing that, it kind of makes you want to step up your game a little more."