Love It: 2010 Calendars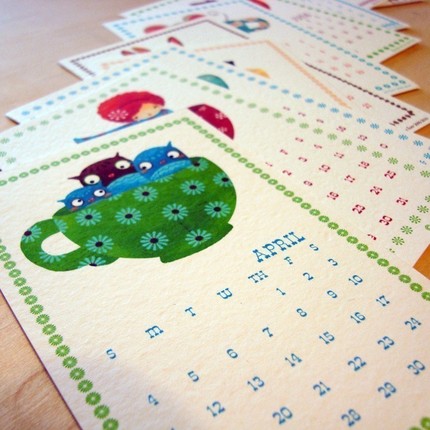 One of my favorite things about starting out a new year is breaking in a new calendar. I get positively giddy when I whip out my many colored pens and start filling in birthdays and vacations that are already on the books for the coming months. I also love to decorate with calendar pages. The walls of my office feature trios of gorgeous vintage maps from a 2008 calendar, and I've got three prints of European travel art framed above my bed at home – also repurposed from an old calendar.
Therefore, I'm torn between wanting a calendar that makes a statement on my walls and one that makes sense in my life, so I think I'll buy both. I've already found a few on Etsy today that strike both of my fancies: Two for the walls here and here. And two with space for my busy life here and here.
I also adore this Snow & Graham desk calendar from Paper Twist, which is located over in the Specialty Shops on the Park. They've also got a gorgeous vintage maps calendar that would be an investment in future art for my walls even after the year is over.
What about you Shop Talkers? Are you loyal to a certain type of calendar? Do you yearn to start recording the events of the new year like I do? Let's hear it in the comments!