Love It: SafetyTat Kid Tattoos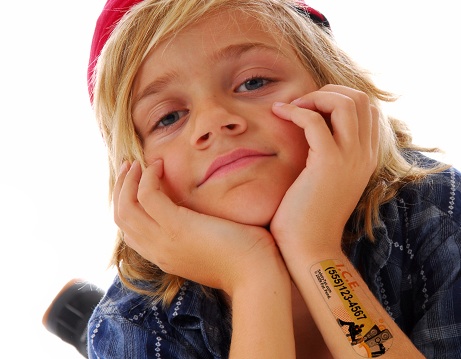 I'm not a mom, but I am one of the most paranoid, doomsday, "worst case scenario" worriers you've ever met. (My poor eventual children don't stand a chance against my warped way of thinking. ) However, even non crazy-worrying moms can get behind this positively clever invention: SafetyTat – temporary tattoos bearing In Case of Emergency contact info you put on your kid when you are going to be in environments where they could get lost.
A fab mom friend of mine is about to take her wee ones to Disney World in a few weeks – I can think of no better place to tag your kid for a safe return. My little brother once went up into a Fivel Goes West themed climbing playland, got freaked out by the height of the nets and wouldn't come down. Granted, this was in a time before cell phones, but had cell phones and SafetyTat's both been around back then, my dear father would have been spared the experience of having to climb through child size holes to go find him when he didn't come out. Plus what kid doesn't love temporary tattoos? I have yet to meet one who doesn't. It's the whole reason those vending machines filled with plastic balls containing hideous tattoos remain a viable operation.