Love to the Spring Veggies
Hooray for green things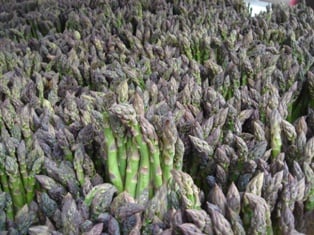 Even though today is the epitome of the word "meh," I feel we need to explore and honor the upcoming spring veggies that you should 100% be highlighting in your meals over the next few weeks.
Asparagus: If you don't eat this often, you should. Look for tightly bundled tops and firm stems, then keep them in the fridge either wrapped in a damp paper towel or standing in a bowl of water. Mine have stayed fresh for up to two weeks. You can throw the spears on a baking sheet at 400 degrees and roast with olive oil, salt, and pepper for an easy and delicious spring side. Or, roast then cut up the spears and throw them into pasta with fresh parmesan and cracked black pepper.
Leeks: With a mild onion flavor, leeks lend themselves to a host of easy preparations (after you wash them VERY WELL). My favorite way to prepare these badboys is to simply braise them as seen here or to use them in a quiche. This recipe calls for our springy asparagus too. I may or may not have made this and added a lot of bacon. Not sorry.
Watercress: Peppery and bright, this green is a great base for springy salads. Try it paired with oranges and manchego for a bright side dish on any occasion or nestled under wild-caught salmon for a light and easy dinner. Store it in the fridge in a plastic bag for freshness.
Ramps: Ah, the ramp. If you weren't aware, these "wild leeks" have spurred a foodie movement and even festivals as they peak their heads out of the dirt in spring. Personally, my favorite way to eat these is simply — try them over cheddar grits as seen here or simply topping an egg and bacon breakfast.
Even though I've just listed my personal faves, you should check out ALL the produce in season at the moment like fresh peas, radishes, artichokes, morels, rhubarb, and arugula.