Luau, Rooftop Boxing, Movie Night, Candy Land, Sunday Parties, and More this Weekend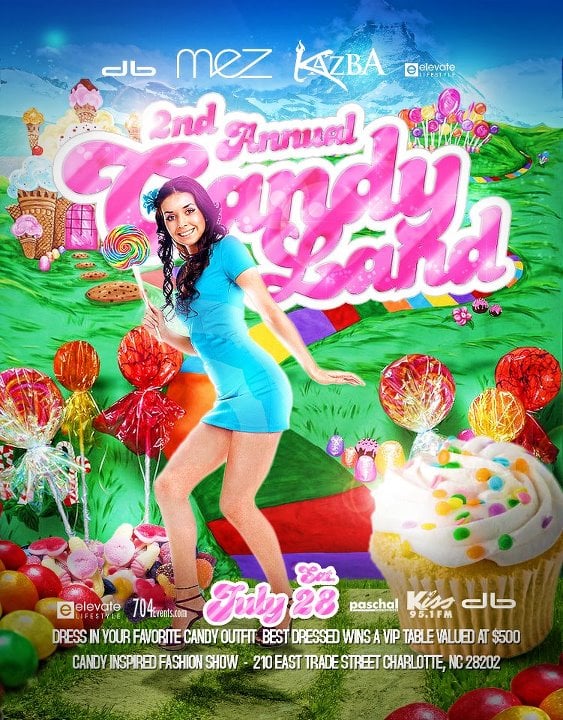 There's a lot going on in Charlotte this weekend. I combed through the many events to find a little bit of something for everyone.
Friday, July 27
The Colored Waiting Room Gallery Reception
The community is invited to this reception to view the exhibition, participate in a hands-on gallery activity, and to meet the group of resident artists in their studios. The Colored Waiting Room features the sounds of jazz, hip hop, neo soul, classical, gospel, Latin, R&B, stories, and poetry. You'll get to participate in Prospective Rotation, an interactive installation in artist Andrea Vail's studio, then catch the tunes from a DJ spinning soul and funk during the second half of the reception. Beer will be sold for $1. 6-9 p.m. Free. McColl Center for Visual Art, 721 N. Tryon St., mccollcenter.org.
Silent Disco Series Finale
After extending for a second month, this weekly series comes to an end. Silent Disco has become a phenomenon with its unique concept of wireless headphones providing the music directly from the DJ to the partygoer (watch promo video). DJ Complete commands the musical duties tonight. 8 p.m. Free. Pavilion at EpiCentre, 210 E. Trade St., pavilionatepicentre.com, queencitybass.com.
Luau Party
It's hot, so why not celebrate Hawaiian style? In addition to the women in bikinis and leis, there will be a roasted pig served with all the fixins ($10), and drink specials like $3 Corona and $4 Bacardi. 8-10 p.m. Free admission with Hawaiian attire. The Men's Club of Charlotte, 444 Tyvola Rd., mensclub.com.
Su Casa: Tribute to Dance Classics Vol. 2
This monthly party returns and they're celebrating with dance classics again, with the likes of Paradise Garage-era house, '80s- and '90s-era R&B, old-school hip hop, and more. 9 p.m.-2 a.m. Free before 10 p.m.; $5 after. Dharma Lounge, 1440 S. Tryon St., dharmacharlotte.com, sucasacharlotte.wordpress.com.
Gorgeous
It's a thank-you party by King Entertainment in honor of their gorgeous patrons. Music by DJ Duo, DJ Pyro, and DJ Ngenius. 10 p.m.-2 a.m. Free; VIP tables available, email@echoecho.com. Cosmos Café, 300 N. College St., cosmoscafe.com, kingentevents.com.
Saturday, July 28
Dear Summer: The Day Party Experience
At this mid-summer party, you'll enjoy an afternoon of unlimited hookah, cigar specials, and drink specials inside this ultra lounge. 3-7 p.m. $10 advance general admission; $150 VIP table for six. The Sunset Club, 1820 South Blvd., sunsetclubcharlotte.com, dsdayparty.eventbrite.com.
Queen City Q Supports Jacob's Ladder
One of Charlotte's hottest barbecue restaurants is helping raise funds for Jacob's Ladder Job Center, a nonprofit organization that helps unemployed and underemployed Charlotteans get back to work. On this night, Queen City Q is donating 10 percent of its pre-tax sales, and a donation jar will be available as well. Plus, in addition to you enjoying some great BBQ, Woody and Wilcox IPA craft beers will be on special, and you'll be entertained by the Hoss Howard Band. 5 p.m.-midnight. Queen City Q, 225 E. Sixth St. (validated parking in Seventh Street Station), queencityq.com, jacobsladdercharlotte.org.
Rumble on the Rooftop
Tommy Hill Boxing and Red Leather Sports present an evening of professional boxing with 10 bouts, and the Uptown skyline as the backdrop. 6:30 p.m. $30 and up. Pavilion at EpiCentre, 210 E. Trade St., pavilionatepicentre.com, tommyhillboxing.com.
Movie in the Garden
UNC Charlotte Center City and The Light Factory present a fun evening with The Blind Side showing on a big screen. Bring your lawn chairs and blankets and grab a seat in the garden. Pre-movie activities will include music by DJ Zach, an animation station with John Lemmon, a hula hoop competition, and animated shorts by digital media student Sarah Hartley. There will also be food for sale by The Tin Kitchen food truck and Sticks & Cones Ice Cream. If it rains, the event will move inside. 7-10 p.m. Free; RSVP to dstinesj@uncc.edu. UNC Charlotte Center City, 320 E. Ninth St., centercity.uncc.edu.
Signature Saturdays
Eddietainment presents this event the last Saturday of each month for Charlotte's social elite. This installment features live jazz by 5th & York, drink specials such as $6 martinis and $3 bottled beers, and photography by Neil Nicholson. 9 p.m.-2 a.m. Free before midnight; cover charge after; VIP tables available, eddiet456@gmail.com. Vapiano, 201 S. Tryon St., vapiano-charlotte.com, eddietainment.com.
Second Annual Candy Land
It's a chance to pretend you live in the world of the famous board game. Come dressed in your favorite Candy Land-inspired outfit (best dressed wins a VIP table valued at $500), enjoy a fashion show by Lipp Boutique (begins at 11 p.m.), and support a good cause—proceeds will go to charity. Plus, you get two parties in one with these neighboring venues. 9 p.m.-2 a.m. $10 and up; VIP tables available. Mez and Kazba, at EpiCentre, 210 E. Trade St., mezcharlotte.com, kazbacharlotte.com, ticketssoeasy.com/candy.
Sunday, July 29
The Sunday Style Brunch
Charlotte-based fashion designer Lore Emelio and Hendrick Lexus present this stylish afternoon. Come celebrate Charlotte's best in style, fine art, and gourmet food. A DJ will play, and live models will showcase the newest studio look inspired by the artwork of Andrea Vail. Hendrick Lexus will display three of its newest models, which will be ready for test drive. 1-3 p.m. rsvp@loreemelio.com. Bask on Seaboard, at NC Music Factory, 1000 NC Music Factory Blvd., baskonseaboard.com, loreemelio.com.
Moxie Sundays V
Moxie Society has mastered the day party. Enjoy $5 Moxie martinis, $5 Ciroc drinks, and a $5 food menu at this posh lounge. Music by DJ Shogun, and the TVs will be tuned to Team USA competing in the men's Olympics basketball game. 3 p.m. RSVP to info@moxiesociety.com for complimentary admission before 5 p.m.; cover charge after; bottle service available. Kalu, 505 E. Sixth St., kalunc.com, facebook.com/moxiesociety.
Facebook Party
DNG is celebrating hitting 1,000 Facebook fans as well as its eighth anniversary. There will be plenty of drink specials: $2 Olympic Bud Aluminum bottles, $2 Bud Light bottles and Bud drafts, and $1 red and blue Jello shots. Free hamburgers and hot dogs will also be served. Plus, the Bud and Jager girls will be there. 3-6 p.m. Free. Dilworth Neighborhood Grille, 911 E. Morehead St., neighborhoodgrille.com.
Verify dates, times, prices, and other info at the web addresses listed for each event.
Be sure to bookmark www.charlottemagazine.com/Blogs/Dusk-Till-Dawn to stay plugged into Charlotte nightlife.