Luck O' the Irish: St. Patrick's Day Weekend Parties in Charlotte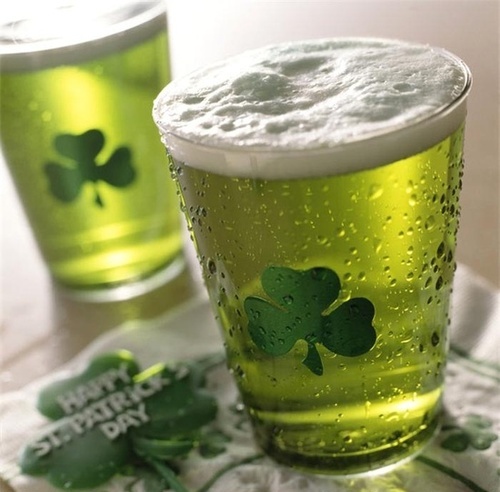 St. Patrick's Day is on Sunday this year, so you're getting a full weekend to celebrate your Irish heritage. Start early, end late, (and drink responsibly) while visiting the parties on this list.
Saturday, March 16
St. Patrick's Weekend at Ri Ra (Saturday and Sunday)
This authentic Irish pub is serving traditional food all day, beginning with brunch at 8:30 a.m., along with entertainment from Irish Dancers and pipers. Then at night, Crashbox performs live followed by music by DJ Arod. Open till 2 a.m. Free admission. Ri Ra Irish Pub, 208 N. Tryon St., rira.com, facebook.com/riracharlotte.
50 Shades of Green at Town Tavern
This Uptown tavern is going green, serving green beer, green shooters, and decking the bar out in green décor. A complimentary Irish breakfast will be served in the morning, and drink specials all day. 9 a.m.-2 a.m. Free admission; cover charge at times. Town Tavern, 200 N. Tryon St., towntaverncharlotte.com.
Third Annual Green River Revival at USNWC
With a forecast of 70-degree weather, it's ripe for you to spend St. Paddy's Day with nature. The celebration will kick off at 9 a.m. with the Color Me Green 5K; then at 1 p.m. the whitewater rapids will turn bright green, followed by live music by Tim Reynolds and TR3, and the Mike Strauss Band. There will also be a cornhole tournament and other activities. 9 a.m.-5 p.m. General admission, free; VIP, including food and open bar, $60. U.S. National Whitewater Center, 5000 Whitewater Center Pkwy., usnwc.org/green-river-revival.
St. Paddy's Day Brunch at 5Church (Saturday and Sunday)
Add a touch of class to your touch of Irish at this chic restaurant. A special menu will feature an Irish breakfast, including a corn beef and cabbage brunch special, along with Four-Leaf Clover cocktails, beer, and Irish tunes. 11 a.m.-4 p.m. 5Church, 127 N. Tryon St. (corner of W. Fifth and N. Church streets), 5church.com.
St. Patrick's Day Weekend at Galway Hooker (Saturday and Sunday)
It's the largest St. Patrick's Day celebration on Lake Norman each year. On Saturday and Sunday, there'll be an all-day Irish block party, with live music by local bands, bagpipers, Irish step dancers, bar games, a raffle benefitting charity, and, of course, traditional St. Patrick's Day drinking. Visit website for entertainment schedule. 11 a.m.-2 a.m. General admission, free; VIP, including a private area, whiskey tasting, Irish buffet, Guinness collectable, and Galway Hooker T-shirt, $20. Galway Hooker Restaurant and Irish Pub, 17044 Kenton Dr., Cornelius, galwayhookerpub.com.
Rich & Bennett's 13th Annual St. Patrick's Day Pub Crawl
It had been billed as the world's largest pub crawl for the last few years. Then the number of participants skyrocketed from just under 9,000 in 2011 to a record-shattering 15,144 at last year's crawl. Thousands of partiers from around the state and country will once again flock to Uptown to crawl to as many of the 30 participating bars as they can. Pre-registration sites available through Friday. Saturday check-in, 12-3 p.m. at Dixie's Tavern, 301 E. Seventh St.; event goes until 2 a.m. $20 prepay sites, $25 online, $30 day of; includes event T-shirt, which serves as your admission into each of the bars, and a koozie. Uptown Charlotte, rockhouseevents.com/stpatricksdaypubcrawl.
St. Patty's Day Party at Big Ben
Start your day by watching the Arsenal FC soccer game at 11 a.m., and enjoy traditional Irish drinks and food, including corned beef and cabbage. Live music by Dave McKenzie (5-7 p.m.) and Chuck Johnson (7-11 p.m.). Free. Big Ben British Pub and Restaurant, at Atherton Mill, 2000 South Blvd., bigbenpub.com.
Three-Year Anniversary St. Patty's Bash at Mortimer's Cafe and Pub
Mortimer's is thanking you for three years of business with an all-day party. Featuring Irish drink specials, a traditional bangers and mash plate ($9), party favors, live music by Jay Mathey (2-6 p.m.), a raffle for prizes (4 p.m.), cornhole, and more. Free admission. Mortimer's Cafe and Pub, at EpiCentre, 210 E. Trade St., mortimerspub.com.
St. Patty's Bash with Simplified at The Saloon
Charlotte's leading rock band, Simplified, will perform live. You'll also want to come get your green on with the crew from 106.5 FM "The End" and enjoy Irish drink specials, dancing leprechauns, lucky charms, and prizes. 5 p.m.-2 a.m. Free. The Saloon At The NC Music Factory, 1000 NC Music Factory Blvd., thesalooncharlotte.com.
Sunday, March 17
Be sure to check the above listings for additional parties taking place Sunday.
Fifth Annual St. Patrick's Day Party and Parade at SouthSiders
Folks in the 'burbs wanna party too. Wear your green clothing and come party at this Irish family pub, stocked up on Irish beer and whisky, and featuring live entertainment. 1 p.m.-until. Free. SouthSiders Public House, 113 E. North Main St., Waxhaw, southsiderswaxhaw.com.
Guinness Open at Prohibition
Celebrate St. Patrick's Day with endless Guinness. For $20, you get all the Guinness beer you can consume (drink responsibly!), plus there will be $4 car bombs. 4 p.m.-2 a.m. Free admission. Prohibition, 200 N. Tryon St., prohibitionclt.com.
Fourth Annual SIN Patty's Day Bar Crawl
Forget about work the next day, Sunday is a holiday. Enjoy drink specials and fun as you crawl to eight participating Uptown bars. 5 p.m.-2 a.m. $10, includes T-shirt. Begins at StrikeCity (5-7 p.m.), at EpiCentre, 210 E. Trade St., strikecitycharlotte.com, facebook.com/events/595634727132247.
Verify dates, times, prices, and other info at the web addresses listed for each event.

Be sure to bookmark www.charlottemagazine.com/Blogs/Dusk-Till-Dawn to stay plugged into Charlotte nightlife. Follow me on Twitter @HollidayInk; email me at jarvish@grownpeopletalking.com.