Luke Kuechly Walks Into A Restaurant…
Fueling up with Pan-Asian cuisine at CO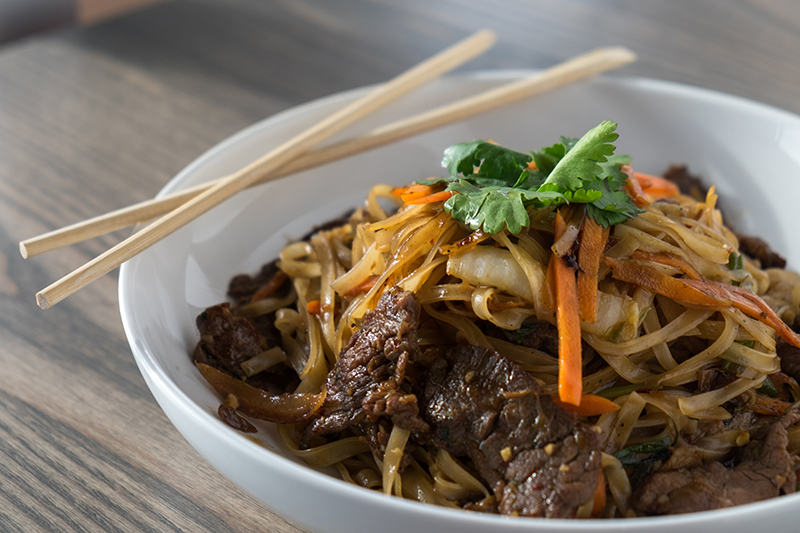 I WAS TAKING my first bite of a beef and kimchi dumpling at a quiet table inside CO when Luke Kuechly, the Carolina Panthers linebacker, casually walked through the entrance.
It was a Monday night in December, roughly 24 hours after the Panthers dismantled the Atlanta Falcons at home. Kuechly and a friend strode toward the bar inside the newly opened Asian restaurant in Park Road Shopping Center. As he walked by, the guy at the table next to us leapt from his stool and gave chase, leaving his date alone at their small square table.
But I turned back to the dumplings ($5), which arrived in a warm sambal chili broth and were a delightful two bites. We had already ordered cocktails, including the Jalapeño-Guava Margarita ($9.50), featuring smoky jalapeño-infused tequila, and the Dark N' Peach ($10.50), sort of a cross between a dark and stormy and a peach mint julep.
This is owner Greg Bauer's fourth CO restaurant. He founded his original location in Charleston and has outposts in Savannah and Myrtle Beach. The interior is sleek, with a dramatic design—blond wood boards spring upward from the bar and curve across the ceiling, like a flower.
CO's menu is divided into sections for small plates, banh mi sandwiches, noodles, and more. My friend ordered the drunken Thai noodles with shrimp ($16). Mushrooms, basil, and onions were mixed with the rice noodles and an impressive amount of seared shrimp. I picked the spicy tuna pressed sushi ($13.50). Pressed sushi is similar to traditional rolls, except there's no seaweed wrapping, and the rice is packed into bricks, like sushi Lego blocks, instead of being rolled and sliced into rounds. The tuna was spicy, enhanced by a topping of garlic aioli and thin slices of serrano peppers.
Although there were a few surprises, the flavors at CO are accessible, and much of what we ate tasted familiar. But one question lingered throughout dinner: What's with that name? As it turns out, CO—pronounced koh—is the Vietnamese word for "feast." And then I understood why Kuechly looked so comfortable.
CO
4201-D Park Rd.
980-237-4655
eatatco.com
Entrées $12 to $16
L, D, FSB
---
This article appears in the February 2016 issue of Charlotte Magazine
Did you like what you read here? Subscribe to Charlotte Magazine »
---