Lunch Box Surprises
Liven up school day meals with these 5 recipes from Charlotte Home + Garden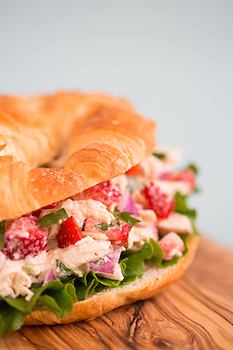 School is back in session, and that means lunch boxes must be filled. Shake up the traditional PB&J standard and sneak in some extra nutrients with five of our favorite recipes from Charlotte Home + Garden.
Chicken salad croissant. Adding fruit, nuts, or fresh herbs can perk up any chicken salad. This recipe calls for strawberries, but get creative with whatever looks good at the market. Use reduced-fat yogurt and mayonnaise to lighten it up, and experiment with different breads to suit your kids' tastes.
photo by peter taylor
Farro. This ancient grain is a good source of protein and fiber. It's hearty and chewy. Use it as a base for vegetables or add some grilled chicken. It packs and travels well.
photo by logan cyrus
Meatball Parm Hoagies. Make these meatballs the night before, store them in the refrigerator, and then send them with a cold pack for reheating at lunch time. The recipe calls for putting the sandwich under a broiler to melt the cheese, but the cafeteria microwave will work for school lunches. Consider packing the sauce in a separate container, so the bread won't get soggy.
photo by peter taylor
Black bean chili. This hearty vegetarian chili is one of those great one-pot meals that work so well for school nights. Refrigerate the leftovers and send them for lunch the next day. Send a few tortilla chips for dunking.
photo by kyle dreier
Cake pops. When the time calls for a little something special — perhaps on a Friday or after a good report card — add one of these cute cake pops for dessert. Have fun with the decorations and the flavors of cake and frosting.
photo by logan cyrus