Luxe for Less
5 budget-friendly interior design trends inspired by high-end homes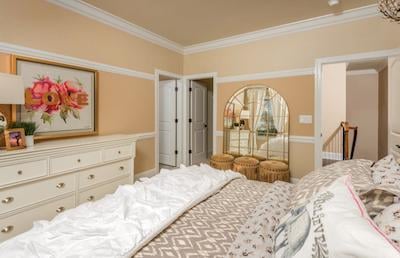 Pulte Homes recently opened a planned community called Whitegate near the intersection of N.C. Highway 51 and Rea Road. The community has six home designs, many exceeding the million-dollar mark.
Designer Melanie Pearsall shares some design trends used in the Whitegate community and tips on how to achieve the look in your home without blowing the budget.
Gold. Whether it's a clothing store, makeup counter, or home decor shop, gold is everywhere. When it comes to style, often fashion, beauty, and design all follow similar trends. Lighting — table lamps, chandeliers, overhead lights — is a good way to incorporate gold into a room. Pillows and picture frames are also affordable accents for adding a touch of gold. "It has a nice warmth that silver and chromes don't have," Pearsall says. "It makes rooms feel richer, cozier and adds depth to things that we weren't seeing before."
Wallpaper. It's not the calico or floral prints you remember from your grandmother's house. "Wallpaper is back in a cool way," Pearsall says. People once feared wallpaper because of the hassle to remove it if they wanted to redecorate. Much of today's wallpaper is peel and stick, making removal much easier. It comes in something as simple as a solid neutral or bold color, or large, geometric prints. Faux brick, wood, or stone prints are also popular for accent walls; it's a much more affordable option than installing actual brick or stone.
Tufted accents. When you want a more formal look, consider adding a piece of tufted furniture. "It's not the old '20s way of doing it when everything was tufted," Pearsall says. A tufted ottoman, sofa, or side chair adds a timeless, classic look to a room without overdoing it.
Outdoor living spaces. You can extend the square footage of your home with an outdoor living area. The spaces can be open patios or porches, sunrooms, or screened-in porches. Instead of an afterthought, the style of outdoor living areas is now as extension of the home. "Functional furniture has come a long way," Pearsall says. Outdoor spaces are especially popular here in the South because you can use them nearly all year.
Backsplash tile. An entire kitchen redesign is expensive. And maybe your appliances are fine, but you want a new look. Adding or changing the backsplash is one way to do something different. "It adds life to an area [where] you don't have a lot of options to switch things," Pearsall says. "It sets the tone for your kitchen." White subway tile is making a comeback. Designers are elevating basic subway tile with beveled edges, matte versus gloss finish, and different colors of grout.