Mac's Takes Fifth for the Whole Hog
Mac's Speed Shop competed at the Memphis in May World Championship Barbecue Cooking Contest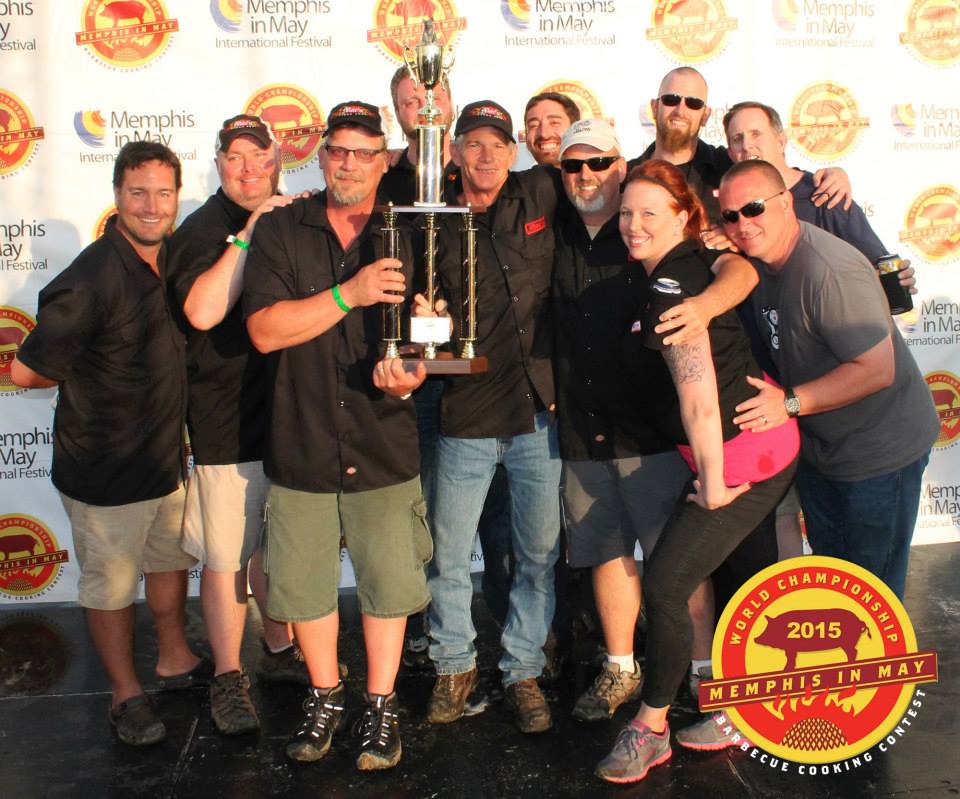 Every year, the best barbecuers in the land descend upon Memphis, Tennessee, to show their stuff. Mac's Speed Shop of Charlotte headed to the Memphis in May World Championship Barbecue Cooking Contest (WCBCC15) this year to bring a taste of the Queen City to the festival, which has been going strong for decades.
Congratulations are in order: Mac's Speed Shop placed 5th for Whole Hog Barbecue, beating out 42 other teams from across the nation and earning a prize of $750 plus a shiny new trophy. The competition took place May 14 through 16 and featured other divisions such as shoulder, rib, and patio porkers. The Shed BBQ of Ocean Springs, Mississippi was named Grand Champion of the contest, winning the whole hog division as well.
According to Jeffrey Del Mastro, Director of Operations for Mac's, the WCBCC is the "Super Bowl of barbecue" with almost 300 teams competing every year – some coming from as far away as Australia, Poland, Italy, and New Zealand. This was the Mac's team's sixth year competing (and as the only team in Charlotte to have ever competed and won), with their previous best finish being 13th place.
How'd they nab that 5th place spot? Mac's uses the tradition of cooking low and slow; smoking the pig over hickory and peach wood with charcoal for a period of 24 hours at a temperature of 225 degrees. The result is a smoky, sweet, tender, and juicy hog.
Other winners and prized for the Whole Hog category included:
First Place – $8,500 – The Shed BBQ – Ocean Springs, Mississippi
Second Place – $2,000 – Salty Rinse BBQ – New York, New York
Third Place – $1,500 – Cotton Patch Cooking Team – Columbus, Mississippi
Fourth Place – $1,000 – World's Most Interesting Team – Memphis, Tennessee
Fifth Place – $750 – Mac's Speed Shop Charlotte, North Carolina
Sixth Place – $600 – Will-Be-Que BBQ Team – Cordova, Tennessee
Seventh Place – $500 – Victory Lane BBQ – Memphis, Tennessee
Eighth Place – $400 – Gwatney Championship BBQ Team Cordova, Tennessee
Ninth Place – $350 – Apple City Barbecue – Murphysboro, Illinois
Tenth Place – $300 Yazoo's Delta Q – Hernando, Mississippi
Head out to Mac's three Charlotte-area locations to celebrate with the team:
Southend: 2511 South Blvd. Charlotte, NC 28203; 704-522-6227
Lake Norman: 19601 Liverpool Pkwy. Cornelius, NC 28031; 704-892-3554
Steele Creek: 2414 Sandy Porter Rd. Charlotte, NC 28273; 704-504-8500