Made in Charlotte: Build a Bed
Three sleeping essentials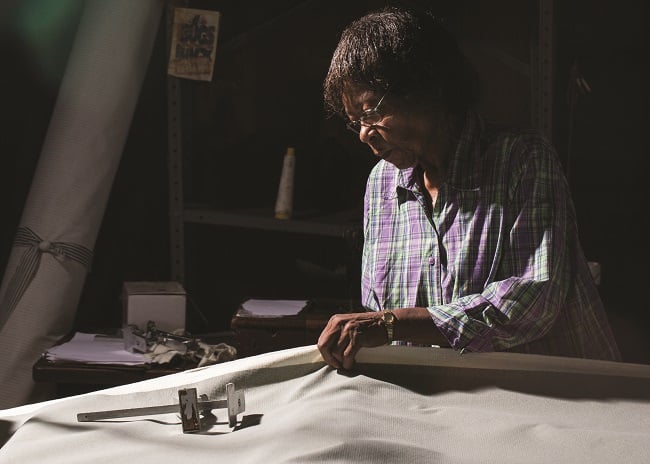 Dilworth Mattress Factory
On Alan Hirsch's cluttered desk in the office of his South End mattress factory, there's a large calculator and dozens of papers—orders, bills of sale. There's also a small picture frame: "Like Father, Like Son," it reads. Inside, there's a picture of a man wearing 1970s glasses and a thick mustache, wrapping his arm around a younger man. "That's my son," Hirsch says.
Family is a big deal to the Hirsches. In 1931, Hirsch's grandfather started Dilworth Mattress Company in South End, "back when this out here was the boonies," Hirsch says. Back then, the business was dominated by turning hotel-bed mattresses and replacing the stuffing with cotton from local mills.
When Hirsch turned 13, it was time for him to start working. So he went to the factory. Eventually his father took over the business, and Hirsch went off to UNC Charlotte to study economics. When his father died in 1972, Hirsch inherited the company, continuing to use only high-quality, local, nontoxic materials—like natural latex—to craft anything from baby-crib mattresses to 10-by-10 custom bedding for NBA players.
"Just the other day, an older lady calls me up, she says she's pretty sure that we did her mattress back in 1968," Hirsch says. She told him that the word "Dalan" was attached to the mattress. "I knew right away that that was us," he says. "My grandfather named one of our mattresses after my brother, David, and me, Alan: Dalan." Referrals and return customers are at the core of a successful business as old as Dilworth Mattress. Hirsch has an idea why: "I don't do junk bedding," he says. 704-333-6564, dilworthmattressfactory.com
---
Charlotte Headboards
Skip the trip to Pottery Barn and take a seat with Charlotte's Tack Upholstery owner, Anthony Evans. With 20 years of experience, Evans will walk you through his 10 stock styles of customer-favorite headboards, or he'll listen to your vision and custom-design the perfect piece for your personal taste. Decorative tacks can be added to any design for a professional, finished look.
charlotteheadboards.com
---
Liz Saintsing
Growing up outside of Winston-Salem, Liz Saintsing was a nature-loving child. Today, she blends her love of the outdoors with her artistic acumen (she studied printmaking at Guilford College) to design and handprint custom pillows from her home studio in NoDa. She uses nontoxic fabric ink to print designs onto almost any surface. lizsaintsing.com
---
Check out other Made in Charlotte categories by clicking on any of these links: