Made in Charlotte: Gifts & More
Visiting workshops of Charlotte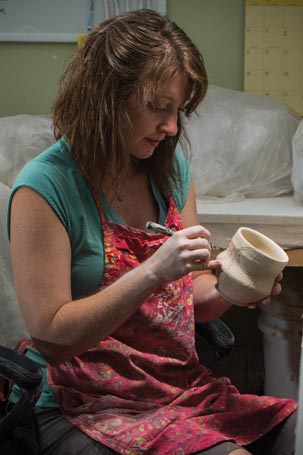 Julie Wiggins Pottery
Charlotte Clay Movement
In the fall of 2005, Julie Wiggins went to China to see where porcelain originated more than a thousand years ago. She spent several months there, learning how to make glazes that you can see—and see through.
She earned an honorary degree from the Jingdezhen Ceramic Institute, then came home to the United States and turned every piece of clay she could find into something that looked like ancient China.
She now makes those pieces with the remarkable glazes at a studio in her home in east Charlotte, and her work is part of a small but promising pottery movement in the city.
Wiggins is in a group called Thrown Together Potters, which consists of five Charlotte-area artists who say they want to bring pottery to the world. First, they'll start with a home sale in Charlotte on October 5 and 6.
"It's a little secret," says Wiggins, a native of Jacksonville and an East Carolina University graduate. "We hear all the time: 'Oh, we didn't know there are any Charlotte potters.' There are several of us here, making pots full-time for a living."
It seems a little ridiculous to talk about lumps of clay like this, but it really does matter where pottery is made. In this state, the nod goes to Seagrove, a small community 90 minutes north of Charlotte. Families there pass
traditions down through generations, and the appeal of the place is in its history.
Wiggins's work, though, dates back more than a millennium. She achieves her glazes by firing a gas-reduction kiln. The kiln creates an atmosphere in which the celadon glazes can mature. She constantly adjusts the damper on the kiln until she's achieved her favorite type of glaze—one you can see, yet also see through, to the hard clay on the inside.
704-351-0532, juliewigginspottery.com.
Thrown Together Potters, throwntogetherpotters.com. Fall pottery sale, Oct. 5 (10-4) and Oct. 6 (12-4).
---
Heritage Handcrafted
A Broyhill and His Barrels
Three years before James Thomas Broyhill was born, his family sold its famous furniture business. It was 1980, and the Broyhills had owned Broyhill Furniture for more than a half-century. James's great-grandfather started it, just one man in a small shop in Boomer, North Carolina. Business was good, and for decades, the Broyhill name grew. But the late-1970s brought signs of changing times for furniture. The next two decades would see the demise of the industry in North Carolina. People stopped buying from their neighbors and filled their home with pieces made in other places by people they'd never met.
The Broyhills sensed the shift coming and sold the business for $151 million. They never thought another family member would sell furniture again.
James, though, liked hammers. When he was a boy, his parents often shipped him to his maternal grandfather's woodshed to bang on things and burn energy. He graduated from Appalachian State University with the famous name and a political science degree. Then he moved to Charlotte, bought a house in the southern part of the city near Interstate 485, and started working in real estate.
A few years ago, he came across an old Jack Daniel's whiskey barrel and took it into the small shop in the back of his house. He hammered the steel rings off the barrel and let the staves fly open like a budding flower. He saw potential. He turned the white oak wood into a bench. Then he got another barrel and made chairs. More barrels, gift boxes.
In October of 2012, he turned the hobby into a business, Heritage Handcrafted. His best friend from childhood, Bobby Grajewski, took over the business side. A funny thing happened: People liked that Broyhill's stuff was handmade and made here. So he kept tearing up barrels and turning oak into furniture. Business is good. And now, as James approaches his 30th birthday on October 26, a new generation of Broyhill woodworking has arrived, again started by just one man in a small shop.
heritage-handcrafted.com
---
StudioKMO
Hand-cut Paper Maps
Tiny scraps of off-white paper fall off a drafting table and onto the carpet inside Karen O'Leary's studio. She is small against the large table, and her hand is exceptionally steady as she cuts intricate, lace-like city grids into heavy watercolor paper. Her Steele Creek in-home studio is a small space, but she's made it her own. A Mumford & Sons song plays in the background, and maps of two of the places important to her life—Blacksburg, Virginia, and Davenport, Iowa—hang on the opposite wall.
O'Leary studied architecture at Virginia Tech before going to New York City, where she worked for five years at a big firm. Her husband, who is from northwest Iowa, landed a job locally five years ago. "We wanted something in between [the sizes of] Iowa and New York City," she says. Charlotte was a good fit.
Since October 2009, cutting paper cities has been a full-time job. It makes sense because paper was a major part of O'Leary's childhood. "My father was a printer," she says, "so I grew up with all sorts of paper and materials.
He had the great big giant press in our house, down in the basement.
"I'm lucky to have been to most of the cities I do," she adds, as she works on Paris. She says she imagines life in the cities she constructs. "Like with this one," she says, nodding toward the streets of France's capital city. "You go down the street, turn left," she trails off, gesturing her special-grip X-Acto knife to the lines.
Small pieces can take two to three hours to complete, while a large-scale project, like a 22-by-30-inch map of Paris, can take up to 80 hours. But O'Leary loves it. "I knew I wanted to be an architect in third grade," she says, her right hand steadily slicing perfect city blocks. "I would draw floor plans for my Barbies."
Once the penciled outline of a city is drawn and the cuts are complete, O'Leary goes back and erases every line. "That's really what takes the most time," she says. "I guess other people might sketch it in reverse so that the cut-out comes through on the back, but I don't do that. It has a true front."
Maps are available framed, on stretched canvas, and ink-drawn.
Visit studioKMO.etsy.com.
---
Creative Iron Designs
Iron Into Art
In South End, there's a building that doesn't quite fit. It falls between new high-end condos and Triple C Brewing Company. A couple of iron rabbits have fallen over onto one side in the lawn, which is filled with old cars and scrap metal, junk to anyone who passes by.
Inside the warehouse, old bicycles hang from the ceiling, and handmade ironworks in curlicue and fleur-de-lis patterns line the walls. Dozens of other items—a disco ball, the door off an old safe—make it hard to maneuver in the space, but in Jim Watts's line of work, you never know when you might need an old theater stage-light or the leg of a mannequin.
"I've got an eye for crazy stuff. People come back here and ask me, 'Are you one of those hoarders?'" he says. "But I'm not!"
For 20 years, he's manipulated iron into art out of his Charlotte studio. He wears water shoes, camouflage shorts, and small, circular, tortoise-shell glasses on the tip of his nose. "I'm the functioning artist," he says. Which means, he says, that he's just clean-cut enough to work with serious clients on high-dollar projects but still edgy enough to call himself an artist. "I just can't imagine working for someone else."
Born in Phoenix but raised in Savannah, Watts attended military school in north Georgia before studying at the Savannah College of Art and Design. He's left-handed, so operating saws can be challenging. "The debris from most saws, which are made for right-handed people, flies right in my face."
He likes to say, "Anyone who can work a saw can do what I do." But it takes absolute precision. If he's even one-thirty-sixth of an inch off, the custom coffee table he's working on would wobble.
That kind of attention to detail has earned Watts major projects like the metalwork ornamentation along the entrance of the EpiCentre, the sign at the Gin Mill in South End, and tons of local railings, garden gates, and patio borders.
"I just see things differently," he says. "It comes natural."
creativeironcharlotte.com
---
Ink Floyd
Screenprinting is an "old school" craft, explains Ink Floyd graphic designer Amy Quinn. The iconic concert posters from the 1960s were made this way, with an artist's design painstakingly reproduced, one color at time, onto the page. Now clients such as the Charlotte Fire Department and Pura Vida Worldly Art ask Ink Floyd to design their tote bags and T-shirts. A NoDa printer promoting local businesses—it doesn't get more Charlotte than that.
704-334-3016, inkfloyd.com
---
ColsenKeane
Custom Leather Goods
A good leather bag tells a story, Scott Hofert believes. It is durable enough to go anywhere—into a business meeting or a weekend trip to the beach—and carry both experiences in style. In his studio along Central Avenue, Hofert and his five-man staff at ColsenKeane Custom Leather Goods produce handcrafted leather goods ranging from a $50 wallet to a $2,000 bag.
704-251-9368, colsenkeane.com
---
Three Trees Bindery
Bookbinder Michelle Skiba crafts blank journals, wedding guest books, and photo albums by hand in her Windsor Park home studio. For each book, Skiba measures, tears, and sews the pages together. Then she nestles the pages into wooden covers made of cherry, mahogany, walnut, maple, or bark. Books can be finished with hand-stamped nameplates, carvings, or cover engravings. Prices start at $150.
threetreesbindery.etsy.com
---
Crayton-Heritage Letterpress
The smell of ink and the sound of grinding gears greet visitors to the workshop at Crayton-Heritage Letterpress. The Vandercook presses here were built in the 1950s and '60s, says employee Nicholas Garris. Workers make the photopolymer plates for the presses by hand, and the foil stamping and dye cutting happens here too. That means when you order wedding invitations, menus, business cards, and other fancy paper, you can rest assured they were crafted with care on Distribution Street.
704-333-5413, heritageletterpress.com
Check out other Made in Charlotte categories by clicking on any of these links: