Magazine Day!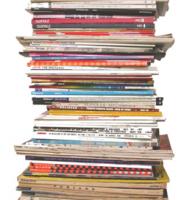 Tomorrow, Saturday, February 27 is the first-ever Magazine Day. It just might be my new favorite holiday.
Magazine Day was dreamed up by a writer and reader named Kevin Smokler. Here's his description of it:
"On Saturday, February 27th, ordinary folk across America (like you, like me) will spend the day "attacking the stack" or reading their way through the unread magazines they've accumulated. … Magazine Day is open to everyone, no matter where you are. Invite friends over and rummage though each other's stacks. Spend the day reading at your local coffee shop or library. Multch your magazines and construct a giant paper mache wildebeest. It's up to you. The idea is to spend the day having fun and forming community around a shared love of magazines."
Kevin lives in San Francisco, and he'll be hosting a Magazine Day event at a bookstore there. But, like he says, Magazine Day can be celebrated anywhere. I assume you read Charlotte magazine within hours of retrieving it from your mailbox. But this is a great chance to catch up on all of your other, slightly less essential magazine reading. Personally, I'll probably start with the two most recent Esquires, then move on to a New Yorker or two, then wrap with Bon Appetit (R.I.P. Gourmet). I also might hit a newsstand for a wild card. Because that's how I roll. (Truthfully, it would take a Magazine Month for me to make a dent in my stack, but that would require more spousal negotiation than I am qualified for.)
So what will you read?
Follow what Twitterfolk are saying about Magazine Day below: